A rental agreement is a short-term agreement that lasts up to three months. A personal car rental agreement is an arrangement between the car owner and a car renter about the terms and conditions of the use of the car or vehicle that is for rent. The document legally binds the two parties together making them both obligated to follow and abide by the agreed terms and conditions stated in the agreement. If you are looking into starting a car rental business, then it will be helpful if you check out the different rental agreement samples and templates provided below. They make good references or guides if you wish to make one of your own.
Personal Car Rental Agreement Samples
1. Personal Car Rental Agreement Template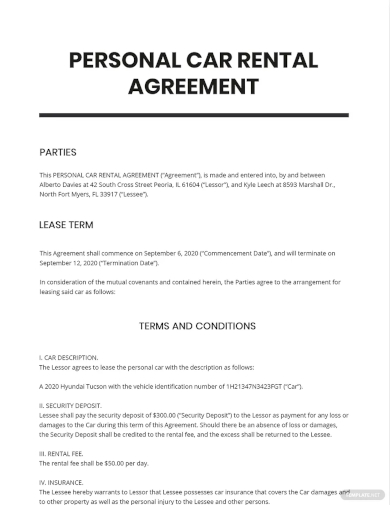 2. Simple Car Rental Agreement Template
Agreements are essential in a business. So when you have a car rental business, it is a must that you secure a car rental agreement template all the time. Who knows when a client will come and use your services. If you don't have one yet, then you might want to check out this simple car rental agreement sample. It works both as a sample reference or as your own agreement template. Simply make changes to some parts of the document, like the logo, heading, and business name.
3. Sample Toyota Car Rental Agreement Template
Toyota is a big and well-known automotive company. Aside from making all sorts of vehicles, they also offer car rental services. The Toyota car rental agreement sample shown above is how their rental agreement looks like. It is very detailed and comprehensive to ensure that the car rental is properly taken cared of by their clients and so that they can provide the best experience to all of their clients in the industry.
4. Sample Motor Vehicle Rental Agreement Template
Cars are basically motor vehicles. This motor vehicle rental agreement sample enumerates the different terms and conditions that must be in place in any car rental agreement. The document is straightforward and is four pages long, just enough pages so as not to get you bored reading the entire document. The last page of the sample is where you will find specific provisions of the contract, such as cancellation policy, insurance, collision damage waiver (CDW), road restrictions, one-way fees, and payments.
5. Sample Rideshare Agreement Terms and Conditions Template
Rideshare is known as a carpooling service in Europe, but they also offer car rental services to a wide range of clients. The sample Rideshare agreement terms and conditions is the document that they use when transacting with their clients. It states that the rental contract refers to both the rental agreement and its terms and conditions. The agreement sections are written in bold and underlined, which clearly separates parts of one section from another.
6. Sample Web Car Rental Agreement Template
Renting a car online is now made available and more convenient. If your car rental business offers this kind of convenience to your customer, then you definitely should have a web car rental agreement sample, just like the sample above. The sample consists of two pages. The first page is intended for gathering client and vehicle information, and the second page is where you will find the terms and conditions of use.
7. Budget Car Rental Agreement Template
Business Analysis offering big discounts and big savings are a big hit nowadays. Everybody just loves the sound of huge savings in the service they take advantage of, and the word budget does ring a bell. So if you are offering budget-friendly car rental services, you will need a reliable sample car rental agreement, such as a budget car rental agreement. The sample can be used both in the United States and Canada.
8. Car Rental Agreement and Personal Vehicle Information Template
This car rental agreement and personal vehicle information sample is specifically created and used by Rotary International or the Rotary Foundation. The sample agreement includes instructions and provisions that are to be strictly followed. It is a short but detailed document that is only two pages long. The agreement also offers reimbursement for certain things: reimbursement for mileage expenses, tolls, parking fee, if requested.
9. Car/Vehicle Rental Agreement Template
This sample car/vehicle rental agreement template can be used both as a rental agreement or a lease agreement. This means it can be a short-term rent or a long-term vehicle rent. The parties involved in the agreement are identified as the lessee (client) and the lessor (owner or rental business). The agreement is made up of two parts. The first part contains the identification of the lessor and lessee, while the second part includes the lease summary, total charges, and the rest of the agreement provisions.
10. Sample Car Rental Agreement Proposal Template
If you want to propose renting a car and create a rental agreement document at the same time, then you can use this sample car rental agreement proposal as your reference. You will be able to easily navigate and find your way through leaning this sample because the details are written clearly and often underlined or in bold letters. A list of the different vehicles that are for rent are provided in groups at the very last part of the sample.
11. Detailed Car Rental Agreement Template
This detailed car rental agreement sample from a car rental company called Sixt Rent a Car consists of a full nine-page long term rental agreement. This is indeed detailed if you ask me. Now if you want your rental agreement to be this detailed, then this is a good source of information and ideas. Details about the rental agreement, insurance liabilities, coverage liabilities, excess liabilities, etc. are provided in this sample agreement.