It is the agreement between two parties involved in the service. The agreement states that both the parties agreed to provide and receive services against the payment mentioned in the agreement. The agreement includes the date, the amount to be paid and the mode of payment. It also has the set rules in case the service receiver fails to make the payment as per the said date. You may like Business Purchase Agreements.
Monthly Payment Agreement Template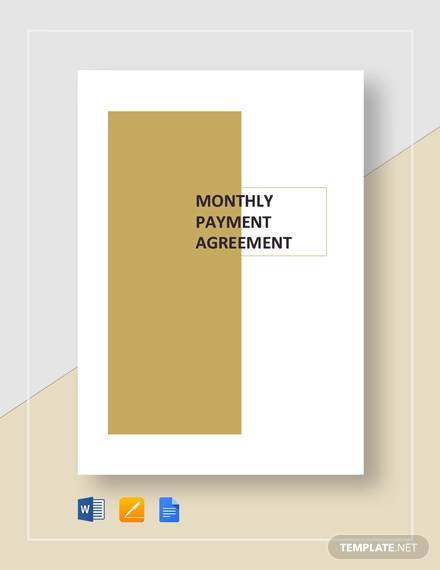 Installment Payment Agreement Template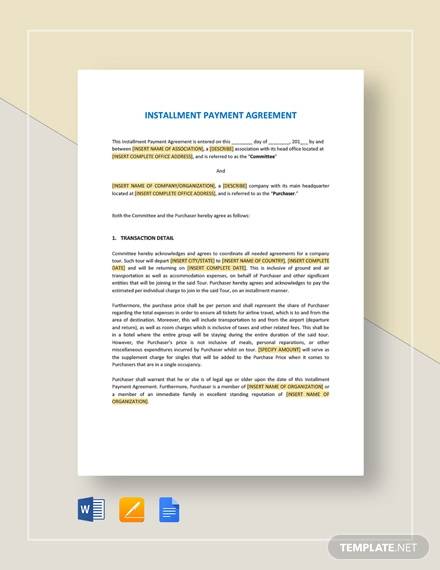 Sample Restaurant Payment Agreement Template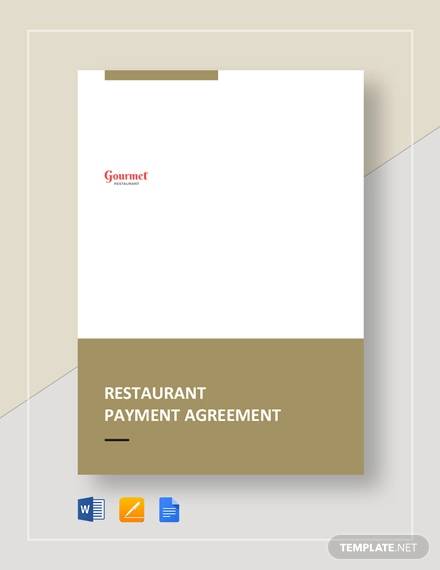 In addition the late payment charges and interest on the late payment can be included in the Loan Agreement. The agreement is signed by both the parties. You can check the sample. You can get the payment agreement template sample in PSD or word doc online.
Vehicle Payment Agreement Template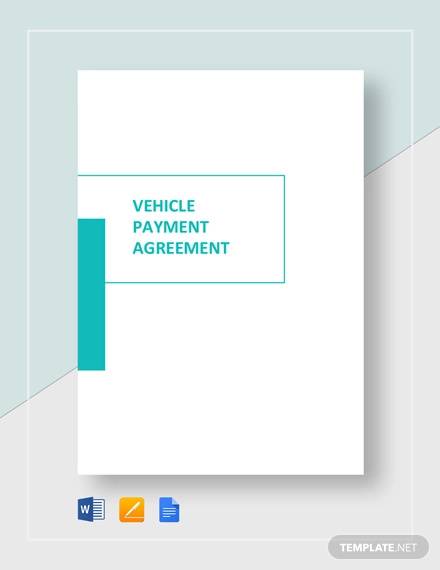 Agreement to Extend Debt Payment Sample Template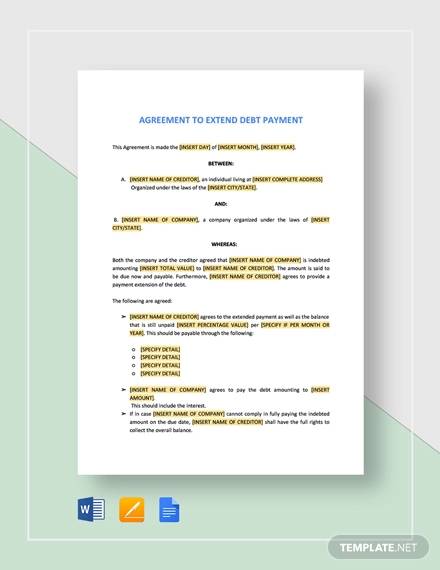 Editable Agreement to Extend Debt Payment Template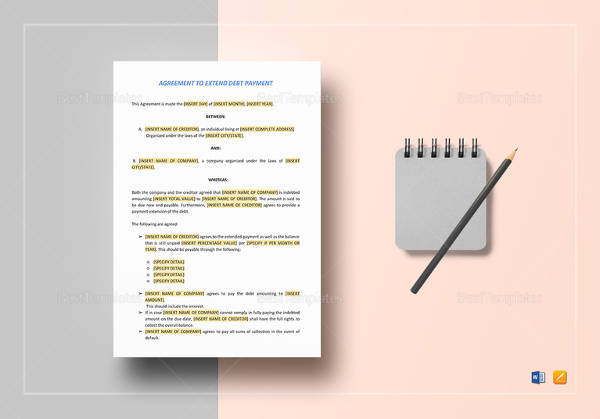 Agreement to Extend Debt Payment Terms Template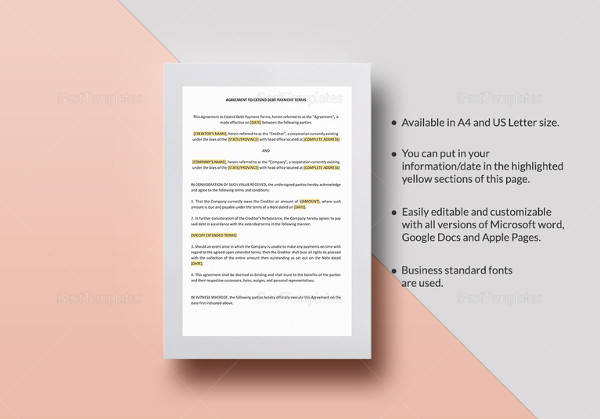 Simple Financial Support Agreement Template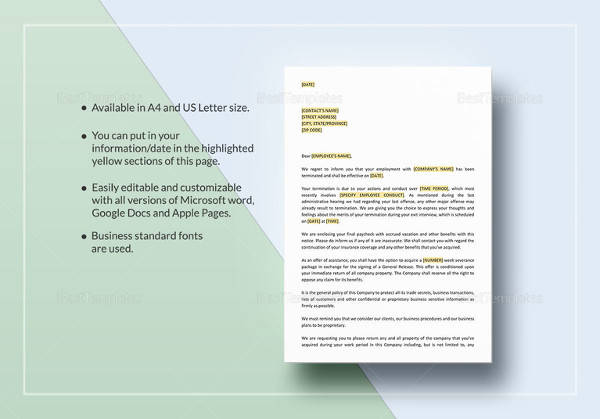 Transfer Agreement of Accounts Receivable Template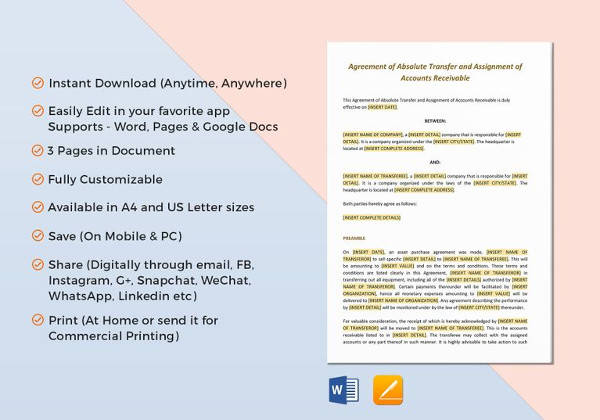 Business Investment Agreement Template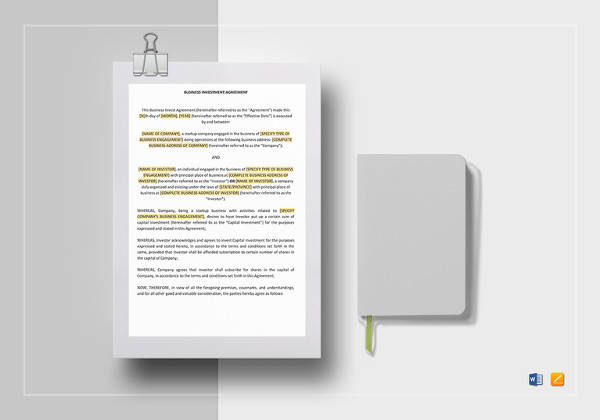 Direct Deposit Agreement Template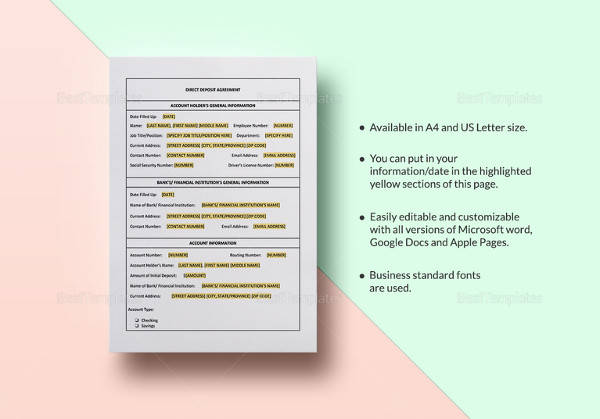 Printable Stock Purchase Agreement Template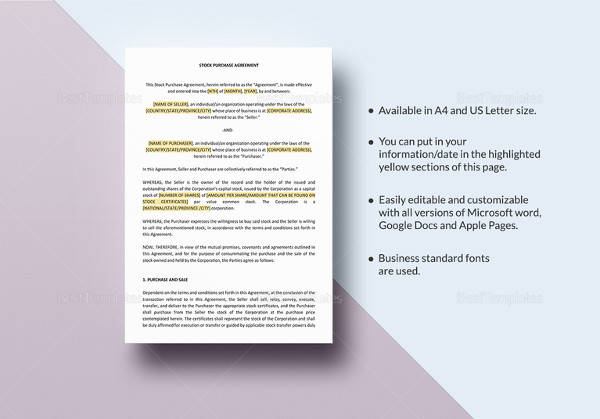 Editable Share Purchase Agreement Deemed Dividend Template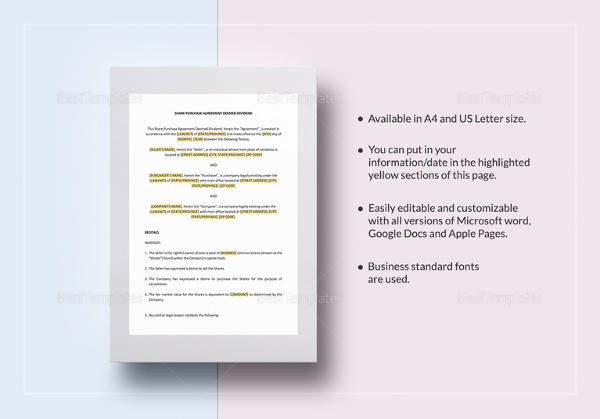 Payment Agreement PDF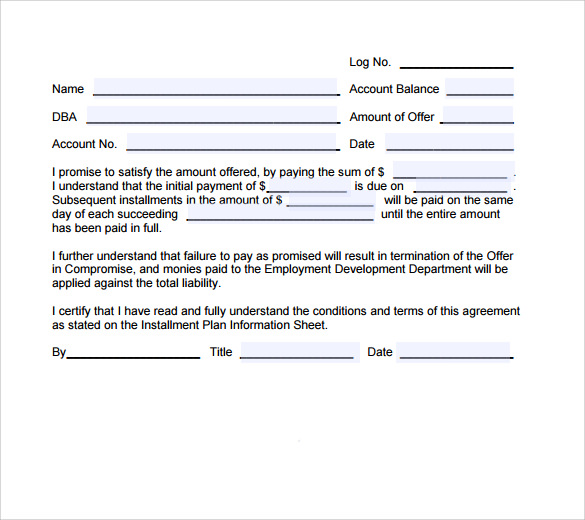 This is a payment agreement template made in PDF. It is signed between two parties to ensure payment at the end of a specified period of time. It contains both the party details, along with the amount to be paid in part or full. It serves as a legal document to ensure payment in a smooth manner.
General Payment Agreement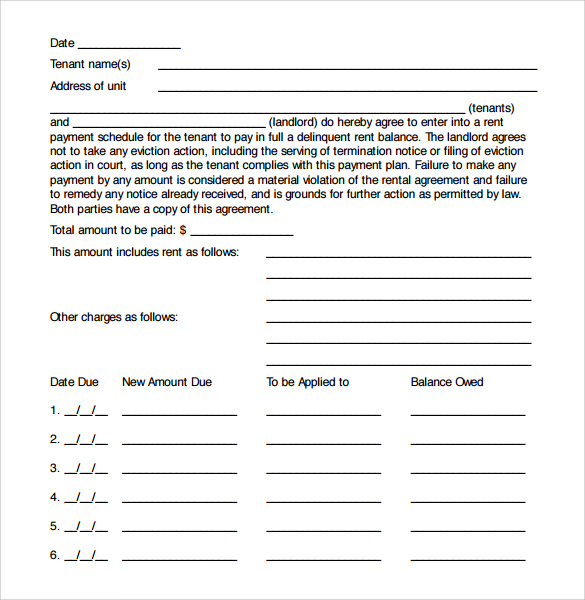 This is a general payment agreement meant to be signed between a landlord and a tenant. After signing this agreement, the tenant becomes liable to pay a fixed amount of rent to the landlord at a fixed period of time. The agreement contains the details of the parties and the property, along with a breakup of the rent.
Payment Agreement Format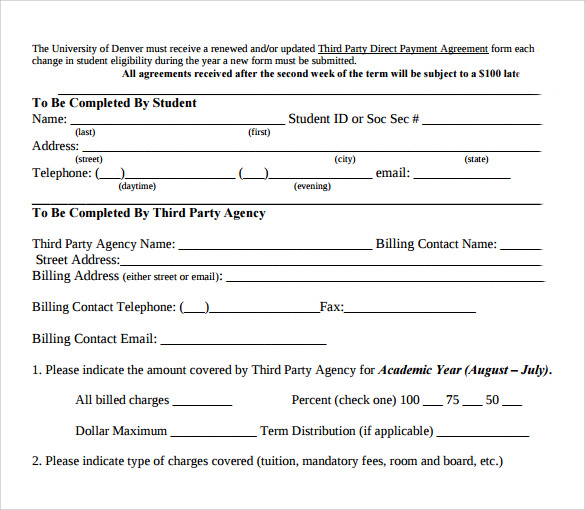 This one is a payment agreement format to be signed between a student and a university. It contains the details of the student and the university, the fee to be paid, and its breakdown. There is option of a third party agency as well, if involved.
Sample Payment Agreement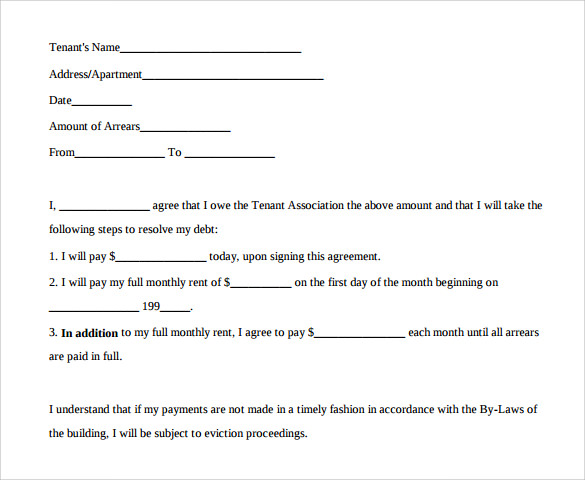 This sample payment agreement is intended to be signed between a building owner and a contractor. It contains the party, property and payment details, along with a short description of the work that needs to be done. By signing this agreement, both parties can be assured of their payment related terms and conditions.
Standard Payment Agreement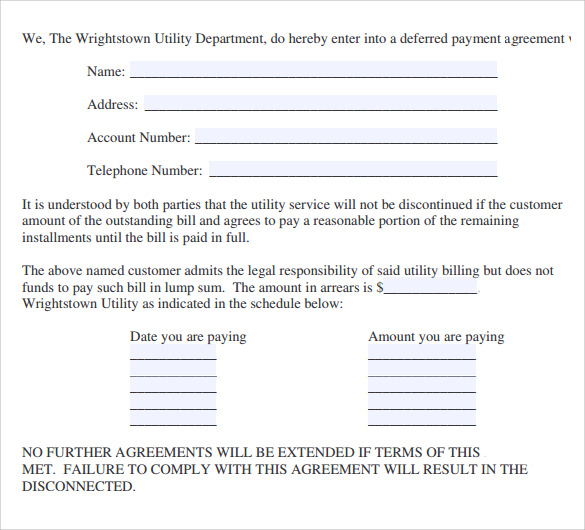 Payment Agreement Template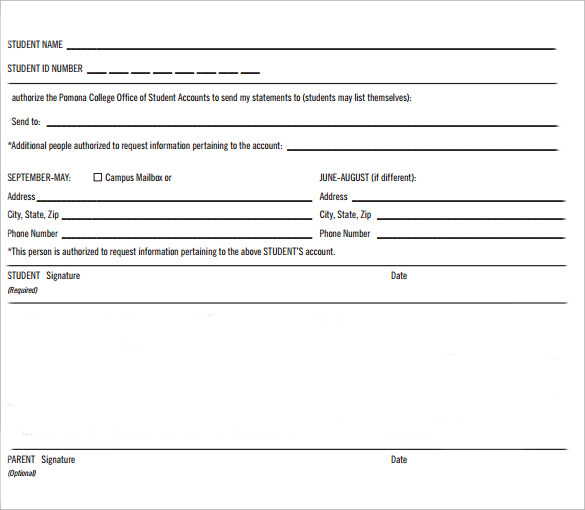 Payment Agreement Standard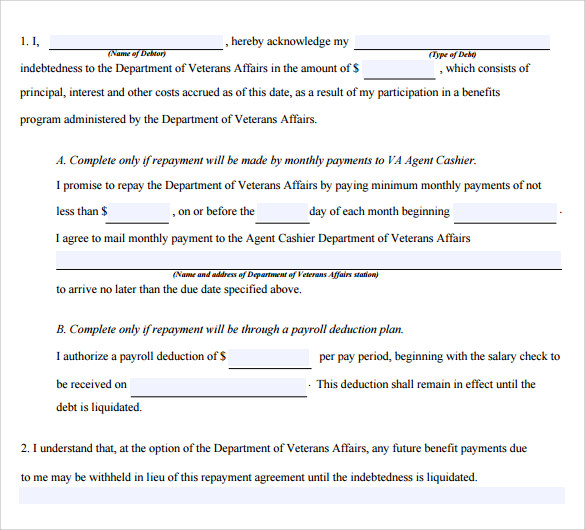 Payment Agreement Download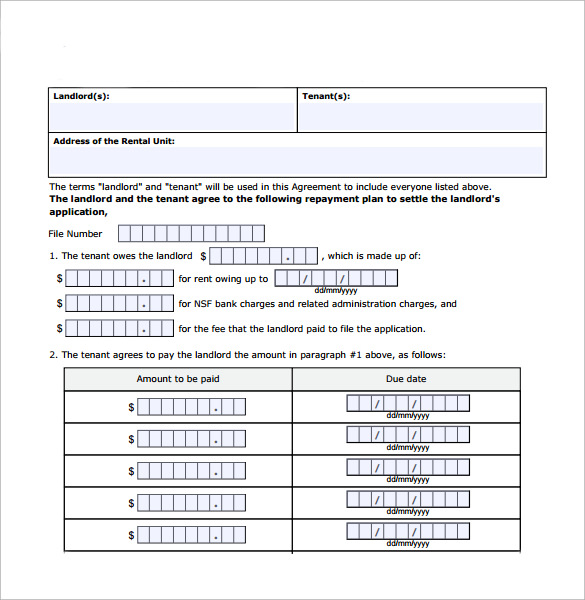 Simple Payment Agreement
Basic Payment Agreement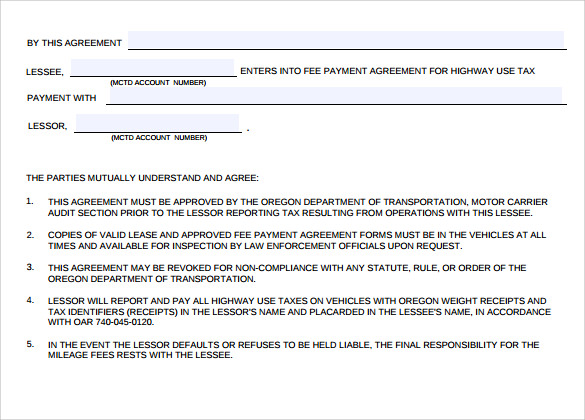 Download Payment Agreement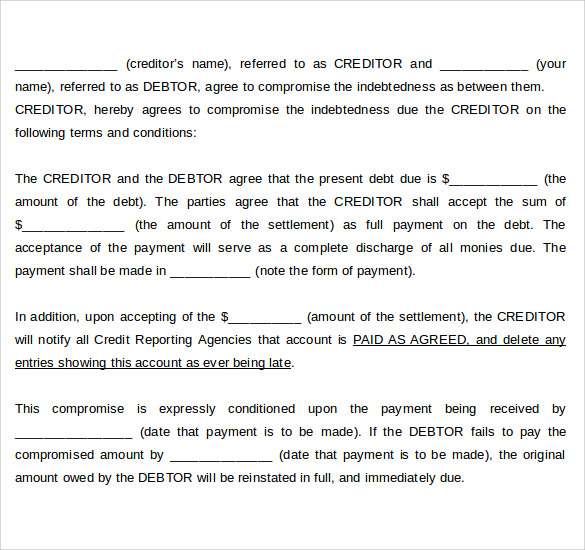 Why Do You Need a Payment Agreement Template?
A payment agreement is an important document that you need to get signed whenever you agree for a payment with any party. Whether you are on the giving or the receiving end, signing a payment agreement gives you the legal rights to sue the other party if he or she does not abide by the terms agreed upon.
It also makes things clear between the parties, so that any party can refer to the agreement in case of any confusion or disagreement. If you are going to deal in any kind of payment, then you can make this legal document with the help of these payment agreement templates. You may like Property Management Agreements.
When Do You Need a Payment Agreement Template?
Whenever you are entering into a payment agreement, you can use these templates to get the agreement made with professionalism. These templates have all the elements that need to be discussed and decided during a payment agreement procedure.
Whether you are dealing in an employment agreement, lease agreement, loan agreement or any other kind of agreement that involves money transactions, these templates help you to create a payment agreement with expertise.
Benefits of a Payment Agreement Template
First of all, these templates are all-inclusive, which you can use to create professional looking payment agreement without any professional help. In this way, you save money by not hiring a professional document expert.
There are different types of templates to choose from, all of them are 100% customizable, and they are easy to download, use and print too. You can also see Investment Management Agreements.
If you are signing an agreement that needs you to give or receive money, then these templates will give you a readymade platform to create such an agreement. Feel free to download them and print them out to enter into a trustworthy relationship.
If you have any DMCA issues on this post, please contact us!