A restaurant business is a hectic establishment that needs the helping hand of several people. If you're running a food place, you need to best candidates to help you maneuver the operations to gain exemplary results. A restaurant application form can help you sort through your applicant list and decide which of them fit the roles well. Look through our application form samples below and learn more about this tool through our article.
FREE 10+ Restaurant Application Samples
1. Restaurant Employment Application Template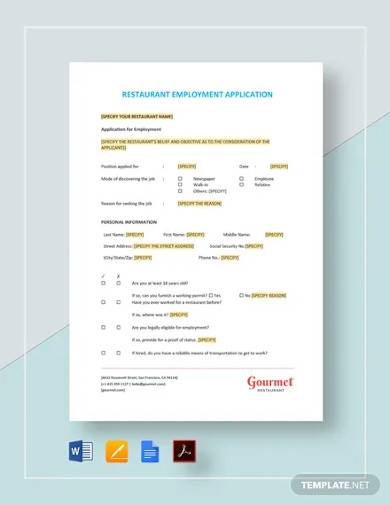 2. Restaurant Job Application Form Template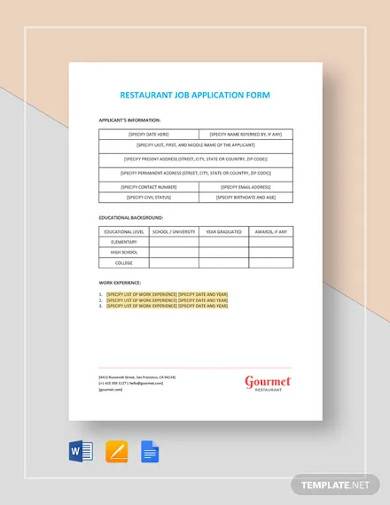 3. Restaurant Rejection of Application for Employment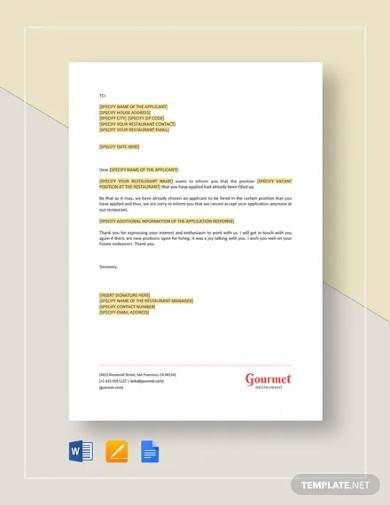 4. Restaurant Application Response Letter Template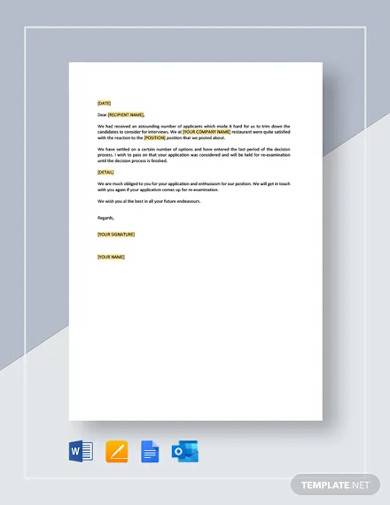 5. Restaurant Bank Loan and Application Form Checklist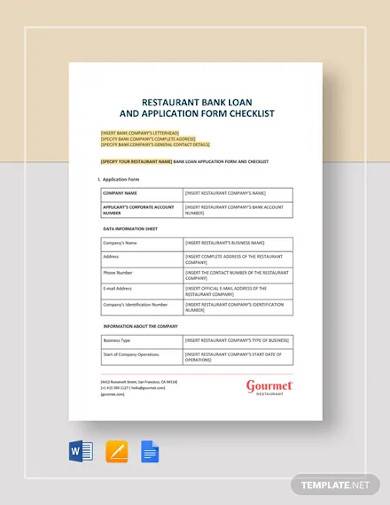 6. Bank Loan Application Form and Checklist for Restaurant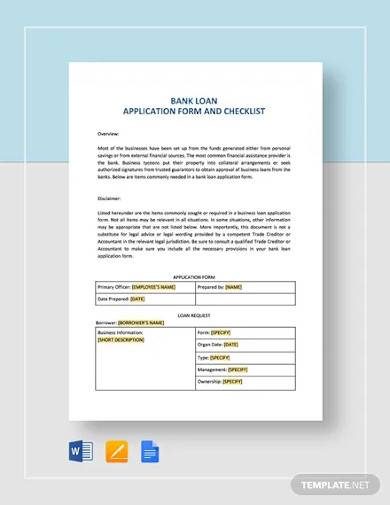 7. Restaurant Employment Application Form
8. Sample Restaurant Application
9. Restaurant Application for Employment
10. Restaurant Job Application Form
11. Restaurant Application Sample
What Is a Restaurant Application Form?
A restaurant application form works as a useful evaluation tool for restaurant recruiters when screening aspiring candidates. It's a form that the applicants fill up during the initial stage of the recruitment process. It contains their basic information, work experience, relevant skills, education, and other details that can help the recruiter evaluate their qualifications and decide whether to endorse them to the next round of the job hiring process.
What Should The Recruiters Know About Their Applicants
According to Glassdoor's human resource and recruitment statistics for 2020, job seekers regard a positive recruitment experience when the company communicates with them regularly, sets clear expectations, and provides feedback when they're faced with rejection. The statistics also point to unclear details about the salary and benefit, constant schedule changes, delayed responses, and ambiguous details about the job description as the biggest cause of disappointment when applying for a job. If you're looking for a way to win the best candidates, you should keep an eye on these.
On the other hand, as a recruiter, what things should you know about your candidates. Here are some important questions you should be asking them:
1. What they want and what they have. Often, when people change their jobs, it stems from unmet expectations and employee dissatisfaction from their previous organization. You need to find out what they had and what else they're looking for to assess if your organization can offer that to them.
2. Strengths and weaknesses. For sure, your applicants will show the best of what they got that will account for their list of strengths. But what about their weaknesses? You're not looking for the perfect candidate but someone who had been through a blunder and overcame it to get the job done.
3. Ideal company culture. This is something that most interviewers don't get to ask their candidates often, but if you want to find out whether your applicants can thrive in your workplace, inquire about their preferred company culture. Your employees develop loyalty no because of high salary and benefits but because they fit right into the environment.
4. Salary expectations. Your applicant's payslip expectations are important to ask during the recruitment process, especially if you're dealing with a tenured and skilled individual. This is to determine whether or not your company can match up to their pay standards or allow them to go for other candidates.
How to Make a Restaurant Application Form
Here are some tips to help you ake a restaurant application form:
1. Determine All Necessary Details
Start with a draft or an outline for all the necessary details that you must include in your restaurant application form. Because you will be using this to assess all candidates and determine whether or not they can proceed to the next stage of the screening process, your information should be geared towards that goal. Start by putting their personal details, such as their name, location, and contact details. Proceed to determine their education or training sessions that would make them a perfect fit for the position. Next, ask professional experiences that are relevant to the offered position. You can also include their skill sets and interest on your list to make a well-informed decision on whether or not they fit the position's job description.
2. Divide the Form Into Sections
Dividing your form into different sections is important, so your applicants don't get confused when filling it out. This also contributes to making your form easy to review and assess when they apply to you. Categorize the section into similar ideas, such as the basic information and contact details, educational background, work experience, volunteer experience, and others. If it's for a waiter or waitress application, you may want to find out if they have prior experience in customer service in the food industry. You may also want to find out about their skills and specialties that you can place in another section of your document.
3. Ask Relevant Questions
Aside from including fill-in-the-blank queries or checkboxes, it helps to include relevant questions at the end of your form. This helps you assess the candidates more than what their education and experience say. You'll be able to learn about their goal plan and motivation for wanting to join your company. This will also help you distinguish them from all others with similar profiles. You can ask them why they want to join your company and why they're the perfect fit. You can also inquire about what they hope to achieve through your organization and if they plan to stay for a long time.
4. Employ Simple Layout
After setting up all details you need to complete your form, all there's left to do is to make your layout visually appealing. Because this is essentially an application form, your goal should be to comprehensible you and the applicant. Keep your layout basic and simple. Avoid putting additional colors and borders as it is not creative work. Use formal fonts with a regular text font size. When you decide to add something to the document, you can use your brand's logo and color scheme to make it exclusively yours.
FAQs
When should you use an application form?
Here are instances when you should use an application form:
When you want to evaluate your candidates easily
When you want to know details that are not on their resume
When you want a confirmation of their details
What are some advantages when using an application form?
Some advantages when using an application form are you can be sure that information is updated and accurate and that you can store the form for future vacancies.
When's the best time to call an applicant for an interview in the restaurant?
Unless you have a separate office away from the store, the best time to call an applicant for an interview schedule in a restaurant is between 2:00 and 3:00 P.M. It's the time after lunch, and there should be fewer customers in the establishment.
When choosing the best staff for your restaurant business, it pays to have the best people to help you meet your entrepreneurial goals. This is why you need the best tools you need when manning your recruitment process. Our restaurant application templates are here to help you. We have the best collection for everything you need. Download now!