When talking about commercial businesses, there are enterprises you can find in various industries. There are firms in food catering, clothing retail, product marketing, vehicle maintenance, and website development, to name a few. When it comes to entertaining client or customer questions and concerns, we have the customer service field for such work. Various tools and materials are integral to running a call center that provides customer service. Some of these include form documents, which we can incorporate to fulfill multiple purposes. Forms are suitable for job applications, change requests, employee checklists, survey feedback, evaluation questionnaires, customer complaints, etc.
10+ Customer Service Form Samples
1. Restaurant Customer Service Action Form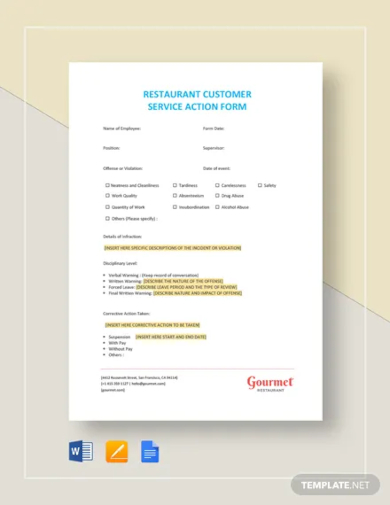 2. Customer Service Action Form Template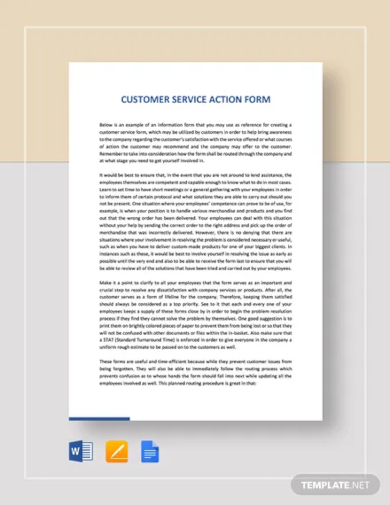 3. Customer Service Incident Report Form
4. Customer Service Evaluation Form
5. Sample Customer Service Form
6. Customer Service Nomination Form
7. Customer Service Change Request Form
8. Customer Service Application Form
9. Formal Customer Service Form
10. Customer Service Complaints Form
11. Customer Service Feedback Form
What Is a Customer Service Form?
In our modern era, customer service is one of the most vital business fields. Customer service enables businesses to form favorable relationships with their patrons. A gym, bakery, beauty salon, restaurant, hotel, and more can benefit from having a customer service department. You can tackle customer-based issues more efficiently by employing professional customer service agents. However, for such workers to operate effectively, they need the right tools and documents at their disposal. One such resource is a form document which is highly versatile in use. A customer service form can be a survey questionnaire, feedback report, expense statement, analysis worksheet, and membership application, among other documents. Read our guide below if you're wondering how to draft a customer service form in no time.
How to Make a Customer Service Form
1. Decide on a Program for Writing Your Customer Service Form
When composing a customer service form, you need a word-processing application that suits you or your company's needs. There's a fair variety of software to choose from across different platforms. On Windows, MS Word is the definitive go-to for drafting all kinds of documents and materials. Meanwhile, Apple Pages is par for the course on any Mac computer. And Google Docs is perfect on the go with a browser and internet connection.
2. Determine Your Customer Service Form's Content
A customer service form can fulfill multiple office needs. Due to the broad purpose of a form document, you need to decide what you need to write down. Depending on your customer service form's purpose, you can include questions, instructions, spreadsheets, or other content in your draft.
3. Create a Customer Service Forms That's Easy to Use
Comprehensive content is essential to making an efficient customer service form. Not only do readers need an easy time reading your document, but they also need to do so in just one scan. Keep the wording short and direct while maintaining a professional tone throughout. Consider your text's size, color, and style for better readability.
4. Use Document Samples to Write Customer Service Forms Easily
It's highly recommended to incorporate a sample template if you need to streamline your customer service form's drafting process. You can find document mockups in DOC, MAC, and many other file formats. For cross-platform flexibility, using a PDF form sample is the best way to go about it. A PDF document can work on Windows, MAC, and mobile systems, too.
FAQs
What are the different types of service requests?
That are many different types of service requests that include customer calls, customer complaints, field services, information requests, and installation requests.
How do I write customer service letters?
When writing a customer service letter, express gratitude, use everyday language, utilize headings, avoid being overly formal, refer to supportive documentation, and provide expected timeframes.
What skills are essential for customer service?
Empathy, self-control, patience, persuasive speech, and adaptability are some examples of essential customer service skills.
Customer service is one of the foundations of operating a commercial business. So, when preparing customer service forms, use editable and printable PDF samples for effective drafting.