If you're starting a company of your own, you won't be able to do all the work alone without hiring staff and assistant that can help you with your daily operations. Budgeting for your employees' salary and wages is a crucial part of a business' financial plan. This should be among your top priorities. An efficient payroll budget can help you manage your finances to fund your workforce. Scroll for samples below and check out our comprehensive guide about this topic.
FREE 9+ Payroll Budget Samples
1. Payroll Budget Template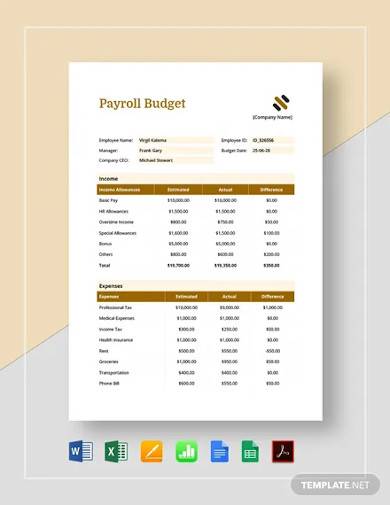 2. Restaurant Payroll Budget Template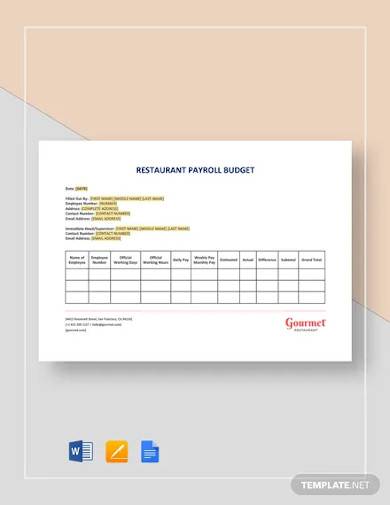 3. Annual Payroll Budget Template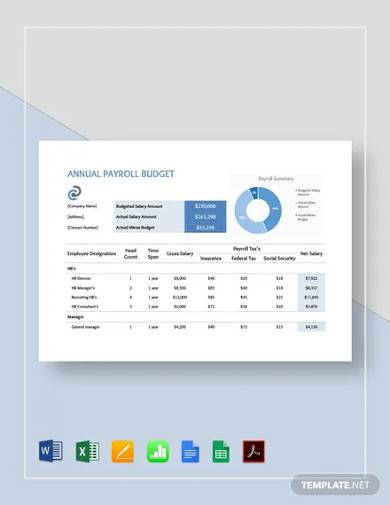 4. Restaurant Payroll Hours Confirmation Log Template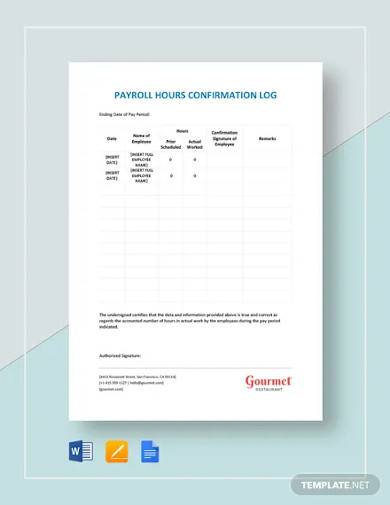 5. Payroll Worksheet Template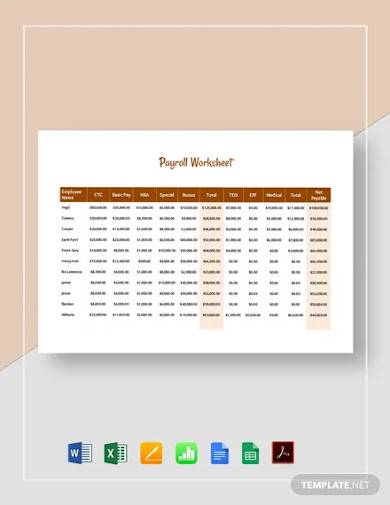 6. Payroll Sheet Template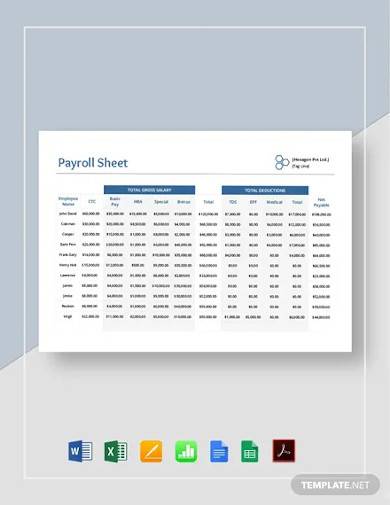 7. Payroll Budget Template for a Restaurant
8. Budget Payroll Spreadsheet Template
9. Payroll Budget Form Sample
10. Employee Payroll Budget Format
What Is a Payroll Budget?
A payroll budget details the employer's costs for their employee's rendered services. This budget is largely dependent on your company's industry, market size, and the number of staff you need to hire. While it's constant amount depends on an employee's basic pay, this can differ on a monthly or weekly basis as there can be additional expenditures such as overtime, bonuses, and other forms of benefits.
Different Types of Payroll Systems
According to the US Bureau of Labor Statistics, the compensation costs, wages, and the benefits for over the year until June 2020. The compensation increased by 2.7%, wages and salaries rose by 2.9%, and the benefits hiked to 2.2%. According to the Committee on Education and the Workforce of Democrats that while wage increases might seem to faze business owners, 80% of executives and 60% of small business owners are on the same side of the idea. It also helps boost the economy as it contributes to employee retention and engagement.
When handling salary budgets, there are different types of payroll systems that they can use:
1. Manual Payroll System. This system requires the one in charge to do computations by hand. Employers can use time-in sheets to calculate late deductions and track absences. This is inexpensive and ideal for an office with very few staff members as this is vulnerable to errors.
2. In-House. An in-house system uses software to replace the tedious option of manually computing the employees' salaries. It's easier to generate results and fix problems.
3. Outsourcing. This is a viable option if you have numerous staff working for you. Hiring professional bookkeepers and accountants helps you to not only make accurate computations but also take care of tax and insurance reports. However, you're still the one responsible for depositing them to the right agencies.
How to Make a Payroll Budget
Here are some necessary steps to follow when making a payroll budget:
1. Consider Your Income Statement
If you've been working solo on your business and would like to hire an extra pair of hands, it's definitely a good idea to start working on your payroll budget. However, can your resources handle it? Visit the status of your income statement and determine whether or not you can afford to hire another staff in your company. Remember that labour costs will be among your fixed budgets. By examining your income status, you'll be able to make a more informed decision. Based on your observation, you can hire several people full-time or accept part-timers instead. Your payroll budget won't compromise anything in your budget plan if you start with this.
2. Examine the Employee's Role
A crucial part of deciding how you'll go about your payroll budget is to consider the role of the employee you're going to hire. You should expect to offer a higher pay grade if you're recruiting personnel for a managerial or administrative status. You should also consider the scope of their job description. Read about their roles, work schedules, workplace conditions, and other related matters. This helps you make up your mind whether to hire more than you intend to or push through with your current recruitment plan. Aside from that, you should also pay attention to the skill level and credentials you're looking for in a candidate. The value of the role should impact how you should go about your payroll budget.
3. Research Wage Scales
If you're hoping to snatch the best talents in the market, you should know that hiring is a competition. While most aspirants think that they're racing against multitudes of other applicants, you're also head to head to with other businesses who are looking for the same position written on your job poster. You should research on wage scales on the job market. Find out the median pay for the position you're looking for. This will seal your decision on whether or not your resources can support the type of position you're looking to hire. You'll also match your applicant's salary expectations.
4. Include Taxes and Insurances
You must know that it's mandatory under the labour law to provide the necessary insurances and deduct taxes from your employees' base salary. Let them know what will be charged from their monthly or weekly payroll so they won't have to question what will come upon their payroll distribution. Remember that there are consequences for not following this rule. You can also deduct voluntary contributions from their salary, depending on the plans that you have available for them. This can include retirement programs and union dues.
FAQs
What percentage of your company budget should cover the payroll?
The safe percentage for a payroll budget should be 15 to 30% of your sales.
How much is the minimum wage per hour in the US?
The minimum wage per hour in the country is $7.25.
What is the complete list of items included on the payroll?
The complete lists of items included on the payroll are:
Basic pay
Employee benefits
Leaves and absences
Allowance
State and local taxes
You should prepare the payroll budget long before you start to put your business together. It's one thing to have your establishment and your products and services ready; it's a whole another story when you have people who depend on you. Our payroll budget template samples can help you accomplish this task more efficiently. Scroll through our collection and make the best selections. Download now!