When you start a business, you need a capital. The same goes for non-profit or youth organizations and start-up companies. There a lot of activities and programs that are planned out by these organizations through the rest of the year, and it cannot run without proper funding. Fiscal matters can be established through grants, sponsorship, or fundraising. Be that as it may, it's still hard to ask these things without an appropriate budget proposal (click to check out free templates!) In order for the institution to seamlessly course through the entire year, a program budget is also encouraged in order to avoid destitution, as you record your expenses and necessary resources in it.
This article provides you with free, editable, and printable Nonprofit Program Budget templates to guide you in making your own. Keep on reading to find out more!
5+ Nonprofit Program Budget Samples
1. Nonprofit Program Budget Template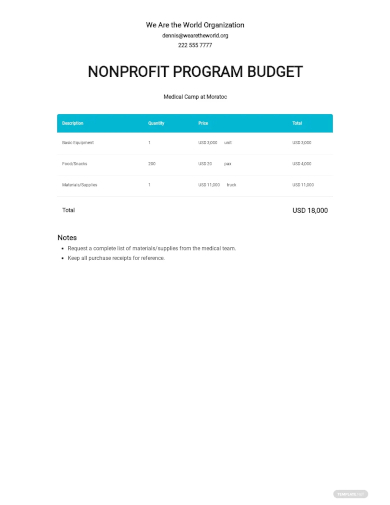 2. Nonprofit Program Budget Chart
3. Nonprofit Services Program Budget
4. Nonprofit Organization Program Budget
5. Nonprofit Annual Program Budget
6. Nonprofit Program Budget
What Is a Non-profit Program Budget?
A Non-Profit Program Budget is a document that tracks your incoming expenses and allocate your resources into the appropriate operation. It outlines both the costs and revenue that your business expects to collect over a specified period of time. It is encouraged to always review the cash flow with the implemented budget throughout the time period to determine if the costs are up to par with the expected consumption of the year.
How to Make a Substantial Non-profit Program Budget
Creating a non-profit program budget can be tricky as the expenses may fluctuate as the project progresses. It is common that the initial cost may differ from the actual amount. However, if you are interested in creating a substantial non-profit program budget, then here are the basic components to include:
Make SMART Goals
SMART means Specific, Measurable, Attainable, Relevant, and Time-bound. Anchor your organization's future events and programs with these goals to maintain consistency and reliability within yourselves. This will also allow you to utilize your resources without waste.
Use a template
Utilizing a general template for your budget will encourage uniformity and organization with all your expenses. This way, whoever is/are in charge with accounting the budget will have a sense of continuity because they will be following a structured flow with the allocation. You can check out free budget templates for non-profit organizations to use here.
Include justifications
For every expense/category, don't forget to include justifications in order to uphold transparency and accountability. This will also help you prioritize which expenses are necessary and which are less so.
Prioritize fixed and necessary cost
Take account with all the fixed costs necessary for the organization such as utility, electricity, salary, insurance, and so on. After that, you can determine your variable costs.
Track monthly expenses
Tracking by month instead of annually will help the organization scrutinize the expenses more carefully. It will help allocate funds more proportionately all the activities within the month.
Calculate inflation
Estimate budget tracker from the previous years to review the increase or decrease per year. This will help audit the inflation of the organization's budget over the years.
FAQ
What qualifies as program expenses for nonprofits?
Nonprofit organizations incur program expenses when they carry out their objective and deliver goods and services in accordance with it. These are provided through programs that provide health care or food and clothing to the poor.
What are fixed costs and variable costs?
In economics, the two primary types of costs that a corporation incurs when producing goods and services are variable costs and fixed costs. Fixed costs stay constant regardless of how much a company produces, while variable costs change with the quantity of output produced.
Are all expenses functional expenses?
Program expenses and supporting services such as management and general, fundraising, and membership growth all fall under the functional expense categories.
What are administrative expenses for nonprofit organizations?
Board of directors meetings, committee meetings, general legal services, accounting, insurance, and bookkeeping are just a few examples.The nonprofit's entire operations and management are covered by administrative costs.
Although the word "non-profit" would entail not generating any profit off the organization, non-profits still need fiscal support in order to carry out the programs that are intended for the marginalized and those in need. Hence, proper bookkeeping that is transparent and legitimate is important for a non-profit organization as money flows in and out of them. The templates we provided above can help you in making an honest financial breakdown for your organization. Print these now and you're good to go!