Resumes have been around for a long time. I'm not the one who can tell you exactly how long it has been around or who invented it. All I can tell you is that it is a must have for any applicant regardless of whatever job they are applying for. Why is it a must-have?
A resume is a brief summary of who you are as an applicant or employee, if you already have work experience. It highlights your education, skills, qualities, and accomplishments. It should be of high quality. If you are into quality and you are seeking a quality assurance job, then you have come to the perfect place. These quality assurance Sample Resumes will help you get started.
Quality Assurance Administrator Resume Template
Free Quality Assurance Specialist Resume Template
Quality Assurance Consultant Resume Template
Quality Assurance Supervisor Resume Template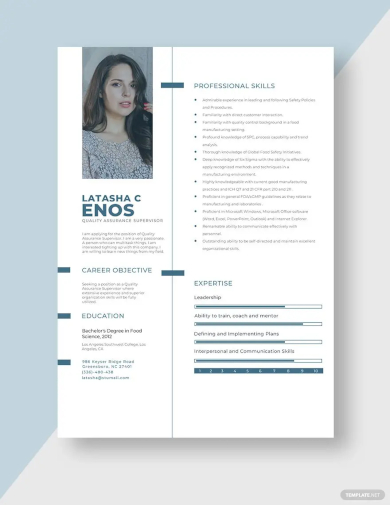 Quality Assurance Engineer Resume Template
Sample Software Quality Assurance Resume Template
Sample Quality Assurance Manager Resume Format
Quality Assurance Supervisor Resume Example
Quality Assurance Engineer Resume Template
Quality Assurance Executive Resume Template
We have here samples to give you a glimpse of what a quality assurance resume looks like.
Software Quality Assurance
In this resume sample you will see that the applicant's name is written in the largest font size and in bold letters. What a good way to start your resume. This will catch the attention of the hiring company or manager, and they will remember your name. That means your chances of getting hired are high. Other important components, like career objective, professional experience, education, and technical skills are also written in bold so that they are easy to read. You may also want to check our IT Project Manager Resumes.
Quality Assurance Manager Resume Format
Applying for a managerial position? No problem! Our quality assurance manager resume format is what you are looking for. Notice how important information like the applicant's name, areas of expertise, personal summary, work experience, etc., are written in red. This highlights those information so that they can be easily seen.
Quality Assurance Engineer Resume
This resume allows you to showcase and summarize all your achievement and qualifications. You may also see Sample Engineer Resumes.
Quality Assurance Executive Resume
If you are applying for a position higher than a manager, then you better check this resume sample. Just below the job title is a short know-how about the applicant, which is like a selling pitch to sell yourself to the hiring party.
Sample Quality Assurance Skills Resume in DOC
Quality Assurance Test Manager Resume Template
Sample Quality Assurance Analyst Resume Template
Quality Assurance Tester Resume Template
Why Is a Resume Important?
A resume is the first thing that a company or a hiring party sees before you come to meet them for a job application. The interviewer won't see you wearing that impressive suit first. They will scan your resume first and check your qualifications if it fits their needs. Most of the time it is more than just the qualifications that gets the applicants hired. Some of them just have impressive and good-looking resumes.
What Is the Purpose of a Resume?
Some people believe that creating and submitting a resume will land them a job. Do you think so? When I started job hunting, I always thought that resumes are just pieces of sample paper being asked by the recruitment personnel to be put in line for the initial interview. I didn't really think that it has that much value. Then I found out that there are really companies who look into your resume and check what you are good for. The real purpose of a resume is to impress the company or the hiring party that you contact to bring you in for an interview. This gave me a reason to write better resumes.
It's amazing how resumes can do wonders for applicants. You can download our quality assurance resume samples online, as well as our IT Manager Resumes.