The legendary National Collegiate Athletic Association (NCAA) coach, Bob Knight, once said, "Everyone wants to win, but not everyone is prepared to win." His drive and passion for success must have been his key principle in achieving his career's 902 coaching victories. Applying for a coaching job requires the same intense principle that mad Knight a name to behold in the basketball field. But before that, a good coach resume should help you get through the rounds of the screening process. It should highlight your strengths and aid you in getting that coaching position you've been preparing for.
FREE 15+ Coach Resume Samples
1. Job Coach Resume Template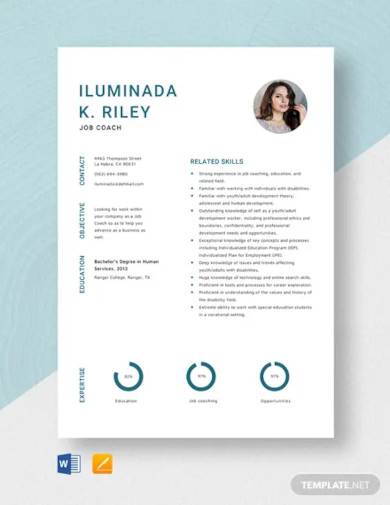 2. Baseball Coach Resume Template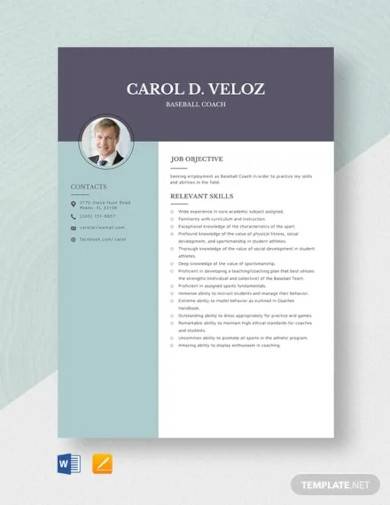 3. Agile Coach Resume Template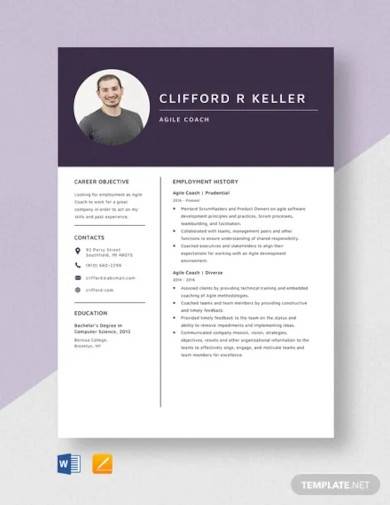 4. College Football Coach Resume Template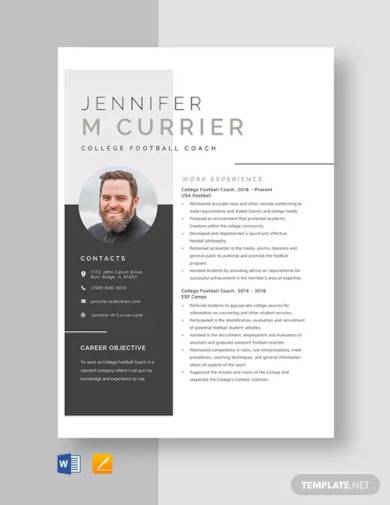 5. College Basketball Coach Resume Template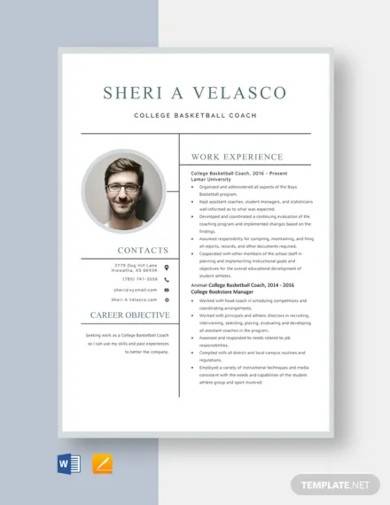 6. Assistant Baseball Coach Resume Template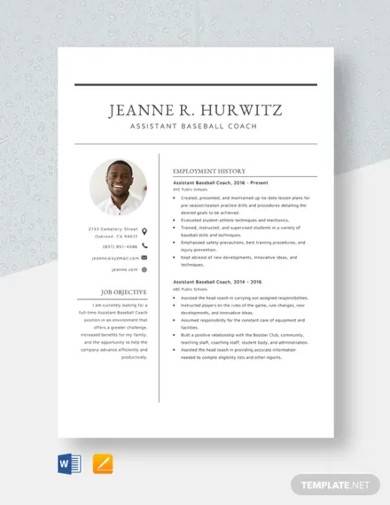 7. Head BasketBall Coach Resume Template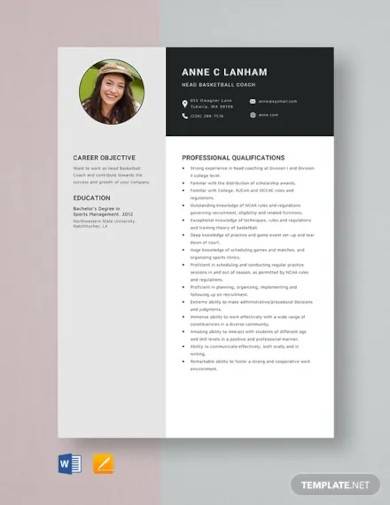 8. Assistant Football Coach Resume Template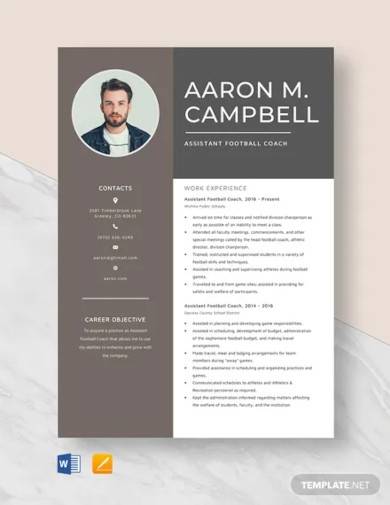 9. Sample Head Coach Resume Template
10. Sample Soccer Coach Resume
11. Sports Management Coach Resume
12. Sample Boxing Coach Resume Template
13. Hockey Coach Resume Sample
14. Baseball Coach Resume Template
15. Cricket Coach CV Sample
16. Sample Soccer Coach Resume Format
What Is a Coach Resume?
A coach resume is a document that profiles a person's professional background. This includes their experiences, skills, education, and achievements. This introduces them to a job coaching opportunity and helps them land the position they're applying for. A good resume is a great asset in helping you score your desired career.
The Don'ts of Making a Resume
According to The Balance Careers, one of the purposes of a resume is for "self-advertisement." It provides your prospective employer with a comprehensive content of who you are professionally in a way that will make them want you for an interview. If you want to submit the best resume for any job position, here are some don'ts of resume writing that you should keep a close eye on:
1. Don't get too personal. Your resume should remain professional. If you should include links to social media sites or personal blogs, make sure it displays your professional work and design to impact your experience.
2. Don't use an unprofessional layout. An unprofessional layout includes multiple shades of distracting color, not so business-like fonts, and an excessive display of document embellishments. Keep everything neat and orderly even when you want to have a creative resume.
3. Don't. Ever. Lie. You don't want to impress the panel with lies and an inaccurate description of your experiences. Your employer might do a background check of you and the inaccuracies you included might cost you more than your dream job.
4. Don't skip on checking your contact details. Your resume's contact is your employer's only means of connecting with you. You wouldn't want to miss out on a good opportunity because of a faulty contact number.
5. Don't allow any typo or grammar errors. This may be nothing more than a slip of your fingers, but most recruiters get disappointed with a less than perfect resume.
How to Make a Coach Resume
Besides learning what you shouldn't do when making your resume, here are some useful tips that you can use:
1. Introduce Relevant Professional Experience
The highlight of every resume that employers readily explore is the professional experience section. While you may have explored in various fields and areas throughout your career, focus on matters that support your job prospect. Because you're applying for a coaching position, focus on highlighting your strengths through your experiences, achievement, and training certificates in that area. Have you taught sports lessons before? Do you have voluntary experience in leading a basketball or soccer team? Were you in a team? These are some of the relevant information that you can have on your resume. 
2. Underscore Your Skills
Most people are intimidated when they're asked to share what they know and what they can offer. However, your employers must know what you have in store for them. This is why your athletic coach resume should include your skills and level of proficiency in areas that correlate with the position you're applying for. For this one, refer to their posted job description and evaluate which of the skills they require do you possess. This way, you can be sure that personal profile fits the right person they're looking for on their job hiring advertisement.
3. Include Only What's Necessary
If you've been through a lot and your years in the field earns you two to three pages' worth of resume document, you should consider narrowing it down to what matters the most. More often than not, the recruiters won't be looking for an individual with most resume content. They'll look for who's the perfect candidate for the job opening. Limit your content to one or two pages only. Include only experiences and skills that fit the coaching job description. If you're making a life coach resume, you may have the list of seminars or group sessions you've been in. If you're making a wellness coach resume, your works' online platform will help boost your chances. Scratch out details on your job application that has nothing to do with your desired position.
4. Strive to Stand Out
There's no special secret to making your resume stand out rather than molding it into the best fit for the job. Having a resume that correlates with the position directly gives its candidate an edge among all others. This is why you should have different resumes for the different job positions that you're going for. Aside from that, you can also incorporate a resume format that makes your profile visually appealing without being distracting. You can use a professional business resume template that represents your personality.
FAQs
How do you differentiate a resume from a curriculum vitae?
Compared to a curriculum vitae (CV), a resume is concise as it contains the necessary skills and experience for a job position. On the other hand, a CV contains a person's academic history and credentials, which can be lengthy.
What are the different structures of resumes?
The different structures of resumes are reverse chronological, functional, and hybrid.
If you're new to the field, how long should your resume be?
If you've got less to show and even if you're experienced, a single-page resume is more than enough.
Before you can show how great you can be at leading the pack of promising individuals towards the championships, your coaching resume will have to pass the scrutiny of an initial screening. Your skill and talent should reflect on your resume's content. If you want to achieve the best effortless results, get yours from our display of resume templates. Get yours now!