3+ Executive Associate Resume Samples
Are you looking for a job, specifically targeting secretariat work? A job as an executive associate might be the position you're looking for! An executive associate is a person who works as a clerical assistant to the CEO or president of a corporation. Don't confuse this with being an executive assistant, since there is a difference between the both of them– executive assistants type reports, forward calls, take messages, organize critical documents, and react to emails. If you're looking to polish your resume to secure that job position of an executive associate, look no further! For your convenience, we provide you with free and ready-to-use samples of Executive Associate Resumes in this article. Keep on reading to find out more.
1. Executive Associate Resume Template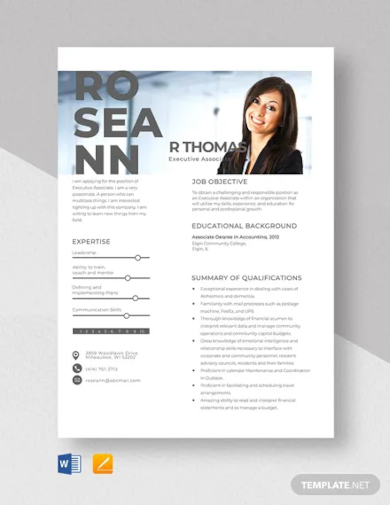 2. Associate Account Executive Resume Template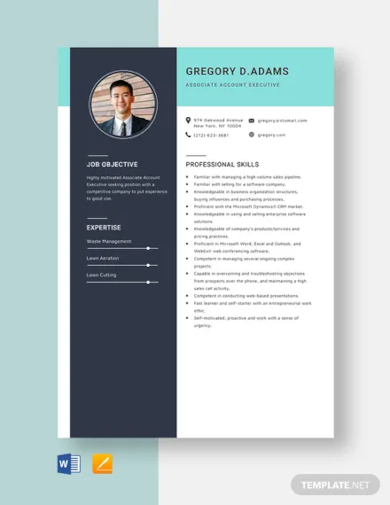 3. Professor Executive Associate Resume
4. Executive Associate Dean Resume
What Is an Executive Associate Resume?
Executive associates are employed to give them more time to focus on more essential matters and to relieve them of the burden of producing reports and taking phone calls. They act as a link between firm executives, clients, and staff. In a nutshell, associates support executives with all types of clerical tasks. These associates oversee clerical tasks and ensure that CEOs have sufficient time to focus on other matters. Executive associates are in charge of interpersonal relationships, travel, software, costs, health, presentations, excel, payroll, telecommunications, and security.
With this in mind, the main aim of your resume is to get you an interview for a position as an executive associate. Keep in mind that you're attempting to market yourself, therefore accentuate your advantages. It's more than a document: it covers your experience, abilities, and education so that a potential employer can immediately and easily see how your unique experiences may contribute to the success of the firm.
How to Make an Executive Associate Resume
The candidates you'll be competing with for this employment at your level will come from a variety of backgrounds. That is why your resume must make a lasting impression on potential employers. To write a fantastic executive associate resume, you could use the free templates provided above. Aside from that, here are you the following steps you should take should you want to write one on your own:
1. At the start of your resume, highlight your qualifications.
This section, on the other hand, isn't just a recap of your previous executive associate duties. The work experience area of your executive associate resume is crucial. It's the only thing the recruiter is concerned about and pays attention to. Its purpose is to portray you as a well-rounded applicant by highlighting your relevant achievements.
2. Indicate your contact details.
In your executive associate resume, the section contact information is crucial. If the recruiter wants to give you the position, they must be able to reach you as soon as possible. Provide links to your social media profiles or professional websites alongside your other contact information to make it easier for them.
3. Give details about your educational background.
On your executive associate resume, make education a top priority. Put your education after your executive associate experience if you've been working for a few years and have a few strong positions to show. The colleges from which you graduated, your bachelor's degree, the year you graduated, and the location of your school are all important facts to provide.
4. Use a simple and sleek lay-out for your resume.
The greatest resumes are visually appealing and easy to read by applicant tracking systems. There are a plethora of resume templates available on the internet, and we're witnessing an increase in the adoption of more creative formats, even among executives. The use of color, non-standard sections and layouts, and fancy fonts or bar graphs to show ability levels are all common features of these formats. Check out our free resume lay-out templates to help you out.
FAQ
What is the significance of a resume?
Employers use resumes to make recruiting decisions, and they can also help you get your first interview. That is why it is critical to consider how you build your resume and what information you include.
What constitutes a strong resume?
Select the most appropriate resume format for you. In all of your resume sections, provide up-to-date, relevant information, experience, abilities, and examples. Include a compelling cover letter that will knock the recruiter's socks off.
What are the top 3 skills of an executive associate?
Adaptability, people skills, and organization are the top three abilities of an executive associate.
All in all, secure that job by downloading our easily customizable and printable Executive Associate Resume samples today!