Every adult has gone through the intimidating process of a job application. To ace an interview, you have to study a brief background of the company you're applying for, wear the appropriate corporate clothing, etc. The mere act of applying for a job would be a memorable experience—even if you didn't land the job. There is a lesson to be learned for every rejection, and these rejections will pave the way for you to get the rightful position. And one factor of rejection is a poorly-made resume. A simple remedy to avoiding that is our Minimalist Infographic Resume Samples! We have all of them lined up here and ready for you to download!
FREE 8+ Minimalist Infographic Resume Samples in DOCX | PDF | PSD | AI | Publisher | Pages | Indesign
Free Minimalist Infographic Resume Template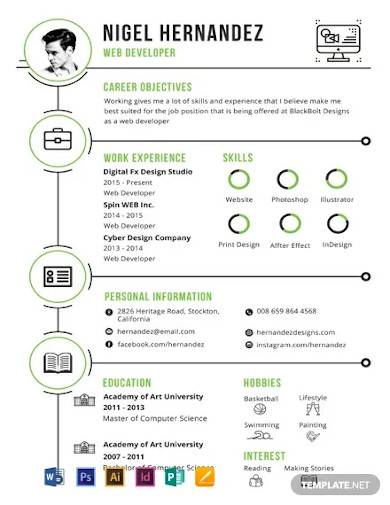 1. Sales Manager Infographic Resume Sample
2. Sample Minimalist Infographic Resume Sample
3. Editable Infographic Resume Sample
4. Professional Infographic Resume Sample
5. System Analyst Infographic Resume Sample
6. Modern Web Designer Infographic Resume Sample
7. Printable Minimalist Infographic Resume Sample
8. Simple Minimalist Infographic Resume
What Is a Minimalist Infographic Resume?
A minimalist infographic resume is a type of resume layout that has simple graphic design elements. Just like other resumes, it also outlines the profile of an employee or professional. But it conveys some personal data using infographics, such as level of skills and experience. A minimalist infographic resume is more visually appealing and easier to read for employers.
Graphic designers and artists are the professionals that mostly use minimalist infographic resumes. It's one way of showing their competency to the employers. Even if you aren't a graphic designer, you can use that type of resume to apply for a new job. There are easy-to-use applications that work fine as an infographic resume builder.
How to Create a Minimalist Infographic Resume
Sending a minimalist infographic resume can help you become a successful job applicant. It'll surely earn you a positive first impression to an employer, regardless if you're a fresh graduate from college or a tenured employee. Without further delay, here are the four easy steps in creating a minimalist infographic resume.
Step 1: Input Your Personal Information
Your personal information consists of your full name, birth date, age, gender, nationality, and contact details. Make sure to input them accurately in your unique resume. It's a golden rule that personal info on resumes must be free from typos. However, there shouldn't be any difficulties in executing this step.
Step 2: Create a Timeline of Your Education and Work Experience
In showing your educational background and work experience, create a timeline instead of just enumerating them. That makes your entire journey as a student and a professional easier to follow for the employer. And take note that timelines are a type of infographics.
Step 3: Use Infographics in Communicating Your Competency Level
Infographics are an excellent tool to describe your competency level precisely. You can use charts or graphs for this matter. Using them can help the employer assess if your skills and experience qualify you for the job. Merely listing down your skills and credentials makes for a dull resume.
Step 4: Add Simple Design Elements
Make your infographic resume even more presentable by adding a simple design. You can add a margin, integrate a color scheme, or anything that enhances its aesthetic. Just remember to keep it minimal.
FAQs
Are colorful resumes preferable for employers?
Some employers may find colorful resumes impressive, but they're unnecessary. There's no need to make a resume look like a poster. You can make them presentable by adding some design, but just keep it simple. The majority of employers prefer resumes that look neat.
What are the things that shouldn't be in a resume?
Here's a list of the things that you shouldn't include in your resume:
Irrelevant information
Lengthy paragraphs or texts
Grammar errors and typos
False information about your skills and experience
Negative statements regarding your former employer
Is a two-page resume okay?
Yes, two-page resumes are okay. According to a report from ERE, employers prefer two-page resumes 1.4 times more than one-page resumes. That's because they mostly provide more information about an employee. However, a one-page resume or a creative CV is also okay, especially if you don't have an illustrious background yet.
That dream job that you've always wanted since you were a kid is within reach. The only things you need are your important qualifying documents and your quality resume. Those are your keys to a stable and progressive career. So, as of now, download our infographic resume examples and start creating your amazing resume! You may also want our resume cover letter samples.