A career in sales can be fruitful and challenging. Only those that are consistently motivated and possess natural persuasiveness are able to excel in such a profession. Apart from these factors, experience in the field also proves to be essential as it is what allows a sales professional to acquire and hone their expertise.
Getting hired for a sales position requires thorough preparation of one's credentials. One will also need to employ an effective means in presenting their credentials as it is a tremendous factor that either makes or breaks the possibility of getting hired.See the Sample Resumes on this page to get a glimpse of how you can organize and arrange the information you will be conveying to a prospective employer.
Sample Administrative Sales Assistant Resume Template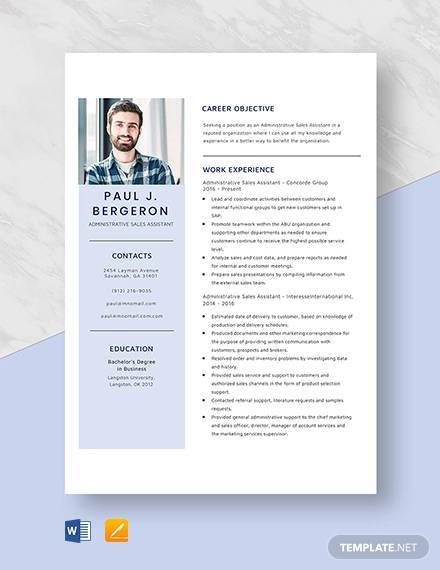 Sample Registered Sales Assistant Resume
Sales Administrative Assistant Resume
Financial Sales Assistant Resume Example
Sales and Marketing Assistant Resume
Entry Level Sales Assistant Resume in PDF
While it is acceptable to opt for a conventional format when writing your resume, it may not always be effective. The type of resume you will need to create is a targeted resume. From the keyword targeted, this means that you have to tailor your resume according to the qualifications of the position you are going to apply for (see the Sample Sales Resumes on this page for reference). Your goal is to have the business or organization believe that you are the most suitable person for the job.
There are also pointers you can use so as to make certain that you write an impressive and standout resume. Here are some of them:
Professional Experience. Highlight what you sold, who you sold it to, and how much of it was sold. Recruiting managers tend to look for this data when going about the process of hiring a sales professional to join their organization. You should make it a point to underscore the profit you generated within a given time frame and make sure that you are able to present numbers. Furthermore, contextualize these numbers so that the recruiting manager will be able to determine if you meet the standards they are looking for, or if you are even capable of exceeding it.
Area Sales Manager Resume
Retail Sales Assistant Resume
Sales Executive Assistant Resume
Hotel Sales Assistant Resume
Experience over Educational Background. Recruiting managers tend to look for sales professionals who have had significant and extensive experience in the field. Over the years, it has become apparent that human resource managers and personnel overlook or simply do not care what an applicant took up in college or what university they attended. Qualifications have become more practical and straightforward, and thorough experience—wherein skills are acquired and developed—has become a characteristic that is given utmost attention when it comes to Sales Associate Resumes.
Awards and Distinctions. Apart from experience, applicants who have been lauded for their prowess in sales and marketing are sensibly much preferred. When you have received awards for your work in sales, you will be prioritized by the recruitment personnel of the business you want to become a part of. Having garnered distinctions signify that you are a sales professional who produces excellent and valuable results.
K.I.S.S. (Keep It Short and Simple). A recruiting manager does not have all the time to read a resume that goes from one narrative to another. Hence, it is vital that you keep your document concise yet comprehensive. Only include relevant information that will convey your value as a professional to your prospective employer.