Its employees are what makes or breaks a company, and the human resources department serves as a bridge between employee and employer. This department is in charge of making sure that workers are qualified, motivated, and happy while also keeping an eye on the well-being of the company and making sure that company policies are being upheld.
A career in human resources is fulfilling, albeit a long climb up. If, after years of learning your way around the HR office, you're ready to move up to one of the highest positions in the corporate world, scroll down and see Sample Resumes to help you build yours up.
HR Manager Resume Template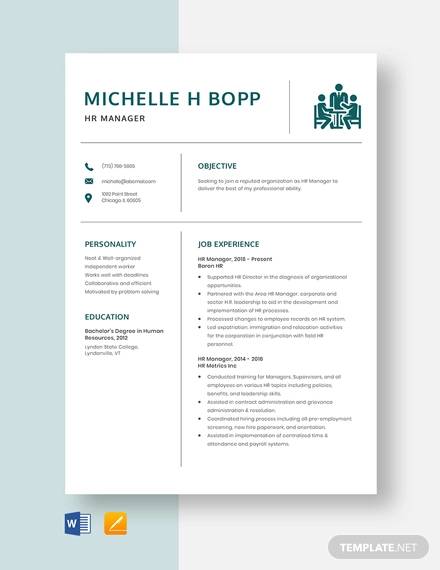 International HR Manager Resume Template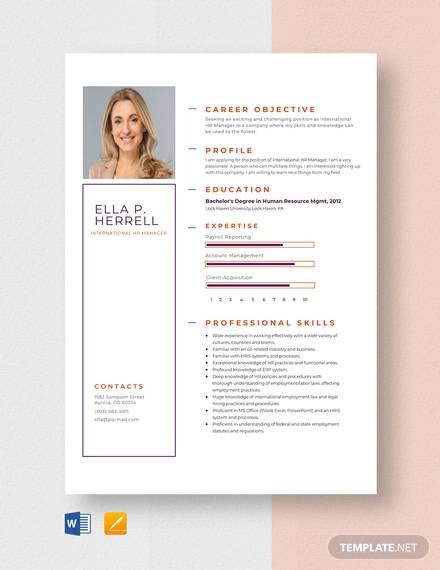 Assistant HR Manager Resume Template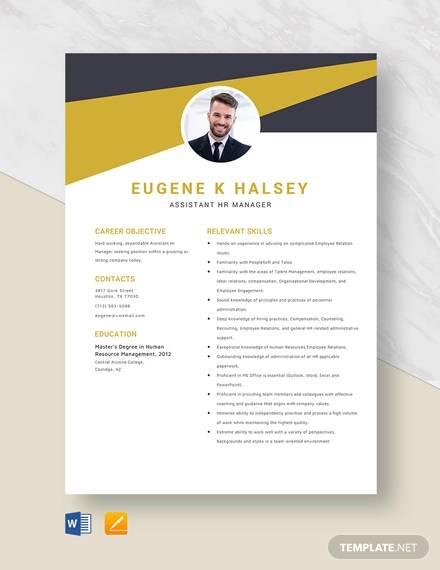 HR Project Manager Resume Template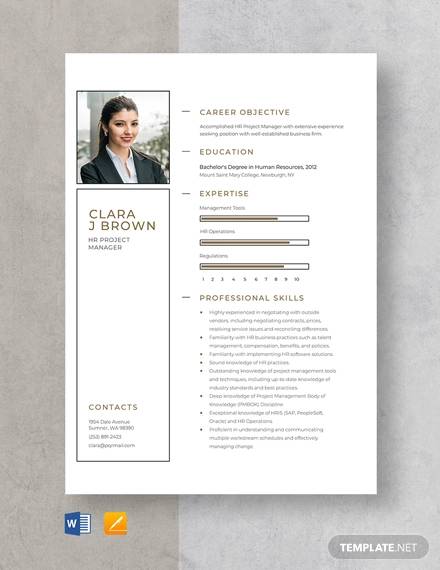 HR Operations Manager Resume Template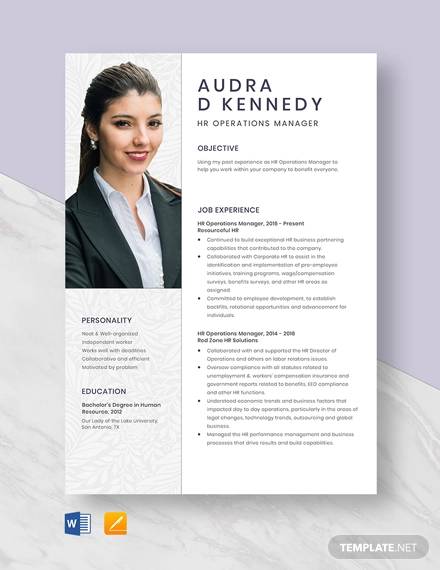 HR Manager Resume Template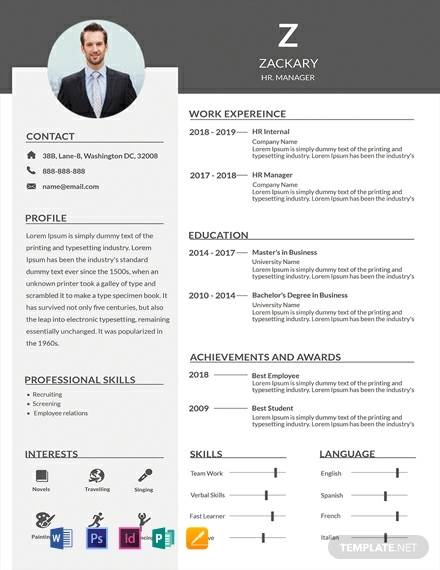 HR Field Manager Resume Template
HR Assistant Manager Resume Template
HR Business Partner Manager Resume Template
HR Project Manager Resume Example
Senior HR Manager Resume Format
Sample HR Manager Job Description Resume Template
Senior HR Manager Resume in DOC
Education and Experience
While it wasn't always this way, being a part of the HR department now requires years of schooling, training, and certification. To be an HR manager, one must
have a Bachelor in Business Administration, Major in Human Resources or a Bachelor of Science (or Arts) in Psychology degree; or
have a master's degree for either business analysis or industrial psychology, or have a law degree.
There are four aspects in human resources: training and development, compensation and benefits, employee relations, and recruitment. An HR manager must be adept in all these facets. You must have years, if not decades, of experience behind you to qualify. If not, you may want to start off as an HR staff and learn the ropes first. Download our Sample HR Resumes to help you get started.
Skills
Along with years of training and schooling, as an aspiring human resource manager, you must also have a set of skills to develop of possess. Among them are the following:
Decision-making, deductive reasoning, and sound judgment. As the head of the HR Department, you would have hundreds of resumes piling on your desk. You can tell a lot about an employee with a single glance at their resumes. Download our Sales Resume Samples to see what a well-written resume should look like.
Conflict management and problem solving. As an HR manager, you would be the company judge, lawyer, mediator, and counselor.
Discretion. A lot of sensitive information would reach your ears. Learn to respect confidentiality and avoid gossip.
Multitasking. There are four facets of human resources, all of which you must be proficient at.
Knowledgeable. Aside from the four facets of HR, you are also expected to be knowledgeable in the labor laws in the country where you are practicing.
Deputy HR and Admin Manager Resume Template
Formal HR Manager Resume Template
HR Manager Skills Resume Template
Professional HR Manager Resume Template
HR Manager with Experience Resume Template
Your job as a human resource manager plays a vital role in the success of the company. You are in charge of keeping the company running like well-oiled machine but making sure the employees are satisfied and happy. It is a profession that carries a lot of responsibilities, but lets you reap fruitful rewards in the end. However, no matter what career you wish to pursue or which field you hope to excel in, remember that a well-written resume is your ticket in. Download Resume Samples in PDF as a guide in writing up the perfect resume for you.