It is not right to continue a relationship that is not working anymore. But ending a relationship without saying anything is not right either. And this is true not only to personal connections but also professional ones. For this reason, the party who wishes to terminate specific business transactions should write a termination notice letter. In this guide, we will focus on one type of this written document—the formal service termination letter. Continue reading this article and gain substantial knowledge about the subject.
FREE 11+ Termination of Services Letter Templates
Termination of Services Letter Template to Client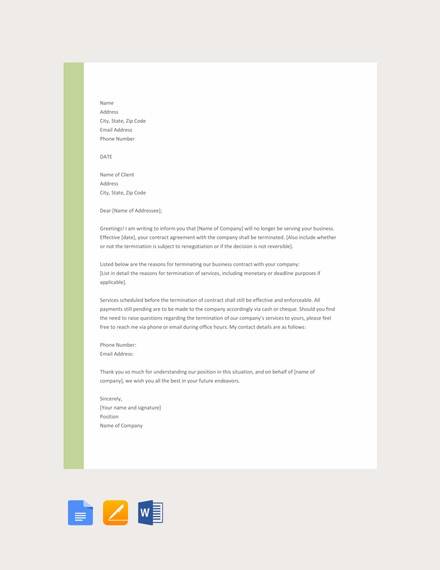 Termination of Services Letter to Vendor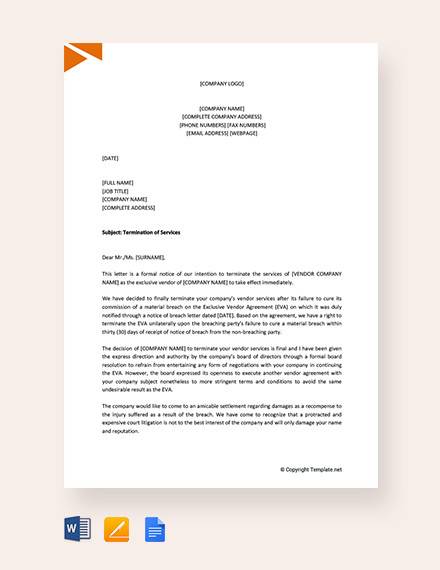 Termination of Services Letter to Supplier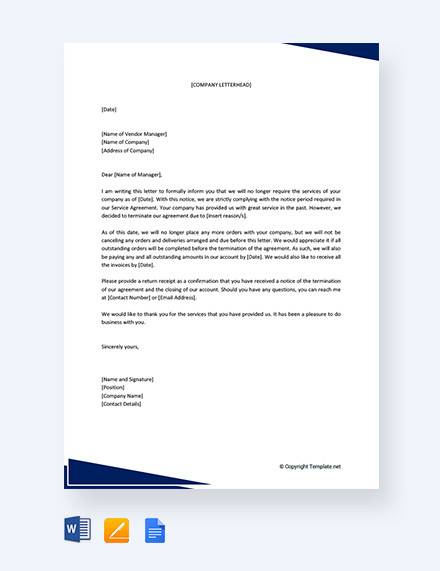 Termination of Services Letter to Customer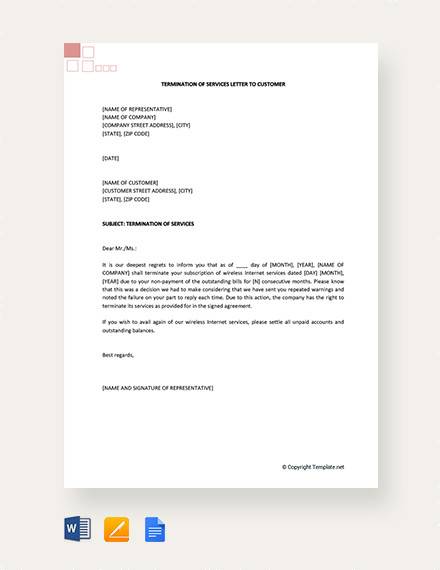 Company Services Termination Letter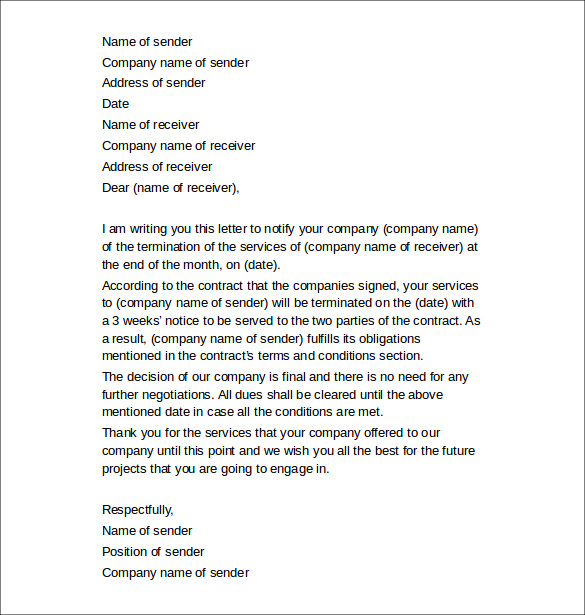 Service Termination Letter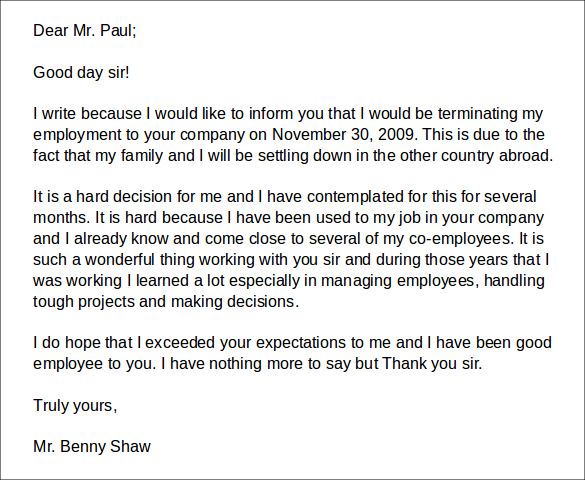 Service Agreement Termination Letter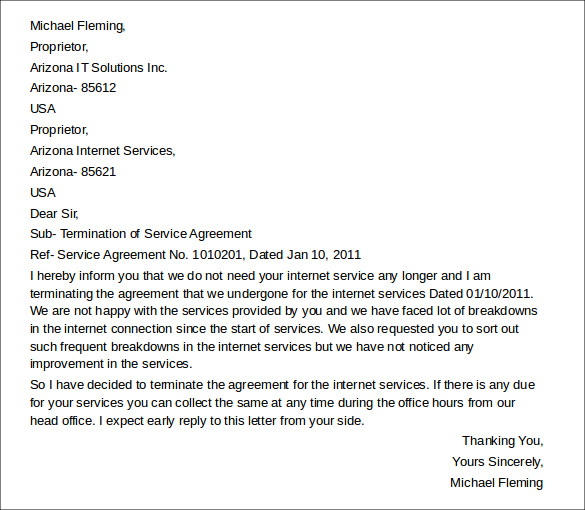 Client Service Termination Letter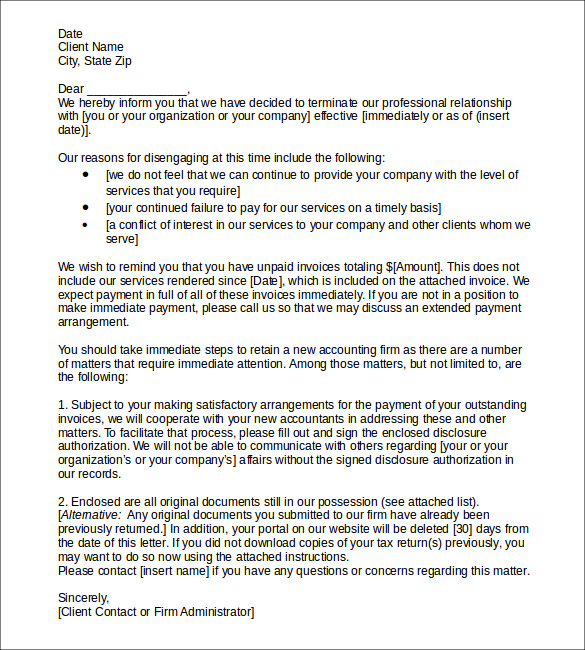 Service Termination Letter to Company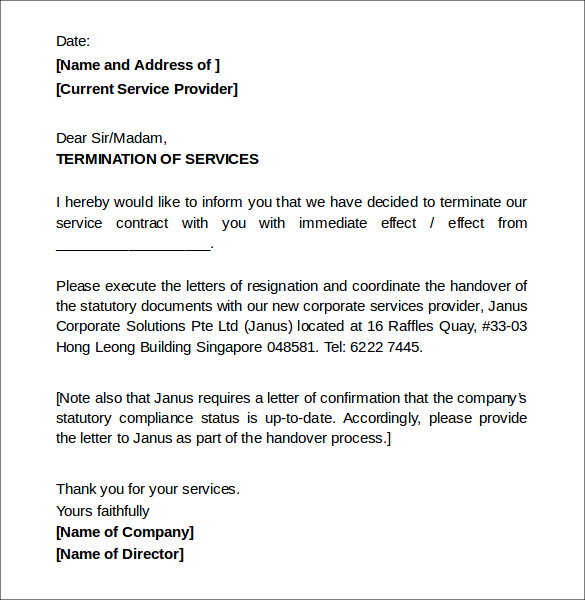 Service Contract Termination Letter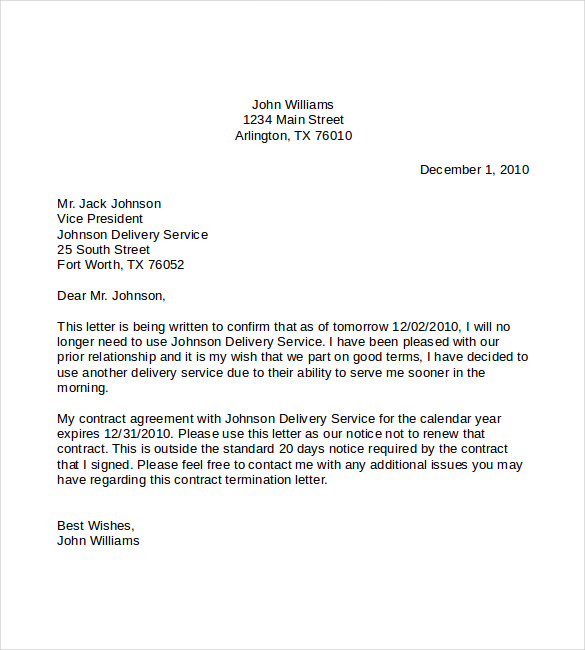 What Is a Termination of Services Letter?
In a broader sense, termination of service letter is a written notice sent from one party to another, expressing the desire to terminate a contract or transaction. Services providers can write a letter to discontinue service to their clients. Its purpose is to inform them that the company can't go on with providing them a particular service for a specific reason. Parties to a service contract can also pen a business contract termination letter to end the agreement even before the end date of the term. Another example of this document is a termination letter to employees due to business closure or other causes. When an employee receives this letter, it means that the employers want them to stop rendering their services to the company.
How to Write a Termination of Service Letter
Poor customer service is one of the primary reasons why businesses lose money. As featured in an article from Forbes, companies have lost $75 million per year due to this lapse. That is why you have to be careful in communicating with your clients to maintain positive cash flow and brand image. In writing a professional termination letter or cancellation of services letter, you may follow the steps provided below so you can convey the message well to the recipient.
1. Be Straightforward
Beating around the bush is not a good thing. Therefore, the first paragraph of your letter should directly tell the recipient the purpose of the document. This way, they will immediately know why they received the said letter. Inform them that you are writing the document to notify them that you will no longer provide services for their business or personal needs.
2. Specify the Effectivity Date
Now that the recipients know that you won't be able to render specific services, you must indicate in the letter when this arrangement should take effect. As much as possible, don't implement an immediate termination. In most cases, business owners send a notice 30 days prior to the termination.
3. Provide the Reasons Why
Just like in a sample termination letter of misconduct, the recipient has the right to know the reasons behind the termination of the service. That is why you have to list them all down in the content of your message. In doing so, remember to be specific for the recipient to understand your reasons fully.
4. Outline the Process
The next thing you will do is to discuss the process of the termination. It includes the fees needed to be paid by the client and their respective due dates. Also, don't forget to include your contact details so that they can reach out to you for further concerns.
5. End with a Positive Note
Even though you are writing a termination letter, you should still thank the client for doing business with you and for understanding your decisions. You may also close the content of the letter with a statement like, "We wish you all the best in your future endeavors."
FAQ's
How do I cancel my service provider?
As a client, you can also request the service provider to stop receiving services from them when you don't already need it. And you can do this through writing a termination of services letter to a vendor or other businesses. When you decide to stop doing business with another party, make sure first to check if there are any termination fees.
How do I terminate a client service?
In terminating a client service, you have to remain polite regardless of the reason for termination. Explain to them why you continue rendering the service anymore. You can do this through an email, and follow it up with a phone call. The purpose of calling the client is to entertain any questions he or she might have regarding the termination.
How do I explain termination without cause?
In a corporate setting, employers can terminate their employees with or without cause. Termination without cause is when the management decides to terminate employees from their job due to circumstances they have not caused. Some of the reasons for this situation are cost-cutting, change in the organizational structure, or technological advancement that reduces the need for manpower.
Typically, a business agreement already has a pre-determined date to terminate the arrangement. However, there are instances wherein one party wants to cancel or end the agreement even before the expiry of the term. If this happens, the said party should write a termination of service letter to notify the other about his or her decision. To follow the standard termination letter format, refer to the templates and sample documents provided in this article.