Sending in an application letter whenever you are applying for jobs can give more support to what you have written on your resume. They make your resume become more credible as you can cite concrete examples when you displayed your strengths. Application letters will always be the best partner to your resume whether you are applying for a temporary job or dreaming of forming a career.
The six Sample Application Letters presented in this article will serve as your guide when you want to supplement your resume with an application letter. Just go through the samples listed. You are sure to find one that would meet your needs.
Sample Application Cover Letter for Job
Application Letter for Teacher Job in PDF
Job Application Letter Example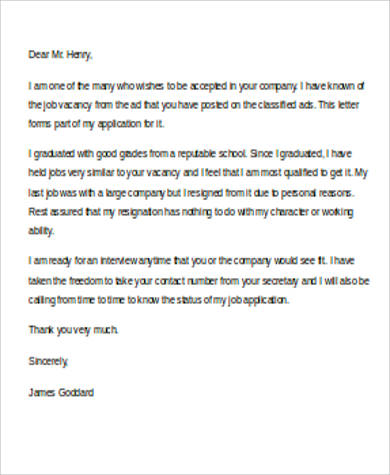 Job Application Rejection Letter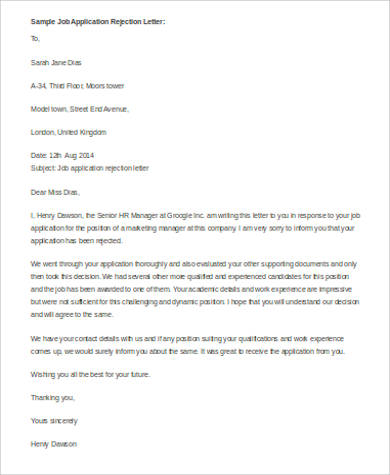 Tips for Writing a Good Job Application Letter
Job seekers should start considering just how important Job Application Cover Letters are. Resumes can only give a brief outline of who you are and what you can offer the company. Sending an application letter can help explain what you wrote in your resume since it can give you a perfect opportunity to elaborate on your strengths. Remember the following when you are writing your application.
If you know the name of the hiring manager or the human resource manager/director, address him or her by his last name. It's always best to make your application letter seem personal.
Mention your credentials—skills, qualifications, achievements, and experiences. List them down in bullets to make it easy to read.
Read through the job posting and integrate some of the keywords vital to the position to your application letter. This gives the impression that you are talking the language of the employer.
Let them know that you are eager to get invited for an interview and elaborate more on how you can be a good addition for the company.
Do not forget to leave all your contact information to make communication easy. You can also mention if they can get in touch with you anytime or if you prefer to set a schedule for them to contact you.
Thoroughly review your letter in order to avoid spelling and grammatical errors.
Companies will usually let applicants know whether they are invited for an interview or if they have been declined an invitation (see Rejection Letter Samples).
Application Letter for Nursing Job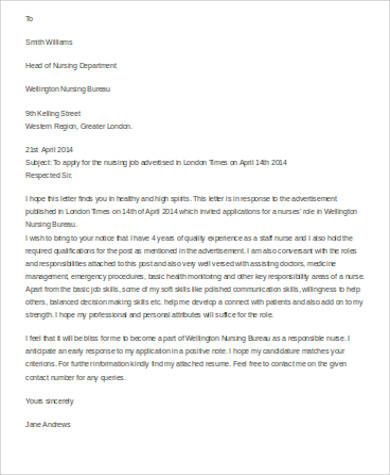 Job Application Resume Cover Letter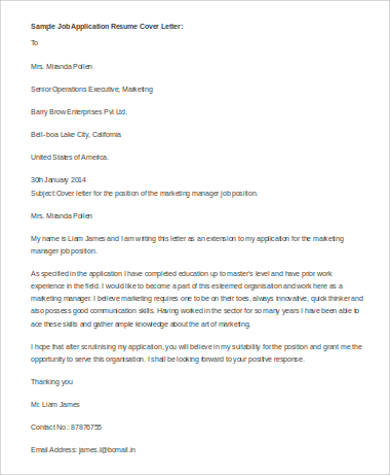 Using Sample Application Letters for Job
Using these application letter templates are very easy and convenient. You have a wide selection to choose from and surely there will be one that would fit your needs. The samples come in two formats: PDF (.pdf) and Word Document, which are easy to edit and print. They can be directly downloaded from this article at absolutely no charge. These documents will definitely be a great guide for writing your application letter.
Despite the ease in applying for jobs nowadays, you always have to keep in mind that sending in application letter will always be essential. It gives the impression that you are eager and enthusiastic about the position being offered by the company. Writing a good one is sure to get you invited to plenty of interview sessions.
Application letters explain more details than your resume. Through your letters, you can emphasize the type of personality you have and give a sense of professionalism as it can reflect how you are as an employee. Your letter serves as your sales pitch as it highlights your strengths.
Like job application letters, Sample College Application Letters also highlight a student's academic strengths in order to get admitted to a good university.