To expand your business, you'll need contracts. You won't be able to recognize income until you have contracts, and you won't be able to compel customers to pay you for the services you provide unless you have contracts. Contracts are typically seen as a necessary evil by those who develop sales-driven enterprises, such as high-growth startups. It's exciting to build a product; it's satisfying to hire new colleagues, and it's thrilling to close deals. But what about the paperwork? Nobody looks forward to drafting fresh contracts in the morning. Except for attorneys, that is. Contracts, on the other hand, are a necessary component of your startup's success. They're how you track revenue and make meaningful forecasts, and you'd better have your documentation in order when it's time to raise your next round of money. Due diligence is rigorous, and top-tier investors will scrutinize your contracts thoroughly.
10+ Startup Contract Samples
As a small firm or startup, your top priority is to expand and maximize earnings; it's easy to overlook the legal issues, which are time-consuming but equally crucial. Instead of taking the time to prepare contracts, many start-ups rely solely on faith and verbal agreements when conducting business with shareholders, partners, suppliers, and customers. You must recognize that failing to properly document these agreements and understandings can be disastrous to your organization and brand image if a disagreement or litigation arises.
1. Startup Contract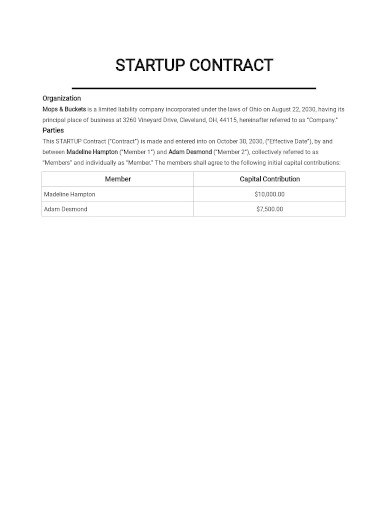 2. Startup Advisor Contract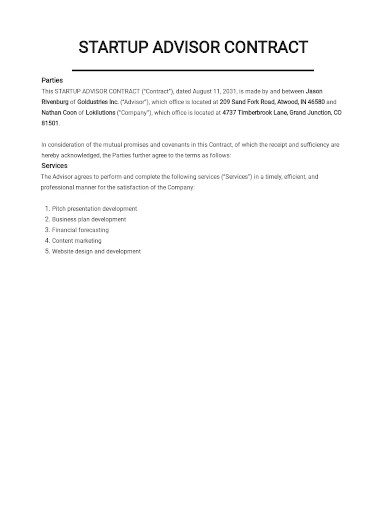 3. Startup Equity Contract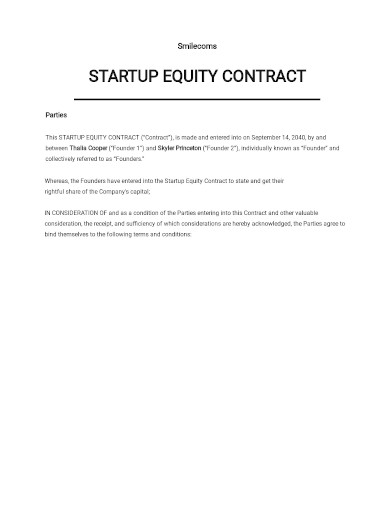 4. Startup Company Contract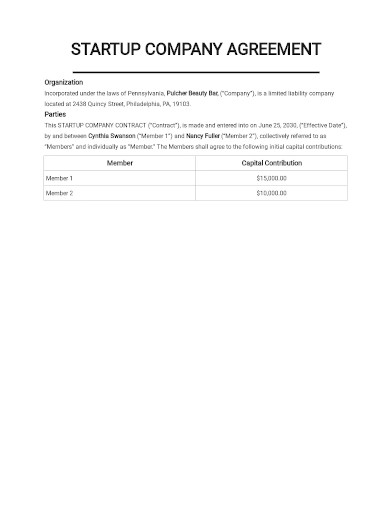 5. Startup Sponsorship Contract
6. Sample Startup Contract
7. Simple Startup Contract
8. Legal Startup Contract
9. Startup Contract Example
10. Professional Startup Contract
11. Startup Employment Contract
Important Contracts Before Launching Your Startup
Legalize your business – Even while it is the simplest and least expensive approach to get started in business is to just open your doors under your name, it is highly advised that you secure a contract of the firm as a legal entity with its own identity apart from your own. This means that instead of starting a business as Joe Smith the individual, you should register your company as a corporation or limited liability company with your state or government body. The business will gain its own identity as a result of this registration.
Vendors and independent contractors contract – You'll need a standard form of vendor and/or independent contractor contract template before contracting a supplier, also known as a vendor, or any other party that will offer products or services to the fishing company. This template will outline the essential procedures you want your vendors to follow while supplying you with goods or services for your business. This type of company contract template is available from a number of online sites. If you have a more complex business that requires more than a simple form of vendor template, you should consult an attorney about this document and how to set it up.
Employee contract – The company will almost certainly require one or more employees at some point, whether it is early in the business venture or later. It's a good idea to plan ahead of time about what you expect from anyone you hire into the business when you're first starting out. This will assist you in creating an Employee Contract template, which is an important tool for any business launch. The Employee Contract will include terms like confidentiality, how to deal with clients, and any other things you want to make sure the employee understands before beginning an employment contract with the organization.
Product and service agreement – This is a contract for a new business that is frequently forgotten. Many firms sell their products or services without thinking about the terms that must be made available to customers. Clients will be aware of what they are consenting to when they purchase goods or services from your firm if they read these terms. If you are purchasing goods and services from another person or business, the agreement will be useful if you want all parties to be aware of the transaction's expectations.
Intellectual property agreement – Because these rights have been clearly spelled out in the treasure of startup contracts that the new firm had the forethought to construct when it first opened its doors, the company is protected from doubt, up to and including lawsuits, as a result of having this contract.
Refund policy – Customers that are dissatisfied are an unavoidable part of any firm. Such occurrences must be anticipated by a startup. As a result, one of the first contracts to consider is a refund policy, which is a document in the Business Terms and Conditions that informs clients about what to expect if they find themselves in a position that necessitates the return of goods or services purchased from the firm.
FAQs
Why is it prohibited to use multiple systems for your contracts?
Many firms still manage contracts by writing them in Word, updating them in several versions with logged changes, sending them between parties, and then converting them to PDFs and wet-signing or e-signing them. Version control, data integrity, legal risk, and, most importantly, speed are all affected. We waste a lot of time chasing documents between systems. The only surefire method to remedy this is to consolidate your contracting process into a single system of record and implement contract management software.
How to drive startup growth faster?
You have to collaborate. A frictionless contract process is beneficial to more than just sales in a high-growth startup. In order to swiftly obtain the finest applicants, the talent team requires a smooth contract process. To manage all of its vendors, procurement needs a solid contracts platform. When it comes to organizing investment rounds, the founders require a single source of truth for contracts. The more contract workflows in the company are moved to a single software platform, the easier it will be for teams to communicate, which will only help the company advance and grow quicker.
Allowing contracts to stifle your startup's growth is a mistake. You may turn contracts into a growth enhancer rather than a necessary evil by following these steps. Many important corporate documents are being converted to digital and collaborative platforms. Today, a project management solution exists for almost anything a startup requires. There's no excuse to keep your contract process stucked; instead, select a modern contract automation platform and eliminate paperwork from your startup's to-do list.