10+ Employment Work From Home Samples
Work from home refers to when an employee works from their home, apartment, or other place of residence rather than an office. Many businesses have a WFH policy, or remote work policy, that permits workers to work from home full-time or as needed. Working from home, to put it simply, allows people to determine their own schedule. Are you opting to work from home or, as an employer, are you planning to give an option for your employees to work from home? You definitely need some documents to set everything up. You've come to the right place! In this article, we provide you with free and ready-made samples of Employment Work From Home in PDF and DOC formats that you could use for your convenience. Keep on reading to find out more!
1. Work From Home Employment Contract Template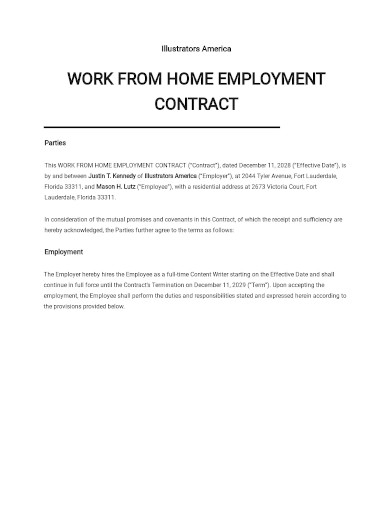 2. Employment Work From Home Proposal Template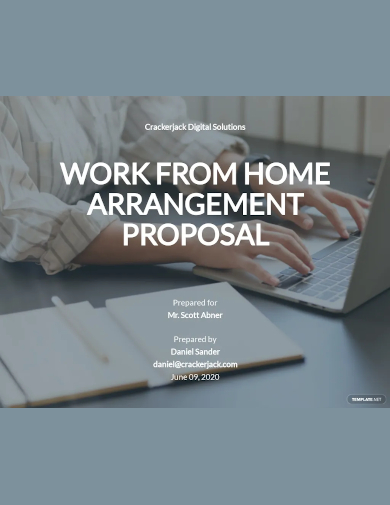 3. Employment Working From Home
4. Employment Work From Home Policy
5. Technical Employment Work From Home
6. Sample Employment Work From Home
7. Employment Work From Home Productivity
8. Company Employment Work From Home
9. Covid-19 Employment Work From Home
10. Standard Employment Work From Home
11. Temporary Employment Work From Home
What Is Work from Home?
A work from home policy is a collection of agreed-upon rules and guidelines between an individual and their company that govern all elements of working from home. This type of policy is also known as a telecommuting policy or a remote work policy. By clearly defining expectations, duties, and behavior, a successful Work From Home Policy puts employees up for success. It should be supplemented by tactical advice on how to make the most of working from home.
How to Make a Work from Home Policy for Employees
Your company may become a more inclusive workplace by establishing consistent standards, and follow in the footsteps of rising organizations that are adopting remote work models. An Employment Work from Home Template can can help provide you with the framework you need to ensure that you have a well-prepared and robust document on hand. To do so, you can choose one of our excellent templates listed above. If you want to write it yourself, follow these steps below to guide you:
1. Establish who is allowed to work from home.
Not all work functions can be performed at a distance. Clearly define which teams are qualified to work remotely and which must remain in the office, so that your hybrid work model is visible to all employees.
2. Create an approval procedure.
Similarly, after you've established qualifying criteria, be sure to spell out who will be involved and how the approval process will work. Employees should understand how to obtain work-from-home credentials, who will approve them, and when they will be granted.
3. Establish a set of working hours.
When it comes to working from home, your policy should spell out when workers are expected to work and when they should stop. If you value flexibility, you may want to establish a maximum amount of hours.
4. Keep internal communication programs, such as all-hands meetings, going.
It's crucial to stay in touch. Team communication updates and email newsletters should continue to be sent out. Even if the format changes, you should make every effort to keep your weekly or twice-monthly all-hands meeting going.
FAQ
What should a company give for employees who work from home?
According to legal experts, corporations should pay for computers, printers, paper supplies, pens, the internet, and mobile phones if an employee is required to work from home.
What is the most crucial aspect of a remote work policy?
The most crucial aspect of any remote working policy: cybersecurity.
What are the policies in the workplace?
How you induct new workers, standards for employee behavior, and how you handle absences are all important regulations.
Finally, whether you know it or not, putting your Work From Home Policy into effect will need change management. To help you get started, download our easily customizable and comprehensive samples of Employment Work From Home today!