Despite the fact that contract-based work is extremely common, many people are unaware of certain aspects of this sort of arrangement. For temporary or flexible staffing needs, contract recruitment services are a wonderful alternative. We'll discuss the services that help competent professionals find well-paying work, in addition to the significant benefits of limited-time contracts. This industry's language can be perplexing. So, to get you started, we'll go over the fundamentals of contract recruitment in layman's terms. To get a better grasp of contract recruitment, compare it to permanent employment. Contracts are usually made with independent workers and are for a specific amount of time. The employer has no further duties when the predetermined period has expired, and vice versa. It's particularly effective for dealing with periods of high job volume that are only expected to last a short time. It's also suitable for positions that are tough to fill on a long-term basis.
10+ Recruitment Agency Contract Samples
A recruitment agency contract is an agreement between two parties in which one party, the recruiting firm, is engaged by the other party, the client company. This is done to find and represent qualified people to work with the client, with the client paying the recruiters a fee determined by the parties. This recruitment contract allows you to spell out all of your responsibilities.
1. Recruitment Agency Contract Template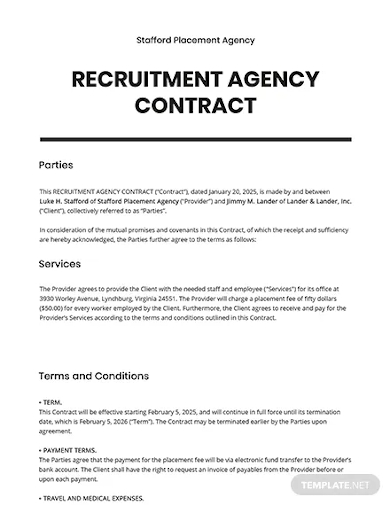 2. Employee Recruitment Agency Contract Template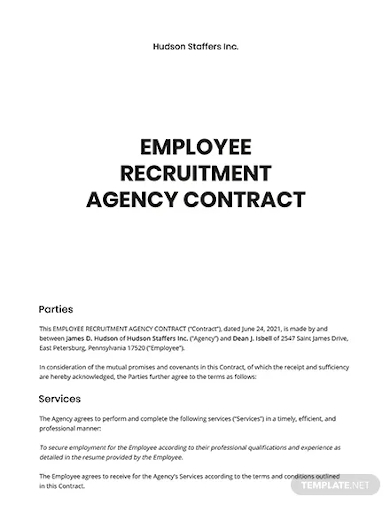 3. Staff Recruitment Agency Contract
4. Recruitment & Hiring Agency Contract
5. Recruitment Agency Task Order Contract
6. Recruitment Agency Terms Contract
7. Recruitment Advertising Agency Contract
8. Recruitment Agencies Placement Contract
9. Recruitment Agent Contractual Agreement
10. Recruitment Agencies Collaboration Contract
11. Recruitment Agency Employment Contract
How Does Recruitment Agency Contract Works?
There are various phases involved in contract recruitment. The corporation must first assess its own needs and determine which positions it wishes to fill with contract workers. The next stage would be to hire a professional recruitment agency to assist with the selection, vetting, and recommendation of the top applicants. If everything goes well, your company will hire and contract your preferred individual. Payments can be made either internally or through the recruitment agency, whichever is more convenient. The model can also be scaled.
Creating Recruitment Agency Contract
A contract always starts with fundamental information about each party. A contract cannot be called a contract if the most fundamental information is missing. The contractual parties must include the names of their enterprises, which must match the names on their business registration forms, full office addresses, and the names of the individuals who will represent them. Both parties are free to mention their business, but it is not required.
The definition of the contract can be found in the terms of work proposed by one party or the offer, and the acceptance of the same working conditions by the other party or the acceptance. For this sort of contract, specifically a recruitment agency contract, one party outsources recruitment work, while the other party or the recruitment agency takes the assignment.
Contracts must be carried out in accordance with local and national laws. Before they ever consider entering into a contract, all parties must be genuine firms, with full contractual specifications, safe working conditions for employees, and adherence to government-mandated fair labor norms.
In all forms of contract, the parties must have a common goal in mind when it comes to the contract's provisions. All parties will be 100 percent receptive to all contract terms, if not more. Once the signatures have been added to the document, the parties are obligated to follow the contract's terms.
FAQs
Why do you have to indicate the recruitment services?
You should offer a full description of the programs you will be delivering. Are you going to screen applications and provide them to your client, for example? Or will you also be performing preliminary interviews, calling referees, and providing training? Make sure to include a detailed explanation of the services in your proposal or quote. It has the advantage of defining the specific scope of your recruitment services and ensuring that you are only required to supply what you have agreed to provide.
Do you still have to include a replacement guarantee?
You may be providing a substitute guarantee to your clients based on your recruiting agency's business model. This is a commitment from you that if a candidate leaves their employment within a certain time frame, you will locate a replacement. Its benefit is that it includes an express replacement guarantee clause, which ensures that your obligations for a replacement are clearly defined.
If you want to see more samples and formats, check out some recruitment agency contract samples and templates provided in the article for your reference.