Profit is the main goal of doing business. To ensure that the revenue stream of the business is constantly flowing, you would need to ensure your clients are paying for the products and/or services that you provide. This is done through a payment contract. Businessmen need to fully grasp the Concept of Contract to understand the legal implications of their actions.
A payment contract is a Legal Contract between a buyer and the seller. This protects the seller from non-payment of their clients. If your business doesn't have payment contracts in place, you have come to the right place as we have templates you can use.
Payment Agreement Contract Sample Template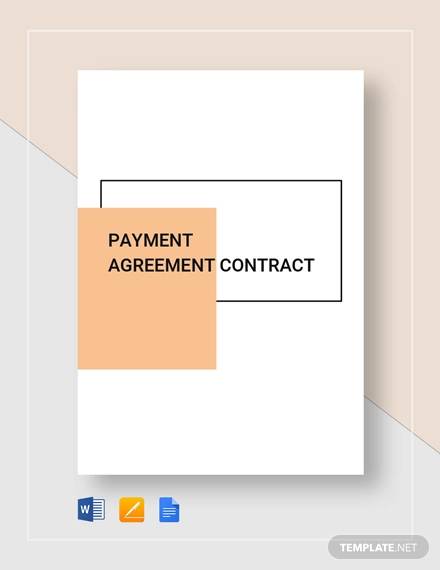 Agreement to Extend Debt Payment Terms Template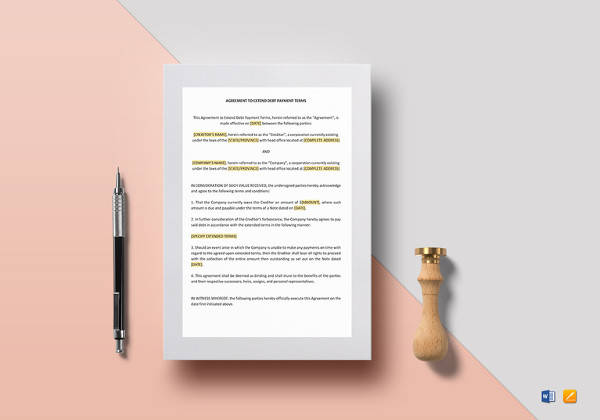 Payment Agreement Contract Template
Payment Plan Contract
Step-by-Step Process of Writing Payment Contracts
A Payment Agreement Contract acts as a protection for businesses so they are assured of payment. When making a payment contract of your own, follow the steps below so you craft an effective contract that does the job.
Write a contract title (e.g., Loan Agreement, Payment Agreement).
Write down the parties involved.
Write down the payment terms (include the total payment amount and interest rate, if any).
Make a schedule of payments (i.e., list down the payment date and the amount to be paid for that day).
Explain terms and defaults (e.g., late payment charges, modification terms).
Put signature blocks.
Types of Payment Contracts
Any business would greatly benefit from the use of payment contracts. For a cleaning business, for instance, a Cleaning Contract together with a payment contract would provide a high degree of protection for the business. There are many types of payment contracts. Some of them are listed below.
Payment Schedule Contract – This contracts divides payment into several parts to be paid at a specified time frame.
Loan Payment Contract – This is a contract for the payment of a loan.
Installment Payment Contract – This is the type of contract that is used when parties have agreed for installment payments.
Advance Payment Contract – When parties agree to an advance payment, it should be stated on the contract.
Loan Payment Contract
Car Payment Contract
Installment Payment Contract
Advance Payment Contract
Tips in Writing the Best Payment Contract
A payment contract offers good protection that money keeps coming in to the business. Businesses then need to be put thought into making them. Receipts such as Payment Receipts and Payment Due Upon Receipts are of course essential to the business but add payment contracts to that and you are now a legitimate business customers trust. Below are the steps to follow in making the best payment contract.
Pick the right format. Proper formatting not only ensures that everything is covered but also protects you legally.
Provide comprehensive contract terms. To avoid confusion, the terms on the contract need to be written clearly.
Provide a payment schedule. By having a schedule to follow, clients know exactly how much to pay when.
Make the contract represent the entire agreement. Clients could claim there was another agreement made (orally) so write the entire and only agreement made.
To ensure that money is coming in to the business. they would need to have payment contracts in place. If you are looking for payment contracts for your business, we have contract templates for you to use. Save time and effort by using the templates provided above.