Independence, autonomy, adaptability, and unlimited financial potential are all appealing aspects of the freelancing lifestyle, particularly for employees who are bored with their current workplace. However, the enigmatic career choice remains shrouded in mystery. How do you make money as a freelancer? Where do you go to look for work or jobs? What method do you use to decide what to do? What about benefits and insurance? Freelancing entails working on a contract basis for a variety of clients and businesses. A freelancer's area of expertise can range from content creation to app development to tutoring, and he or she may also be referred to as a self-employed worker or independent contractor.
10+ Freelance Marketing Contract Samples
You may be perplexed as to what "freelance marketing" entails. This is due to the fact that the term is used in two different contexts: efforts to boost your visibility and attract freelance clients regardless of industry, and a specific type of freelancer who specializes in assisting clients in increasing their visibility.
1. Freelance Marketing Contract Template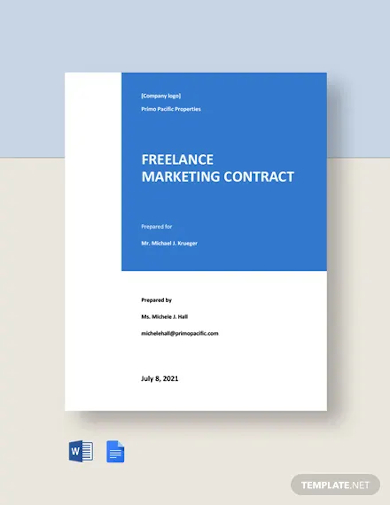 2. Freelance Social Media Marketing Contract
3. Freelance Client Marketing Contract
4. Freelance Marketing Contract
5. Freelance Marketing Communication Contract
6. Freelance Marketing Consultant Contract
7. Freelance Marketing Manager Contract
8. Freelance Marketing Officer Contract
9. Freelance Marketing Co-Ordinator Contract
10. Freelance Digital Marketing Contract
11. Freelance Marketing Services Contract
Attracting Clients
Content Marketing – The new "picks and shovels" of the internet gold rush are content marketing (or blogging). If you haven't been bombarded by the "blogging about blogging" sleazebags all over the business and marketing sections of the web, consider yourself lucky. Promoting your content entails getting it in front of the right people, i.e., other websites that are willing to feature or link to it. However, the internet is a huge place. Why bother making more content if tens of thousands more people might enjoy it?
Appearances and authority – It's not a matter of quality; it's a matter of authority. Because the big names are known to deliver, their asking prices are higher. To achieve the same level of authority (and to directly attract more clients), you should pursue "features" about your company. Interviews, case studies, guest articles, and any other way you can get your name on popular websites are all possibilities.
– Method 1: Sell a story
The idea of selling your story has nothing to do with the shady side of selling (or "selling out.") It's about standing out by going to a website with a large audience and pitching an interesting story to their readers. You provide them with quality content, and they reward you with a feature.
– Method 2: Create content for others
If done correctly, writing content for other popular websites and letting them run with it can be an excellent way to gain exposure for yourself. When your work is tweeted thousands of times, landing a guest appearance is definitely worth it! How can you go about doing this without wasting time? First and foremost, consider who you're writing for and create something that will appeal to their target audience. It's fine to include a little bit of yourself in this type of content, but if you want to get the most bang for your buck, look at some of your target site's most popular posts and see what makes them so popular.
– Method 3: Content Syndication
This is one of the simplest methods, and when done correctly, it provides the best return on investment. Many large websites now engage in syndication or the publication of other people's content on their own. You get exposure for something you've already written, and they get a good article for free. It's a win-win situation.
FAQs
What are the advantages of freelancing?
You're in charge. You set your own schedule, rates, and clients or jobs to work on. You can take a three-week vacation if you want to — the choice is entirely yours.
You might be able to save money on taxes. More tax deductions for meals, travel and other expenses are available to freelancers. Each paycheck does not have federal and state taxes withheld. Instead, freelancers pay the IRS directly.
You have the potential to earn more money. Freelancing entails a high level of risk and reward. Your pay is as high as you want it to be. It all depends on how much you want to charge and how frequently you want to work.
What are the disadvantages of freelancing?
 You are responsible for coordinating your own benefits, taxes, and accounting. Employers manage and provide benefits, taxes, and other perks for freelancers. They must do it on their own, with the assistance of tools or guides such as this one. In addition, buying your own insurance is usually more expensive than getting it through your employer.
You can't make money if you don't work. You can take a three-week vacation, but you won't be earning any money during that time. Your time is literally money as a freelancer. If you spend it irresponsibly, you risk losing money.
Work-life balance can be disrupted by insecurity. Any work-life balance achieved through freelancing may be ruined by this instability.
If you want to see more samples and formats, check out some freelance marketing contract samples and templates provided in the article for your reference.