For a lot of students out there, getting into a prestigious university is a lifelong dream. Finally getting off high school and moving on to college, to study in the fields of their choice. And for most, it can be a really important defining moment because they are making a choice that will heavily affect their futures. But getting into college is always a rollercoaster. Getting excited because this is a much bigger step towards your dreams, and yet the constant anxiety and worry of possibly not getting accepted into the university that you've always wanted to go to. College admissions always have different requirements or documents that you have to hand-in in order to get a chance at being accepted. But one is always seemingly daunting for most students to write. The Statement of Purpose.
Statements of purpose, especially for college graduate programs and undergraduate as well, can be a quite overwhelming task for some. It has a lot of weight into it because it can heavily affect how the college application will go, more often than not, it dictates whether you get accepted, or denied. The good news is, it doesn't have to be as stressful  for you. The university statement of purpose samples listed below can help you compose a statement of purpose that will surely impress the admission committees and increase your likelihood of getting accepted.
10+ University Statement of Purpose Samples
1. University Statement of Purpose Template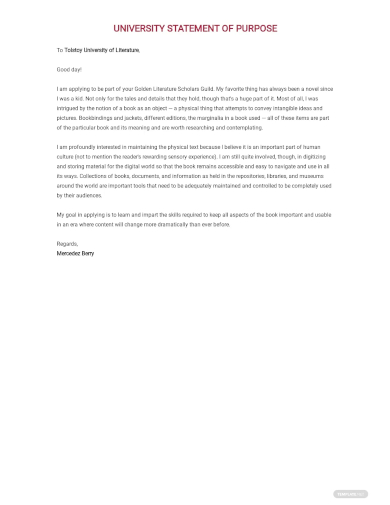 2. Sample University Statement of Purpose
3. University Statement of Academic Purpose
4. University Graduate School Statement of Purpose
5. University Personal Statement of Purpose
6. Standard University Statement of Purpose
7. University Admission Statement of Purpose
8. University College Statement of Purpose
9. University School Statement of Purpose
10. University Student Statement of Purpose
11. Editable University Statement of Purpose
What Is a University Statement of Purpose?
Statements of purpose are important documents or essays that tells the committee all about yourself, who you are, your academic achievements, your professional interests that is aligned with the field, and how you'll add value and importance to the program that you are applying for. It describes your 'purpose' behind your degree and university of choice. Overall, its an essay that covers who you are, the things you did and achieved, and how you've come to achieve it, your goals and how you plan to achieve them.
It's not a biography where you just write about your whole life, write only the details that are relevant to your program of choice and the university that you plan to get in to. Educational background, academic achievements, personal interests, and motivations. It is one of the most asked requirements by universities worldwide and committees actually give more importance to these than other application documents.
How to Write a University Statement of Purpose
It is a very important document and that's why you want to make sure that you are doing it right. A well written SOP should make the committee consider you to be a candidate with so much more potential than the other applicants, Getting started can feel scary, but breaking the process down into four sections can definitely make writing it easier.
Introduction
Start with a strong opening, for the entirety of the committee, having to read countless SOPs with the same mundane opening can be quite mind numbing, so it is a good idea to get a hold of their attention early on, to keep them interested. And since this is the introduction, tell them wat you're interested in, what sparked your desire to choose to study this program. This section is supposed to be short, so don't spend a great deal of time into your autobiography. Just make sure to get off on a gripping start to get their attention, pique their interests, and make them actually want to continue reading.
Structure an outline
Aside from a formal tone and a good opening, consistence and coherence is also very vital. Pay attention to how you want to present your SOP. Create a proper outline firsthand that is neat, chronological, and makes sense in general. It should be presented neatly all throughout, free of grammatical errors and spelling mistakes, also proper punctuation, with the appropriate fonts. You can divide the SOP into three sections; the Introduction, which we have talked about firsthand because a good opening paragraph is important. The Body, which contains your academic background and achievements that is related to the field, your goals and what value you can bring into the university as a student. And the conclusion, which highlights all the strong points in your SOP that emphasizes your qualifications and compatibility that makes you the best candidate to be accepted.
Draft
You can now start drafting your SOP. Keep in mind that its purpose is to communicate who you are and what drives you in choosing this program and university. Give insights into what drives you and what unique features of the school is aligned with who you are and your goals. It has to be presented in your own unique way, not too formal, but not too casual. Just be yourself, make sure that your personality shines through as this is the only way you can truly communicate with the committee.
Review
After writing your first draft, get it read by as many people as you can. Let your family read it, your friends, your neighbors, even the shop owner down the street. The point of this is it will help you quickly identify any mistakes, grammatical and spelling errors, and immediately improve it. It will also help you get rid of any clutter, any extra information doesn't need to be a part of your SOP. And after all that hard work, you should have the perfect SOP for your university application.
FAQs
How long is a statement of purpose?
A statement of purpose should be between 500 and 1,000 words.
How do you end a statement of purpose?
The conclusion of your SOP should be a summary of the highlights in your SOP. The main points should be briefly presented and emphasized again.
Should I sign a statement of purpose?
There is no need to sign it since it is more akin to writing an essay.
A good SOP can leave a lasting first impression to the academic committee of the college of your choice. It gives you a good opportunity to highlight your academic prowess and valuable skills that easily makes it really convincing for the committee to understand why you're the perfect candidate for the program and the university you are applying to.