The statista.com survey about the distribution of investment fund assets in the US showed that 43% are from domestic equity funds, while the remaining ones are from bonds, world equity, money market, and hybrid funds. This survey meant that US residents prefer to invest locally or within the country instead of making international investments. But, regardless of the preferences, having accurate records and data about the mutual funds and equity invested is still relevant. That's the reason why fund fact sheets are used so that investors and potential investors can evaluate whether or not to delve more into investing in a particular fund.
FREE 5+ Fund Fact Sheet Samples
1. Fund Fact Sheet Template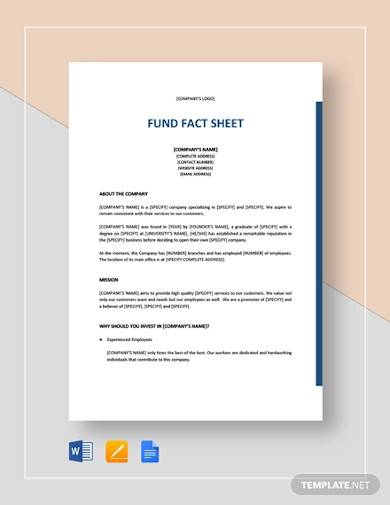 2. Fund Fact Graph Sheet
3. Sample Balanced Income Fund Fact Sheet
4. Sample Dividend Fund Fact Sheet
5. Sample Mutual Fund Fact Sheet
6. Investor Fund Fact Sheet Template
What Is a Fund Fact Sheet?
A fund fact sheet is a type of document that shows the summary or overview and lists of data that investors can use to evaluate their investment prospects. It is best used for investors who are new in the field of investing, and those who have minimal knowledge about their chosen fund.
How to Make a Fund Fact Sheet
If there's one creative way to describe what a fund fact sheet is, then the DBS Bank LTD truly tops it all. They expressed that fund fact sheets are similar to movie posters so that anyone can understand its essential contents. And indeed, it's easy to grasp the definition and relevance of its contents, especially since its a financial discussion. But, then again, just like other financial forms, the sheet must be able to present more than descriptions of contents, but also the data that it has, investment forecasts, and how it was acquired. So, if you are going to be making the fact sheet, then you must keep the following tips in mind:
1. Don't Skimp on the Performance Measurements
Fund fact sheets should have enough detail about the previous and present performance of a fund scheme. In specific, if the scheme had been existing for ten years, then the fact sheet should state the measured performance evaluation of the past ten years up to the present. This allows the investor to know the scheme's growth and improvement.
2. Avoid Coloring the Tables
Using tables in a fund fact sheet is common because there needs to be an organized manner in arranging the data and information in it. But, don't be tempted by colorizing your tables, nor the texts and other elements of the sheet. Why? Because your aim should be to provide a professional-looking financial worksheet. On the one hand, if you really do need to use colors to brand the sheet, then minimize it to two subtle choices.
3. Label Tables and Categories Well
Make sure that the labels that you are using are accurate and not repetitive. And, if there would be more than one table, or sets of rows and columns, to use in the fund fact sheet, then categorize them. By categorizing, you'll be able to present information easily. For example, you can use the label "Sector Allocation" for the table presenting the tally sheet of how the funds were allotted in the past.
4. Use Bar Charts Instead of Pies
Comparing data and information is essential in a fact fund sheet. But, when you do, you should stick with bar charts instead of using pie charts. Why? Because putting information, and dividing a circle to show the percentage or numbers, can be confusing and time-consuming. While, with a bar chart, all you have to do is change the length of a bar to show its contrasting data.
5. Choose High-quality Photos
Nowadays, companies and even financial managers use infographics and images to deliver pieces of information. So, if that's your preferred method, then ensure that the photos you use are high-quality and conveys the right message. Also, if an image has a watermark, and requires you to subscribe or credit the owner, then do so. Or, if you don't want to do that, then choose a different photo to avoid copyright issues.
FAQ's
Is a fund fact sheet only applicable for mutual fund schemes?
No, fund fact sheets are applicable and can be used for varying fund schemes, such as equity funds, revenue funds, debt funds, and even money market funds. So, you can use all our free fund fact sheets above regardless of the type of fund that you want to present to your audience or potential investor. But, make sure that it has the right type of information too, especially when you are recording transactions from previous years to compare it.
What are the most critical pieces of information that I must include in the fund fact sheet?
A potential investor who is not adept in the field of investing will look at the fees that he will need to pay. Therefore, you must detail the fees and the returns that the fund scheme had previously. Also, include the financial analysis and fund risk assessment to allow the investor to have an idea of how risky his investment will be.
What is the main benefit of using fund fact sheets?
The main benefit of using fund fact sheets is being able to know the pros and cons of investing in a fund scheme. But, aside from that, it allows bridges early communication gaps between the investor and the fund manager as they both will be able to view and discuss the scheme by using the sheets as references.
Making fund fact sheets can be as tricky as creating financial audit reports, where the data of the past, present, and future will have to be plotted. But, don't worry if you're a newbie in making it, for our templates are easy to use and editable, too! So, go ahead and choose which among our free fund fact sheet templates above can be beneficial for your needs.