A schedule can be defined as a list of milestones'activities and deliverables that need to be done at a certain time. A plan or a procedure, which is usually written for a suggested or stated objective, especially with certain references of time and sequence allotted for each item. There are many schedule templates that can be of great use to you in making the schedule you need perfectly.
Restaurant Schedule Template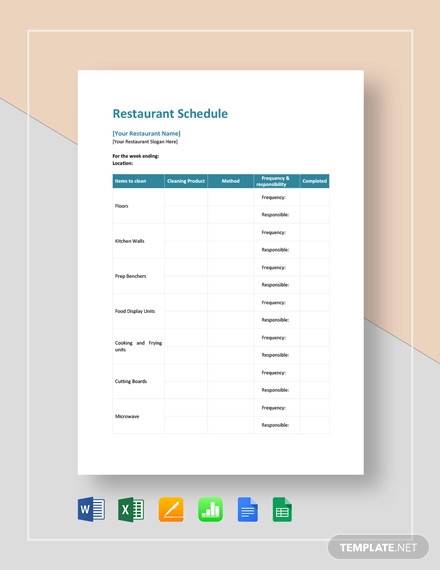 Running a restaurant can be quite a difficult task, but it doesn't have to be that way if there is a systematic sample schedule in place. This is why we have designed the best file just for you. This above-mentioned restaurant schedule template for users to use is one that can be downloaded with ease on any electronic device anytime and anywhere. This can help you manage your staff and personnel to become more effective and efficient in their assigned roles. Download the template now!
Restaurant Orientation Schedule Template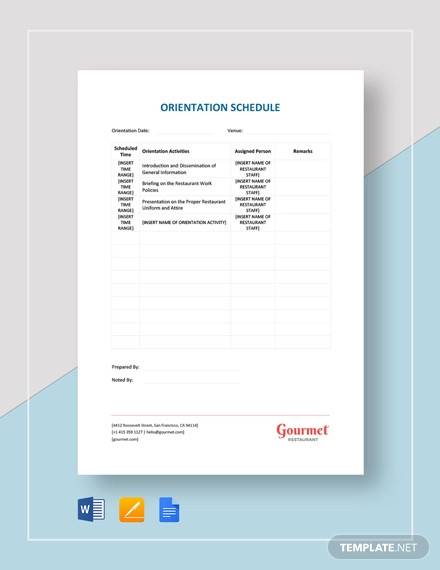 Finding time orienting newly hired employees can become rather bothersome if there are a large number of them waiting to be oriented with their responsibilities. This is why this orientation schedule sample template provides valuable help in keeping you on track with the different employees that need to be oriented. Make use of your precious time effectively and wisely by having our template direct the smooth flow of your schedule. You can also add it in any file format that can be easily downloaded. Check it out now!
Restaurant Meeting Schedule Template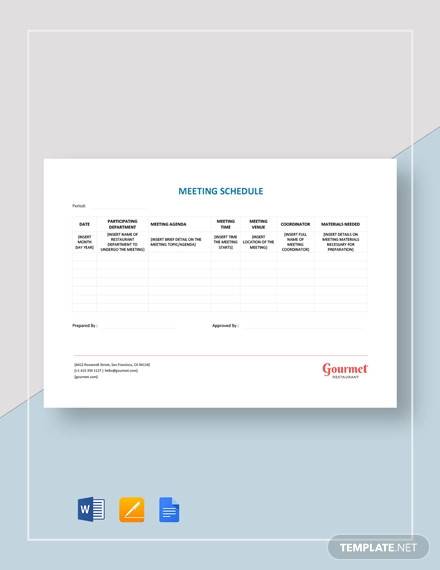 A restaurant schedule is a scheduling tool that is used by restaurant businesses to be able to quickly and conveniently create a schedule for the tasks or activities that are required to run a restaurant business. The tasks or activities included are the restaurant business hours, employee monthly shift schedules, job assignment, doing deliveries and groceries, and many more. This above-mentioned template can be of great help to you in making the needed schedule for you. Try it out now!
Sample Restaurant Cleaning Schedule Template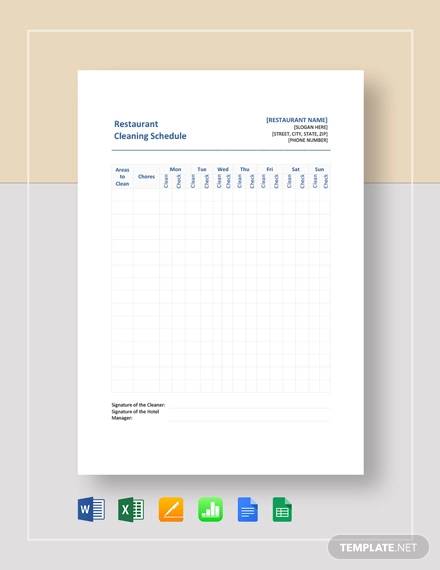 Sample Weekly Restaurant Cleaning Schedule Template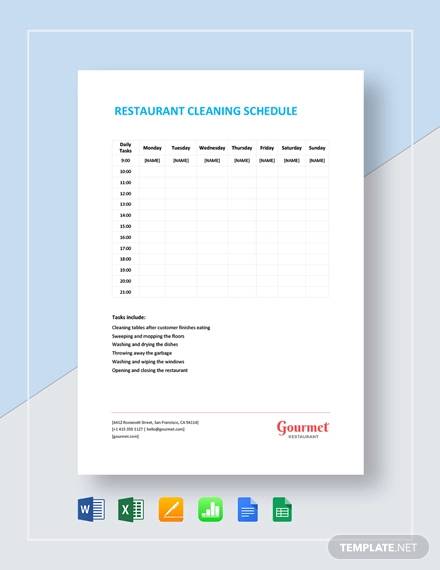 Sample Restaurant Kitchen Cleaning Schedule Template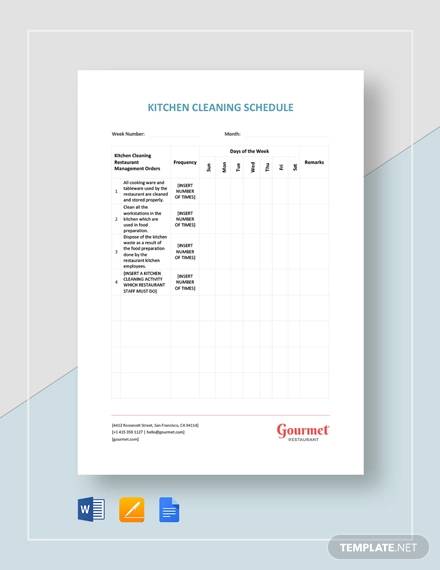 Why Are Restaurant Schedules Important?
The restaurant setting is like a battleground for people who are employed or working in it. This is contrary to what customers feel and experience when they dine in restaurants. Restaurant activities are more than just cooking and serving meals to customers. Several other tasks need to be done to properly manage and run it. The following reasons will help you understand why restaurant schedules are important.
A restaurant schedule allows for the proper allocation of tasks when it comes to running a restaurant business. Restaurants are always busy and often the number of employees working cannot accommodate the wave of customers coming in to dine.
Helps in the preparation of the restaurant during opening, rush hours, and closing time.
It helps in making prioritization of tasks or activities easy so that they can be done promptly. This way important activities that should be done first during work hours get completed on time.
The use of a restaurant schedule helps in the organization of the business by providing and scheduling tasks or activities that are specific to every employee, which makes them responsible for such tasks or activities. Perhaps you will find that using a group schedule can aid you.
Since all of the employees will be using and will be provided with the same restaurant schedule, they are sure to get hold of the same information that will guide them to do processes and other things uniformly.
A restaurant schedule can be used to create a time frame or a specific period of time required for the tasks to be done. This saves the business time and resources as well.
With the existence of having organized and prioritized task assignments, customers get served on time without the long wait.
Employees or the restaurant staff will be able to perform their jobs efficiently.
If used properly, a restaurant schedule can boost the productivity of every employee, which in turn will help boost the restaurant's profit.
No matter what type of schedule template it is, they will always be important tools that can provide the same or similar benefits to those who use them. You can check out different schedule templates on our websites, like monthly work schedule template, staff schedule template, and printable schedule template.
Restaurant Work Schedule Template
Editable Restaurant Shift Schedule Template
Holiday Restaurant Schedule
Restaurant Daily Cleaning Schedule Template
Restaurant Start Up Checklist
Who Makes a Restaurant Schedule?
Restaurant tasks or activities should always be properly allocated to every working employee to ensure that things are done accordingly. The schedule of the tasks or activities is one thing that helps make things work. But who is tasked to make it? The person behind the so-called restaurant schedule is someone who has the authority to do it and someone who is also assigned to do the said task. Check project schedule templates for more.
Since every restaurant follows their processes and policies in handling their employees, this means that the individual making their schedules are different. In most restaurant businesses the restaurant owner or the restaurant manager does the scheduling task. But there are also instances when it is assigned to one of the employees other than the manger.
This is especially true when the employee seems to be very capable and effective in doing such tasks. Learn more about the different schedules used in different business industries, like project schedules, employee work schedule templates, and office schedules samples and templates. You can check them out and many more on our website.
Printable Restaurant Shift Scheduling Template
Daily Restaurant Schedule Template
Restaurant Opening Schedule Sample
Restaurant Pre-Opening Checklist
Restaurant Kitchen Cleaning Schedule Template
What Things Should You Include in Your Restaurant Schedule?
The following is a list of the items or parts that you can commonly find in a restaurant schedule or just about any other schedule used in different businesses.
The heading or title serves as an indication of what type of document it is and tells what it is used for.
The restaurant business information such as the name of the restaurant, their address, and their contact details.
Specific or preferred instructions on how the schedule should be used.
The date or dates to which the restaurant schedule is applicable, which could either be for the whole month, every week or daily.
The people to whom it is addressed to or who should read and follow the said schedule.
The list of tasks or activities that should be done before the restaurant opens and after the restaurant closes.
The specific time frame on when the tasks should be started and when it should be completed.
The names of the staff or employees assigned to such tasks.
The work schedule of all employees, which includes their time off work, their shift schedule, their lunch schedule, and their vacation and sick leave schedules.
The name of the manager or the employee who created the schedule.
The signature of the authorized person who approved the said schedule.
The list above is what you can commonly see in most restaurant schedules. There could be more or there could be less depending on the needs and preferences of the business establishment using it. If you want to check out schedule samples to help you identify its other different parts, then you might want to drop by our website. Some of the samples that you can find there are weekly task schedule sample and templates, job schedule samples and templates, and volunteer schedule samples and templates.
Advantages of Restaurant Schedule Templates:
There are a few advantages of using a schedule template that must be looked at before making a schedule. These advantages are:
They are very accessible as there are a lot of free and downloadable restaurant task schedule templates available online.
They are easy and convenient to use because you just need to fill in the details to get the scheduling done.
A restaurant schedule template contains a complete set of details or information that is necessary for scheduling the task and activities in a restaurant business.
It can easily be customized and edited according to the restaurant's needs because they are created and provided in file types that allow for easy editing of the document in various supported applications.
One can come up with an effective and reliable restaurant schedule with the help of the schedules that are available online.
Getting organized can easily be done with the use of different schedule templates.
The advantages listed above are truly wonderful. If you find this article useful, then you may also be interested in other related topics we have available on our website, such as sample meeting schedules, travel schedule samples and templates, and nursing schedule samples and templates, to name a few.
Final Thoughts:
If you want a restaurant schedule that can be easily downloaded and can be used without much hassle, then we have the right files for you. You can pick any of the templates that are mentioned in this article. Pick from a variety of schedule templates in different file formats, that can be downloaded with ease. The sample meeting schedule can be if great help to you in making the perfect schedules you need. To also further your understanding of restaurant schedules, we have included useful information like why it is important.
This article also has the things that should be included in a schedule and also, its advantages. Feel free to check them out and make them your own by adding the necessary details that need to be added to it. Take a look at the traveling schedule templates if needed. You can take the help of any of the templates that are mentioned in this article or you can also check out the others that are available online on the internet. You can download them with ease on any electronic device and make them your own as and when needed.