The next meal that we take after breakfast is the midday meal we call lunch. Whether we are at work, in school or just at home, it is important that we take our lunch breaks so that we can refill the energy we have lost doing certain activities and so that we can continue to work throughout the day. Lunch schedules are used to create a comprehensive lunch break schedule that allows employees to take a break and at the same time and it helps a company or institution maintain its productivity. You may also see staff schedule templates.
Lunch Schedule Template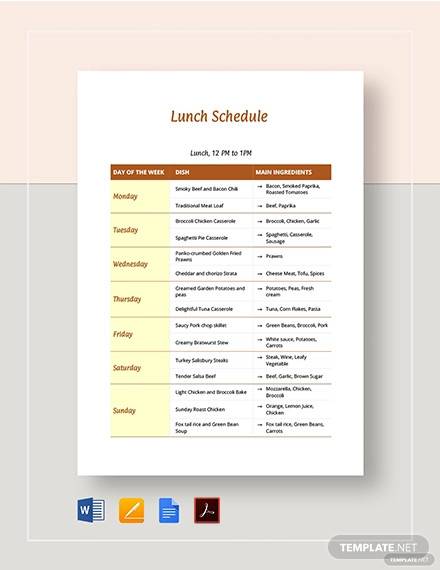 Lunch breaks are often what most people look forward to. It is one indication that they are halfway through the day and also a chance for them to relax and enjoy lunch. If you wish to make a lunch schedule for personal use or for use in your business, you may check out the lunch schedule samples and templates that we have included in this article. You may also use them as a reference or as your own.
Weekly Lunch Schedule Template
Employee Lunch Schedule
Grade Specific Lunch Schedule Template
School Lunch Schedule
Daycare Lunch Program Payment Schedule Sample
Daily Lunch Schedule
Early Release Lunch Schedule Template
Objectives of Creating a Lunch Schedule Template
For some, it is imperative that lunch breaks should be taken at noon just like how it was back in school. We often expect that it is the same way when you start working. Truth is, when you start working, your lunch break may not always be the same time of day every day like you used to. Companies need a well-constructed lunch schedule for a couple or reasons such as the ones listed below:
1. A properly allocated and scheduled lunch break for every employee allows a company to have enough number of people available to work for a specific duration. This is applicable in a work environment that needs to be productive for the whole shift, such as call centers and government offices. You may also see interview schedule templates.
2. The lunch schedules are planned so that employees can take turns in taking their lunch breaks. Through the schedule, every employee is provided with a chance or equal opportunity of having a specific break time from work. You may also check out snack schedule samples.
3. Having a lunch schedule prepared allows the company continue to be productive even when other employees take their lunch breaks.
You may also find other schedule templates on our website interesting. Examples of these templates are staff schedule templates, and construction schedule templates.
What is Meant by an Early Release Lunch Schedule?
Lunch breaks in schools are usually taken around noontime and this is what students have been accustomed to. In the school setting, there are days when classes are shortened or when classes are only spent half of the day. If this happens, the usual lunch schedule is moved to an earlier time, instead of the usual noontime lunch. This is then what is called an early release lunch schedule just because the students will be released or will be going home earlier than usual. The things that are included in an early release lunch schedule are the same as that of the usual lunch schedule template. You may also see weekly task schedule samples and templates.
Check out different varieties of schedule samples and templates on our website. To name a few are office schedule samples and templates, and homework schedule samples and templates.
What Things Should You Include in Your Lunch Schedule?
Lunch schedules are pretty simple despite the fact they are mostly used in companies and businesses. If you need to make a lunch schedule template of your own, here are some of the things that you should include in it.
The heading or title
The date
The start time and end time indicated for lunch
The days of the week
The name of the person or employee
Or the name of the group or grade level, if used in school
Some lunch schedules may include other information that is not listed above. They are usually information specific to the entity using them and may not be applicable to others. You may check out other schedule-related topics on our website, like lesson schedule samples and templates and baby feeding schedule samples and templates.
Break and Lunch Schedule
Thanksgiving Lunch Schedule Template
Lunch Schedule Sample
Tentative Testing Lunch Schedule Template
Editable Lunch Schedule
Elementary School Lunch Schedule Template
Middle School Sample Lunch Schedule
How to Make a Lunch Schedule
It is a must that the operation schedule in every company or business is reliable and efficient because this reflects their productivity and reliability. Here are some steps that you can use to help you develop a lunch schedule that is truly effective. You may also see meeting schedule samples.
1. You will need to start with identifying or determining what your company or business needs based on how it operates. These things include the number of hours you need to work for the day, the daily workload that needs to be completed, the number of people required for such tasks, as well as the number of people expected to show up to work on that day. You may also like sample work schedules.
2. List down or pull up the record of the work schedule of all the employees in your company or business. Take not of their shift schedules, especially the time they log in to work and the time they log out from their work stations. Doing this will help you make sure that you provide the proper lunch schedule for each employee.
3. After gathering all the information that you need for your lunch schedule, proceed with selecting a lunch schedule template that of your choice or one that perfectly fits your needs.
4. Once you find it, download and use it as your own. Using a lunch schedule template available online will make your task easy and convenient. It will also guide you with the other details to include in your document and the format or layout to use.
That is how you make a lunch schedule and it is incredibly easy. If you need employee shift schedule samples and templates to help you with scheduling the shift of your employees, then you can visit our website and download them for free!
Tips for Making Lunch Schedule
Want to make a lunch schedule but you just don't know how or where to start? Well, these tips will surely help you get started.
1. Create a lunch schedule based on how your business operates and based on the needs of your business. If you need people to work while others are taking lunch, then do the schedule that way. But if you can allow all of your employees to take lunch at the same time, then do so. You might also like to make use of a time schedule.
2. Inquire or ask your employees on what time do they prefer to take their lunches. Some employees prefer having an early lunch and other want to take late lunches. This will help you schedule them for the best possible lunch schedule available. You may not be able to give them the exact time they want, but at least it will be close to what they wanted. Utilize a rotation schedule template to help make things easy for you.
3. The lunch schedule you are going to make should be comprehensive. This means that it should contain all the needed details that are important for the business, whether they are big or small details.
4. As much as possible, make sure that you do not leave out any important or essential information on your lunch schedule. You may also check out event schedule templates.
Feel free to visit our website to be able to download different varieties of free schedule samples and other templates. Some examples are marketing schedule templates, office schedule samples and templates, and production schedule templates, to name a few.