Resigning from a job is a significant decision that requires careful consideration and professional execution. One crucial aspect of this process is writing a job resignation letter or email samples. Crafting a resignation template can serve as a valuable tool to ensure that the resignation process is carried out smoothly and with professionalism. The importance of a resignation template in business cannot be overstated. Resigning from a job is a significant event that should be handled with professionalism and tact. A resignation template serves as a structured framework agreement that ensures a smooth and respectful departure from a current position.
FREE 10+ Resignation Samples
1. Sample Acceptance of Resignation Template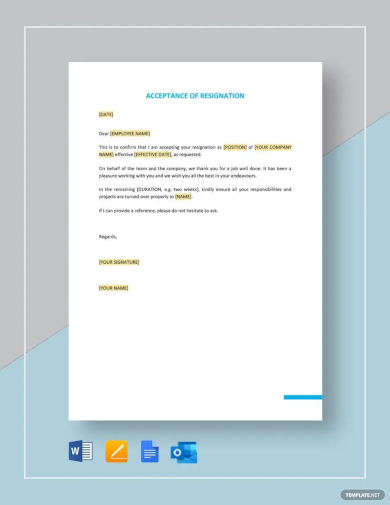 2. Sample Resignation of Directorship Template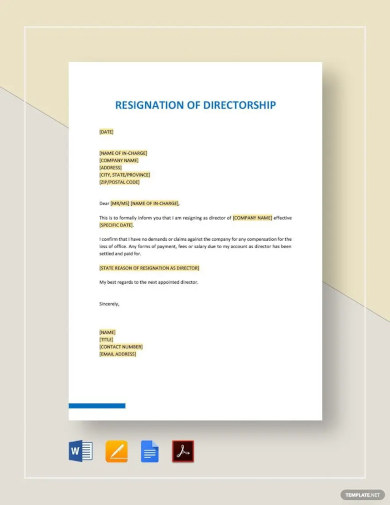 3. Sample Resignation of Officer Template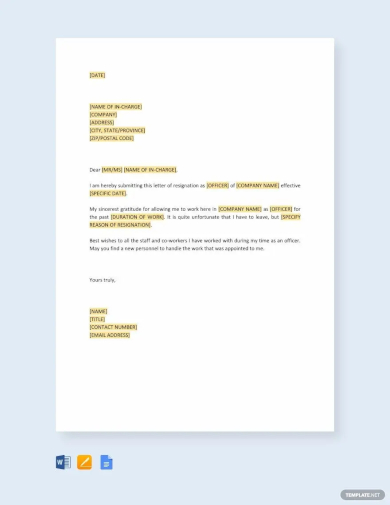 4. Sample Resignation Notice Template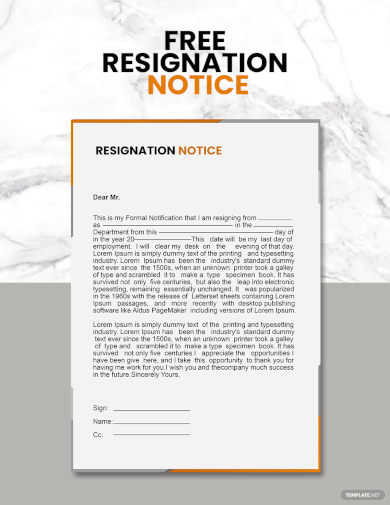 5. Sample Resignation of Registered Agent Template
6. Sample Resignation of Manager Template
7. Sample Voluntary Resignation Template
8. Sample Resignation of Guardian Template
9. Sample Employee Resignation Template
10. Sample Technical Resignation Template
11. Sample Resignation of Dismissal Template
What is Resignation Samples?
A resignation template is a pre-designed format or framework that provides a structure for crafting a resignation letter or email. It serves as a guide to help individuals communicate their intent to resign from a job in a clear, professional, and consistent manner. A resignation template typically includes sections for stating the intention to resign, providing the effective date of resignation, expressing gratitude, offering assistance during the service transition period, and concluding with a formal closing statement.
How To Make Resignation Samples?
Resignation templates are valuable tools that facilitate a smooth and professional departure from a current position. Creating a resignation template is a straightforward process that involves a few key steps. Here's a guide to help you make your own resignation template:
Step 1- Determine the Format
Decide whether you want to create a resignation letter or an email template. Both formats are acceptable, but choose the one that aligns with your preferred method of communication plan and the norms of your organization.
Step 2- Set up the Structure
Start by setting up the basic essay structure of your resignation template. Include headings and sections to cover essential information, such as the resignation announcement, effective date, gratitude, offer of assistance, and closing.
Step 3- Research and Review Sample Templates
To gather ideas and inspiration, search for sample resignation templates online. Review different templates to understand common elements, phrasing, and formats. Look for ones that align with your industry and level of formality.
Step 4- Customize for Your Situation
Tailor the template to your specific circumstances. Personalize it by including your name, the recipient's name, and any additional relevant details, such as your job title and department. Make sure the tone and language reflect your own professionalism and style.
How do I personalize a resignation template?
Personalize a resignation template by including your name, the recipient's name, and relevant details specific to your situation, such as your job title and department. You can also tailor the language and tone to reflect your own professionalism and style.
Is it necessary to provide a reason for resignation in a resignation template?
Including a reason for resignation in a template is optional. If you choose to include it, be diplomatic and focus on personal or professional growth rather than negative aspects of the job. However, it is not required to provide a detailed explanation.
Can I use a resignation template for different job positions or industries?
Yes, a resignation template can be adapted to different job positions or industries. While the core structure and content may remain the same, you can customize it to reflect the specific context and requirements of each job or industry.
Having a well-crafted resignation template at hand can make the process of resigning from a job more straightforward and professional. By following the key elements outlined in this essay, you can ensure that your resignation letter or email conveys your gratitude, professionalism, and willingness to support a smooth transition. Remember, a respectful departure speaks volumes about your character and can contribute to maintaining positive relationships in your professional network.