10+ Work Investigation Report Samples
Incidents at workplace is very inevitable. It can happen anytime, anywhere and to anyone. At times, incidents can cause a great damage or loss to the company itself or to its co-employees, with regards to this matter, the Human Resource team should need to conduct a work investigation to find out what happened and what needs to be done in order to avoid it from happening again. These statements and findings should be made documented and organized into a Work Investigation Report. In doing this, you don't need to start it from the very scratch. Our site offers you available, ready-made yet customizable templates that you can choose to. Just browse among these templates and choose the one that satisfies your needs the most.
For other report template needs, our site offers templates like Monthly Status Report, Project Weekly Status Report, Weekly Construction Progress Report, Individual School Report, Problem Solving Report, Daily Sales Report, Action Research Report, Construction Feasibility Report, Network Feasibility Report, etc. Our article does not only give you free and ready-made templates but also provide you with ideas that are essential in making one. So what are you waiting for? Come! Read the article with me.
1. Workplace Investigation Report Template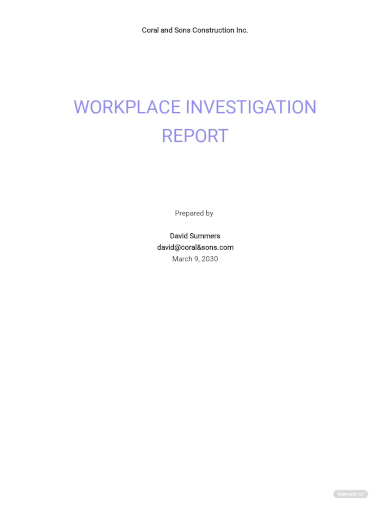 2. Work Accident Investigation Report
3. Work Shift Investigation Report
4. Work Outcome Investigation Report
5. Work Incident Investigation Report
6. Work Investigation Program Report
7. Supervisor Work Investigation Report
8. Work Injury Investigation Report
9. Employee Work Investigation Report
10. News Workplace Investigation Report
11. Work Investigation Summary Report
Tips For A Successful Workplace Investigation
If a problem or complaint has come up at your company, a proper investigation can help you figure out what happened — and what to do about it. It can also help your company avoid liability for employee wrongdoing, but only if you act fast and take effective action to remedy the problem. Below, you'll find the tips to a successful workplace investigation.
Decide Whether To Investigate
Before you put on your detective's hat, take some time to decide whether you really need an investigation. In a few situations — for example, if all employees agree on what happened or the problem appears to be minor — you may reasonably decide that a full-blown investigation is unnecessary. Usually, however, it's best to err on the side of conducting an investigation. If the problem is more serious than it seemed, failing to investigate can lead to legal trouble — and continuing workplace problems. And sometimes, you just can't tell how widespread or substantial a problem is until you do a little poking around.
Take Immediate Action If Necessary
You might have to act right away — even before you begin your investigation — if a situation is volatile or could otherwise cause immediate harm to your business. If an employee is accused of sexually assaulting a coworker, stealing valuable trade secrets, or bringing a weapon to work, you'll probably want to suspend the accused employee temporarily — with pay — while you look into the matter. But be careful not to prejudge the situation or lead the accused employee to believe that you've already made up your mind.
Gather Documents And Other Evidence
Almost every investigation will rely to some extent on documents — personnel files, email messages, company policies, correspondence, and so on. And some investigations will require you to gather other types of evidence, such as drugs, a weapon, photographs, or stolen items.
Evaluate The Evidence
The most challenging part of many investigations — especially if witnesses disagree or contradict each other — is figuring out what actually happened. There are some proven methods of deciding where the truth lies — methods all of us use in our everyday lives to get to the bottom of things. You'll want to consider, for example, whose story makes the most sense, whose demeanor was more convincing, and who (if anyone) has a motive to deceive you. And in some situations, you may just have to throw up your hands and acknowledge that you don't have enough information to decide what really happened.
Take Action
Once you decide what happened, you'll have to figure out what to do about it. If you conclude that serious wrongdoing occurred, you will have to take disciplinary action quickly to avoid legal liability for that employee's behavior and to protect your company and other workers from harm. In deciding how to handle these situations, you should consider a number of factors, including how serious the actions were and how you have handled similar problems in the past.
FAQs
What is an investigation at work?
An investigation at work will happen when you, or someone else, raises a formal grievance, or, you are given a formal disciplinary. The investigation is an opportunity to explain yourself, hear the other side and to work together with your employer to make things better for everyone.
How long should a work investigation take?
Some investigations might take longer depending on the case and how many people need to give information. For example, a simple case might only take a day to gather enough information, whereas a more complicated case could take several weeks.
You might find yourself getting caught up in the report that you are making especially that you've got to do it from the very scratch. With this, it is highly encouraged of you to make available all the resources you can find online. What are you waiting for? Avail our templates in SampleTemplates now!