Keeping track of a project's development is important for its success. For project developers, it's one of the most important aspect to ensure the project's fulfillment. That's why they often require the team to submit a project status report. Status reports allow them to keep track of a project in a given period of time. It's usually in a format of a short series of working days, most usually a week, to gauge a summary of what has been achieved and accomplished by the team in a certain span of time. Status reports also allow employees to think about their works and how they have contributed to the overall progress of the project, and to the team in general. Status reports also allow the employers to properly delegate tasks around each team member.
Project weekly status reports give an overview of an employee's workweek. Details like tasks completed, progress made, plans for next week and the future, is usually presented in this document. Despite being a formal report, it's actually very brief and concise. You as an employee only has to make sure that the report is free from grammatical and spelling errors, and the information is well presented. Writing a project weekly status report can be quite a bit of work. Especially if you haven't prepared ahead of time and your employer requires the document immediately. Luckily for you, we just might be able to help. Take a look at these project weekly status report samples listed below to get a proper idea of what the document is. You can even use these as a guide or as a template when you're finally writing your own.
10+ Project Weekly Status Report Samples
1. Project Weekly Status Report Sample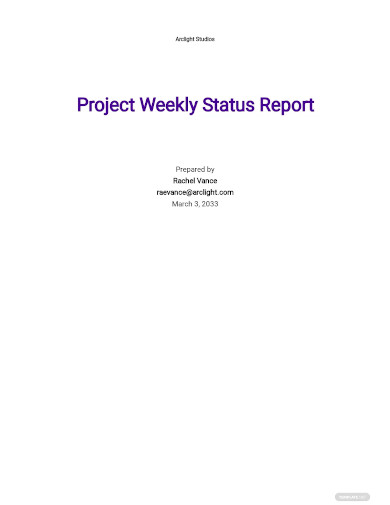 2. Printable Project Weekly Status Report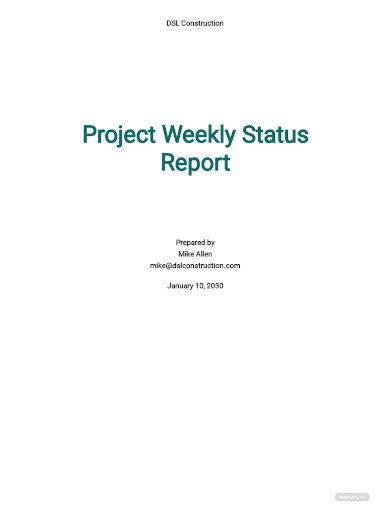 3. Project Management Weekly Status Report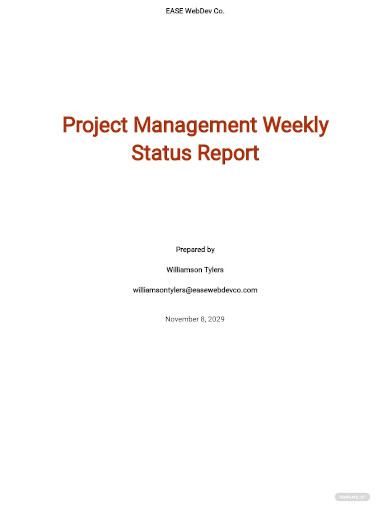 4. Blank Project Weekly Status Report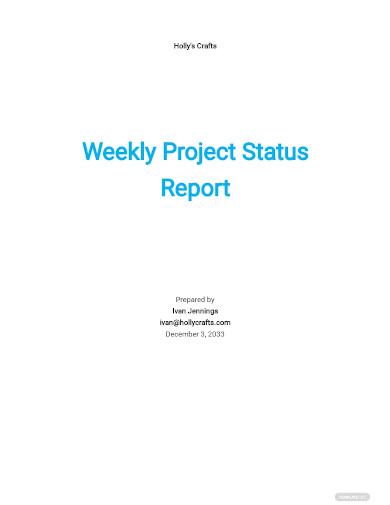 5. Editable Project Weekly Status Report
6. General Project Weekly Status Report
7. Project Weekly Status Report Format
8. Standard Project Weekly Status Report
9. Formal Project Weekly Status Report
10. Professional Project Weekly Status Report
11. Basic Project Weekly Status Report
What Is a Project Weekly Status Report?
Weekly status reports provide a complete summary of your workweek as an employee. It contains a recap of your progress in the past week, what tasks you have completed for the project, the current status of the project, achievements and accomplishments you have accumulated, the challenges you encountered while working on the project, and how you worked around those challenges. Project developers require a weekly status report from their team members to provide them a quick snapshot of what the team member has accomplished after working on the project and then uses that information to delegate tasks and assign additional goals for the member to work on.
It also gives them an idea of how the employee got over the challenges they have encountered while working on the project. Weekly reports also give the management a clear scope of the strengths and weaknesses of each team member, enabling them to assign workloads that the member can effectively and efficiently work on. For employees, project weekly status reports give them an idea of the overall quality of their work. They can use these information to conduct their own evaluation of themselves and can continuously improve upon the components that might need improvement.
How to Write a Project Weekly Status Report
Project weekly status reports are documents that is mostly required by most project developers or team leaders out there. We've already covered why the document is important, so you have to make sure that you are writing them properly, that they are easy to understand, brief, and straight to the point. It can be quite overwhelming to create a well written status report, but by breaking down the writing process into 5 components, it becomes relatively quite easy.
Establish the purpose
The purpose of your report dictates what goes in it. What does your supervisors want to see in your report? What pieces of information do they exactly need? A weekly status report usually cover details such as the progress of the project and its current status in development, challenges encountered, how you overcame these challenges, timeline, schedules, deliverables, and plans for the next workweek. Some components may vary depending on what you are working on so it's best to figure it out early on. It should mostly be the same things for the next following weeks unless your team leader says otherwise.
Know your role
One more thing to keep in mind is that you have to be perfectly clear with your role on the project development team. Make sure that you know exactly what the definition of success is and that you understand it clearly.
Layout
Unfortunately, slapping several sentences talking about your week on a piece of paper is not considered as a report. A proper layout has to be established before you can start putting in information. A well made layout should make sure that your report is brief, concise, and visually appealing. There should be a sense of presentation to it, show that you've exerted some effort. The samples and templates that you have reviewed just now should be more than enough to give you an idea of what a proper weekly report layout looks like. But of course, feel free to look for more layouts and templates online.
Characteristics
Project weekly status reports should be short and concise, presented clearly in as few words as possible, without being vague. Don't use too many work jargons as it really would not help except make it more confusing. Sure you're submitting it to your supervisor, but generally they would appreciate if the report is written in a fairly simple manner.
More details to keep in mind

Summarize
Proper dates and dating format
Deliverables
Tasks, progress report
Title
Highlight result and accomplishments
Challenges encountered and solutions devised
Plans for the next few weeks
FAQs
What is a weekly progress report?
Weekly progress reports are a means of communication between project developers from different departments that are working on a project. The report can also be used as an evaluation of the performance of each employee as it keeps the management informed of their achievements.
What is a project report format?
Project reports should be written like conference papers; concise and focuses on what you did.
What is the basic structure of a project report?
A project report should summarize everything you set out to achieve, provide a clear outline of the project's background, relevance, and contributions.
Writing a project weekly status report really has a lot of weight into it. It benefits both the employer and the employee, so you should really take the opportunity to write weekly reports properly, since a good review of your own work should let you see what improvements you might need.