If you are a budding businessman and owning a franchise is the most promising venture you can think of given your resources and after seeing the result of creating your own capital expenditure budget. Presenting your franchise proposal to a prospective franchisor provides them with the necessary information on your readiness of making a deal with them. It tells the operator your experience, vision for the partnership, your traits as an individual business, and your financial capabilities by presenting a financial status report of your own company. 
The following paragraphs provide you with the basic information that you can include and consider in making your franchise proposal. Our free and downloadable Franchise Proposal Samples will also guide you through. Keep reading. 
10+ Franchise Proposal Samples
1. Restaurant Franchise Proposal Template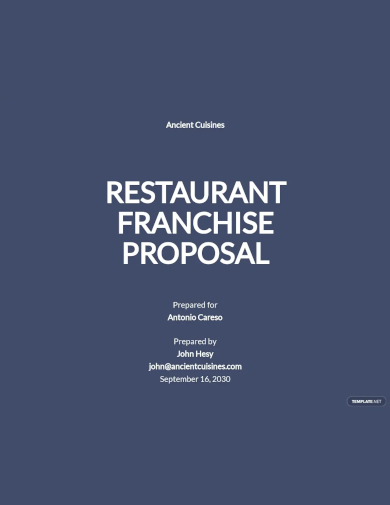 2. Pre-School Franchise Proposal
3. Training Centre Franchise Proposal
4. Area Franchise Proposal
5. Franchise Purchasing Proposal
6. Transportation Franchise Request for Proposal
7. Franchise Service Request for Proposal
8. Franchise Invitation Bid Proposal
9. Business Franchise Request for Proposal
10. Vehicle Sales Franchise Proposal
11. Franchise Development Request for Proposal
Writing Your Own Franchise Proposal
1. Study and review franchise requirements
Operators usually publish a document telling potential franchise partners what traits and capabilities they require before signing a franchise agreement with any operators. Aside from the standards that the operators must meet, they are also given information on relevant training and support from the operator if ever they are chosen. Be diligent in studying the requirements and make a checklist of the details that you have to consider and should work on to qualify. 
2. Develop your proposal structure
 After making a checklist of the franchise operator's requirements, you can now develop the structure of your franchise. It is a  work breakdown structure in which the hierarchy of the work process in order to meet the franchise standard and serves as a guide in every step that you take. The salient features of the structure include but not limited to, executive summary, market experience, management skills, management team profile, among others. You can also include a subsection where you can include any proof of your other qualifications such as certificates or contracts specific to the franchise you want to venture into.
3. Give an overview of your profile
As a separate business entity seeking to have a partnership with another business, show your qualifications in a brief yet informative manner. In order to do that, an executive summary should be included in the franchise proposal so that the franchise operator will have an impression of how good it is to do business with you. This document constitutes what it is about to learn about you such as your experiences or even the recognition that you received. It is also important that you include the impediments to your success as a business owner such as the toughness of the competition and the risk level of business. It is also expected a financial or revenue projection is provided that will tell your prospect partner that you are ready with any possibility in the future.
4. Introduce your team
Your team is your most valuable asset at this point because they are the ones who will materialize your visions in the possible joint venture. With that, your proposal must include the resumes of the people comprising your team. The resumes tell the franchisor of the qualifications of each of your team members and their qualifications, relevant experiences, and other skills that might be helpful in creating a productive and efficient working environment
5. Provide a market profile
The specific location of the franchise-building and facilities plays a huge role in the success of your franchise since different areas have different climatic conditions and population demographics. Indeed, harsh rainy weather can affect the franchise's regular operations and can decrease productivity. Likewise, the gender distribution, spending capacity, and the peak hours of a place determine the sales output of the business.
6. Make profitable forecasts
 The franchise operator will look into your financial capabilities which include your assets and personal net worth. You must also include a forecast of your initial investment in the first few months of obtaining the target franchise. With that, the operator will have a road map of how you handle the challenges of running the franchise and how you convert them into profit. With your financial capabilities, the unexpected loss of profit can be made up with the help of other sources. The forecast will determine the most possible scenarios of income generation and how you will be able to get up after incurring some losses given your resources and abilities to get up after losing some rounds. 
FAQs
What is a franchise?
It is a method of distributing the goods and services of a company by another business entity that has the rights to carry the company's name for profit making purposes.
What is an area franchise?
It is an agreed-upon move of a franchise owner to open the same business at several locations with the approval of the operator.
What is a royalty fee?
A percentage of the franchisee's gross sales that serve as payment for the franchise operation.