A joint venture agreement is an agreement between two or more individuals or firms to buy and sell products and services by cooperating between themselves to equally mitigate any chance for loss arising out of any untoward incident. A joint venture needs to be distinguished from a partnership. Given below is a list of sample joint venture Sample Agreements for Free.
Restaurant Joint Venture Agreement Sample Template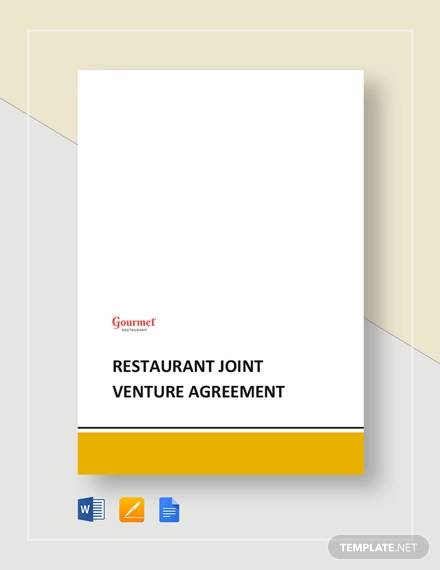 Real Estate Joint Venture Agreement Sample
A joint venture agreement for the transactions about real estate business operations is one of the most common forms of joint venture agreement. Usually, the partners seek to locate, buy and sell a property.
Joint Venture Partnership Agreement Sample
A joint venture agreement is a short-term, temporary Partnership Agreements between two or more parties, and the parties can be individuals or firms or any combination from that place. Profits and losses are also shared accordingly.
Sample Construction Joint Venture Agreement
A joint venture agreement for a construction project usually involves the procurement of raw materials and machinery and the construction of a building in response to a tender or contract issued by the authority that wants the building to be constructed.
Usage of the Joint Venture Agreements
The listed Sample Joint Venture agreement forms are useful for individual businesspeople as well as business organizations who wish to work together temporarily to meet common objectives and lessen the losses when they arise. Joint ventures are an excellent way to enhance the capabilities of individual businesspeople and firms.
International Joint Venture Agreement Sample
An international joint venture agreement is a joint venture agreement that is undertaken by various multinational corporations on an international basis. Generally, these joint venture agreements are usually in the form of tie-ups.
Joint Venture Agreement Sample Form
A joint venture agreement form usually consists of the names of the participating or contracting parties that constitute the nature and purpose of the joint venture agreement.
Draft Joint Venture Agreement Format
Target Audience for the Sample Joint Venture Agreements
The sample joint venture agreement forms are aimed towards individuals and firms who wish to conduct business transactions by pooling in the resources at their disposal and allowing them to prosecute business operations with the benefit of the losses being shared between the contracting individuals or firms that would make up the joint venture agreement. You can also see the Confidential Disclosure Agreements.
Joint Venture Agreement Sample
Joint Venture Agreement Example
Sample Joint Venture Agreement
We have a large number of Sample Joint Venture Agreement form templates. Select the one you prefer the most and utilize the template as a joint venture form itself- remember, the templates are completely editable, and they can be filled in with the necessary provisions by the user. Likewise, the sample templates can be used as a guide for you to create your joint venture agreement form.
If you have any DMCA issues on this post, please contact us.