Even if you have additional security measures in places, such as up-to-date antivirus software, an intrusion detection system, and a well-managed firewall, attackers can still take advantage of weaknesses in your IT infrastructure to gain unauthorized access to your network. Weak passwords, patch management issues, and a lack of security training are all possible weaknesses. As a result, you may be vulnerable to malware, ransomware, phishing assaults, and endpoint breaches, even if your antivirus software, intrusion detection, and firewalls are all up to date and running. How do you protect yourself from such dangers? You carry out a vulnerability analysis.
What is a vulnerability assessment? A vulnerability assessment is a thorough examination of an information system's security flaws. It determines whether the system is vulnerable to any known vulnerabilities, assigns severity levels to those vulnerabilities, and, if and when necessary, offers remediation or mitigation.
10+ Vulnerability Assessment Plan Samples
1. Vulnerability Assessment Plan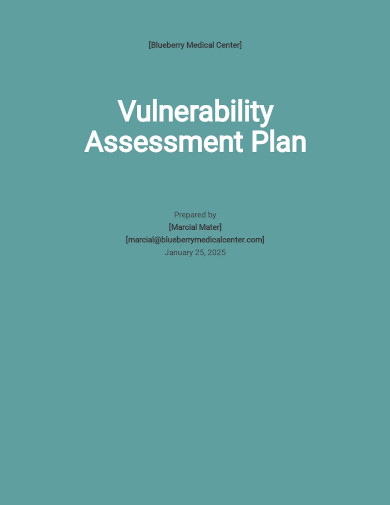 2. Vulnerability Assessment and Resiliency Plan
3. Sample Vulnerability Assessment Plan
4. Climate Change Vulnerability Assessment Plan
5. Risk Vulnerability Assessment Work Plan
6. Vulnerability Assessment Jurisdictional Plan
7. Food Defense Plans and Vulnerability Assessment
8. Vulnerability Assessment and Adaptation Plan
9. Simple Vulnerability Assessment Plan
10. Vulnerability Assessment Plan Example
11. Printable Vulnerability Assessment Plan
Components of a Vulnerability Assessment Plan
Documented Policy – When you find a vulnerability, your vulnerability assessment plan should include a policy that covers the purpose, frequency, and expectations for remedy. Set a frequency that is feasible for your team and other responsibilities while also ensuring that things aren't left in the dark for too long. Once configured and tailored to your environment, a decent vulnerability assessment application should be able to execute as a scheduled operation. Make sure your policy specifies which systems will be evaluated and how long the system owner will have to fix any vulnerabilities discovered.
Management Support – Management must support your policy by giving it authority, assisting you in conducting your VAs, and requiring that any vulnerabilities discovered be remedied. Finding a defect is useless if the system owner refuses to fix it because they are too busy. Your vulnerability assessment plan will not be for naught if you have management support.
Right Application for the Environment – To be successful, a vulnerability assessment plan must use the correct vulnerability assessment application. There are numerous options available, and selecting the best one for you is crucial to your success. Choose one that is simple to update and manage, operates on an operating system you are already familiar with and can examine all of your network's systems.
Operating systems, applications, and network hardware – Ascertain that your vulnerability assessment application is capable of supporting all operating systems and mobile devices. If you have a mix of Windows, Macs, and Linux systems, as well as the plethora of mobile devices and tablets available today, you'll want to make sure you can evaluate them all.
Regular assessment from the inside – You should do regular internal network evaluations, scanning your servers and workstations as extensively as feasible. Don't only time your scans to coincide with the arrival of new systems. Every day, new vulnerabilities are discovered. At the very least, scan once a month.
Regular assessment from the outside – Attempts to exploit your systems will come from the outside in many cases, but not all. If possible, evaluate your systems from outside the company network to have the same perspective that attackers will have over the Internet.
Review and respond to deficiencies – Your policy, management's support, and common sense should all point to the need to address each and every vulnerability discovered right away. You'll find that common sense isn't always present, so you'll need to rely on that policy and management authority to encourage sysadmins to patch their systems and tighten up their setups when your VA discovers issues.
Assessment of new systems before production – It's simple to repair a system before it goes into production. A change control or a maintenance window aren't required. It's far more difficult to get it patched once it's in production. That's why your vulnerability assessment strategy should include a need to test all systems before they go live, so they're as secure as possible from the start.
Remediation – You should scan the impacted system again after a vulnerability has been discovered and apparently addressed. This is due to a number of factors. To begin, double-check that the vulnerability has been fixed. The second reason is that you want to make sure that changing one aspect doesn't lead to the creation or discovery of a new vulnerability while fixing the first. Following remediation, follow-up scans should be performed as soon as possible. Don't wait for someone to tell you it's finished. Have it verified!
Risk acceptance and responsibility – At some time, you'll come across an administrator who has a valid justification for not patching a particular vulnerability. Information security may desire to prevent every attack, but the organization may opt to tolerate some risk in the end. You've done your part if you've identified it, measured it, and indicated what might happen if it's not addressed. So be it if the company wants to take the risk and be responsible for the outcome if a vulnerability is exploited. Make sure this is covered in your vulnerability assessment strategy, and that you document when you've completed your work and the company has agreed to the risk.
FAQs
What are examples of threats that can be prevented by a vulnerability assessment?
SQL injection, XSS, and other code injection attacks, privilege escalation owing to defective authentication schemes, and insecure defaults — software that ships with insecure defaults, such as guessable admin passwords – are all examples.
What is the difference between a vulnerability assessment and vulnerability management?
A vulnerability assessment is a task you do. Ideally, one you do frequently because your vulnerabilities can change quickly; but still a task that you do. Vulnerability management is a strategy you implement to manage your organization's security vulnerabilities on a continuous basis.
What are the types of vulnerability assessment?
Host assessment – A review of crucial servers that may be vulnerable to attacks if not thoroughly tested or generated from a verified machine image.
Network and Wireless assessment – Assessment of rules and practices to prevent unwanted access to private or public networks and network-accessible resources.
Database assessment – entails looking for vulnerabilities and misconfigurations in databases or large data systems, finding rogue databases or insecure dev/test environments, and classifying sensitive data across an organization's infrastructure.
Application scans — Automated front-end scans or static/dynamic source code analysis are used to uncover security vulnerabilities in online applications and their source code.
A solid vulnerability assessment plan comprises policy, management support, regularly scheduled scans, the correct application, and a few best practices to ensure that every possible vulnerability on your network is recognized and remedied as soon as feasible.