The project risk management system is in plain and simple words a planning helps in dealing risks involved in a project. This will help in case of any problems occurring during the handling, planning, executing, managing, resourcing, troubleshooting and delivering of a project. Therefore this is a vital file or writing which has to be prepared with much care for the success of the project.
Any problem in the project and any vulnerability that may lead to a project failure, would lead a project member to instantly refer to this risk management plan. The templates are available online which are immensely helpful in directing, planning and drafting, and total making of a project risk management plan. You May also See Risk Management Plan Templates
Risk Management Report Template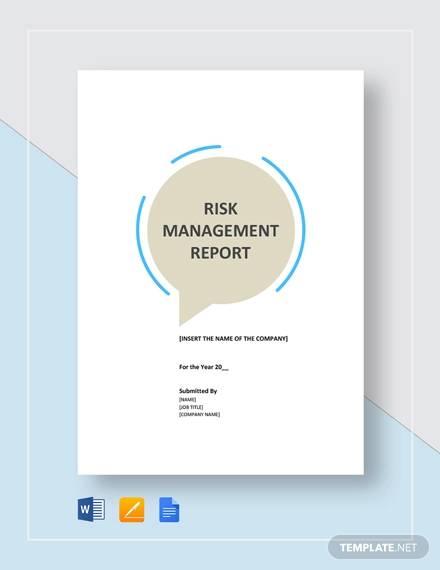 Project Risk Management Template Free
This plain format of the template is just perfect for making a basic risk management planning for any project. Now the project can be related to any domain or industry, and the template is thus formulated with universal pattern to fit into any domain with little customizations.
Project Risk Management Plan Template
The report making of a risk management plan is also a crucial task and here again the guidance of templates is much needed when you are doing it for the first time. You can get this template to make a master risk management report pattern for any project, and form the basis for reporting of risks and its management steps.
Project Risk Management Report Template
The project management and the assessment of risks involved is another side of planning a project. This format is available in this template, which will guide you for the first time and if needed again to make a totally error free risk management assessment report for any type of project.
Project Management Risk Assessment Template
Technical Project Risk Management Template
Sample Project Risk Management Template
Project Risk Management Template
Basic Project Risk Management
Why You Need the Project Risk Management Template
For any kind of smooth working you rely on guidance and formats which have been used earlier for the same job and brought success. The templates also are the same things, and they are made to bring you positive results without giving in much effort on formatting. The project risk management planning and writing is in itself a tough task. It involves including so many values, conditions, parameters and things that you are always in some mental loop of why, when, how etc to make it. On top of that if you have to format the whole report too, then it gets more tedious and brings in room for errors too, as no one cannot be perfect.
Importance of the Project Risk Management Template
When you are working with templates you have no chances of being wrong format wise. If you are still wrong them it's because of wrong facts and figures and steps which you include. But the role of templates is huge in giving you a detailed format to work on which is acceptable globally and universally in all domains. The project risk management analysis can be for any type of project in any industry, and your template has to be such that it can relate to the universal parameters while giving you scope enough for inclusions and removals. You May also See Project Management Templates
How to Use the Templates
Usage of the templates is really smart to apply on when you get them in proper Doc and PDF file formats. Just access online and get the report template format downloaded for working. There will be many types of risk analysis template available, and before getting one choose the apt template. Finally it's your expertise how you arrange the facts and figures into the guide template, but one thing you can always be sure of is that you will get a totally error free outline to make the report when you are working with templates.
The project risk management planning is a very important responsibility. Any problem in the project and the entire focus goes to the risk management planning to look for a solution, thus making it extremely important to construct this plan and report error free. The risk analysis template provides you the gateway to error free planning.
If you have any DMCA issues on this post, please contact us!