Goals are accompanied by objectives, which explain what must be done in order to attain the goal and should be stated in measurable terms. The training team must examine the strategic plan's objectives to determine the skills and behaviors required to attain them. It's crucial to realize, though, that excellent employee training isn't something that just happens. It has to be efficient. It must be current and capable of serving your needs. To put it another way, staff training should be tailored to the individual. It may be tempting to put off staff training forever, waiting till you have more time or money, but your employees' skill sets must be updated if your firm is to prosper.
10+ Training Strategy Plan Samples
A training strategy plan is created to help an organization accomplish a specific educational goal. For example, teaching employees new abilities or upgrading them in accordance with organizational regulations. Developing training plans entails equipping your employees with advanced skills and supplying qualified personnel to your firm. As a result, it benefits both employees and employers equally. Employee behavioral training can assist you to improve your company's operating standards. It will increase employee respect and tend to create a welcoming environment at your workplace. Your staff should be able to both lead and follow with ease. Leadership training is available to help your staff enhance their leadership skills. Peer training allows your staff to gain hands-on experience with new skills. It can teach you about any interaction you'll have during your career, including client-to-client relationships, service provider-to-service receiver relationships, employee-to-employee relationships, higher management-to-lower management relationships, and so on.
1. Training Strategy Plan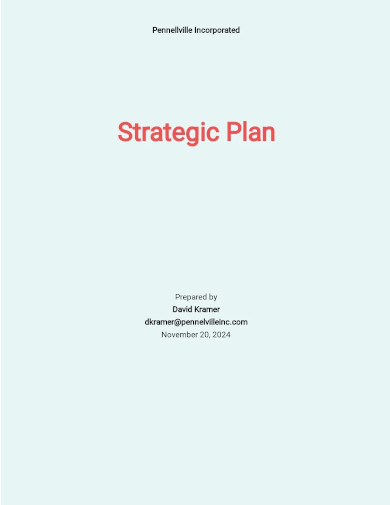 2. Sample Training Strategy Plan
3. Education Training Strategy Plan
4. 3-Year Training Strategy Plan
5. Vocational Training Strategy Plan
6. Training Strategy Action Plan
7. Nurse Education Training Strategy Plan
8. Workshop Training Strategy Plan
9. Employee Training and Development Strategy Plan
10. Operational Training Strategy Plan
11. Printable Training Strategy Plan
Creating an Effective Training Strategy
Perform training needs assessment – For the training assistance, you must determine a core and unambiguous business aim. If you're not sure why you're doing it or if it doesn't directly assist your business goals, don't do it. For example, one of your business goals could be to train staff a new talent as part of expanding your company. Now that you've identified your goal, consider what your employees will need to accomplish to help you achieve it. You must determine the gap between what your employees could perform previously and what they can do currently. Workers should be capable of carrying out the tasks for which they were trained.
Carrying out a SWOT analysis – Strengths, Weaknesses, Opportunities, and Threats (SWOT) is also called SLOT analysis because liabilities are used to replace deficiencies. You must first determine your company's advantages over its competition. You must increase your employees' skill sets in that area in order to stay ahead of the competition. You must identify your company's flaws or liabilities. You must put in a lot of effort in those areas if you are to improve. You must seize any chance that comes your way. Trends and gaps in the market are always present. You must identify them and increase your employees' ability as a result.
Prepare a learning objective – Learning objectives are a list of tasks that employees should be able to accomplish after completing training. They're similar to the final grades to which your work should be compared. Training objectives are necessary since there must be a reason for the training. It's pointless to train if there's no reason for it. There are numerous training objectives that can be pursued. A four-part goal should be included in any proper training program. It should include the employee who is executing the task, the skill set that an employee must have after finishing the task, the working environment for the employees, and the degree to which employees can perform the activity.
Design training material – Before you rush into constructing the training process, you must first have some training materials.
Implement the training – Until now, all preparations consisted solely of design. Now it's time to put the training into action. This procedure has a few steps to it as well. Notify your staff that a training session is being held. Although it may seem self-evident, you must ensure that your staff will attend the meeting. During the actual training, you must first recognize that an activity can be done in a variety of ways. You must first recognize your requirements before proceeding with the training. It can take place in either an open field or a confined space. You must create an interactive setting and maintain everyone's attention in the exercise from beginning to conclusion.
Training evaluation – The response of your staff to the training is the most crucial factor. After the training, you must evaluate the feedback received from your staff. You may either hand out a paper survey or use some of the free tools available on the internet to conduct these surveys. It's possible that the staff enjoyed the training. However, you must still evaluate them based on the difference between their previous and improvised skill sets. Simple examinations, employment scenarios, and hands-on activities can be used to accomplish this.
FAQs
How do you identify skill gaps?
You can do this by looking at a printed job description and comparing the skills required for the position with your current employees' talents. Understanding where gaps may exist may assist you in determining the type of training you require.
How do you execute succession planning?
The succession plan should be based on workforce plan data that identifies the agency's core technical and management jobs. Projections for workforce planning will define the size of the replacement pipeline and the amount of time available to train and establish pools of qualified successors. The HR department is then in charge of creating rigorous training and development programs for agency employees and managers in order to fill important jobs.
If you want to see more samples and formats, check out some training strategy plan samples and templates provided in the article for your reference.