Getting people to come and visit your destination might not be as easy as you imagine. Without thorough planning, even if you have a relaxing and wonderful getaway, you'll fall short in getting people to your doorstep. You need to have better strategies through a tourism marketing plan. This helps you craft research-based and well-thought action plans that you can use to upgrade your destination in the market. This can also help you reach more people through your online ads, testimonies, and content. Know more about tourism marketing plans below.
FREE 10+ Tourism Marketing Plan Samples
1. Tourism Marketing Plan Template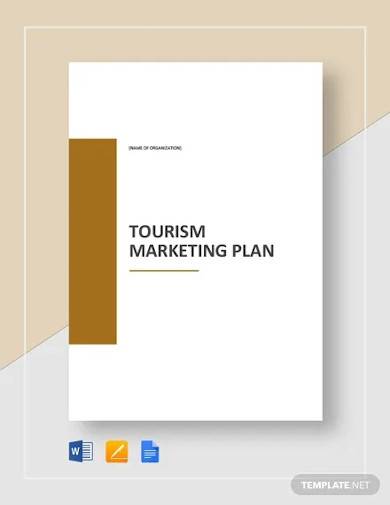 2. Travel Agency Marketing Plan Template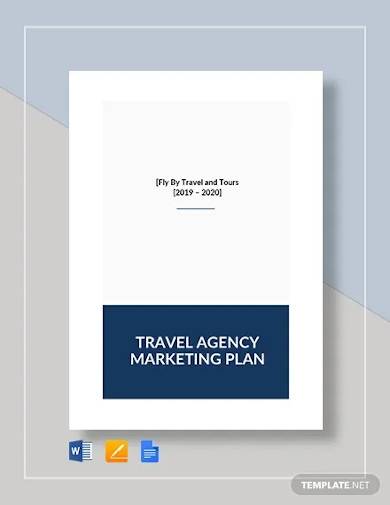 3. Sample Tourism Marketing Plan
4. Formal Tourism Marketing Plan
5. Tourism Strategic Marketing Plan
6. Tourism Development & Marketing Plan
7. Standard Tourism Marketing Plan
8. Professional Tourism Marketing Plan
9. 5-Year Tourism Marketing Plan
10. Sample Plan for Tourism Marketing
11. Simple Tourism Marketing Plan
What Is a Tourism Marketing Plan?
A tourism marketing plan provides the outline of objectives and its corresponding marketing strategies to promote a destination. It's often associated with different individual advertising tactics on how to make people visit a certain place. However, this involves more than generating different techniques. It relies heavily on market research, client profiles, and Key Performance Indicator (KPI) tracker to achieve a business's goals.
Tips on How to Promote a Destination Better
It's no surprise that the tourism industry is a large and undeniably expensive sector. But the number never ceases to be astonishing. In 2019, the US travel and tourism put in approximately $2.9 trillion to the country's GDP. This massive industry also contributed 5.29 million jobs to its people. Its profitability and benefit to the entire community make tourism a prime priority in any country.
With so many places out there, how would to attract tourists and visitors? Here are some tips for you:
1. Find ambassadors. If you're going to sell the experience, you need to have people on your side who can validate your claims. Look for social media savvy ambassadors or "influencers." They'll be able to help you get the reach that you need through their following.
2. Customize itineraries according to different interests. It's not uncommon for brochures to gather several spots in a long list and let you choose where you want to go. Why don't you take that apart and classify them according to what people's interests? Families would definitely appreciate a day in parks, zoos, and comfortable eating places, while artists would appreciate a museum tour.
3. Make use of video campaigns. The best way to remotely showcase the beauty of tourist spots is through a well-made video ad. This helps you compress several things of what makes the destination a great place to be in a few minutes of engaging content will give the audience a fraction of the experience you're offering them.
4. Encourage feedback. People trust online reviews more than you know. Before they nail down their decision to visit a place, they check previous visitor feedbacks. Encourage your guests to drop their opinion of the place and the service.
5. Go mobile. If you want to reach a lot of people, you should reach them where they spend time the most: their phones. Make your website mobile friendly and use popular sites such as Facebook and Instagram. If you plan to print posters, post them online. 
How to Make a Tourism Marketing Plan
If you want to learn how to organize and create your tourism marketing plan, refer to the tips below:
1. Identify Your Who
You can never have a marketing plan without a clear understanding of your target market. This is valuable to your plan because essentially, everyone one of your strategies will have to cater to your audience's preferences. And because it's impossible to please everyone, it's much more valuable to people who are more likely going to visit your destination. Have a target market analysis and fill out your audience's demographics and their preference. Do this with research so you can garner factual results.
2. Assess Your Current Situation
Before you do anything, assess where you are right now. Are you attracting the same visitors you have before, or are there any new groups? Do you have enough accommodation? Do you need to install more activities? What are the current trends when it comes to tourism marketing? Do you have new competitors? Take a look at your market and your surrounding and determine what details can help you build your marketing plan. Collect them in a file and find out how these details an help you navigate towards your objectives.
3. Create Your Message
What message do you want to portray? What narrative do you want your destination to offer? Do you want to present it as a family paradise? A honeymooner's haven? A cultural spot? Tourism marketing is far from all other promotions. You need to hook them with a promise of a great experience that they won't be able to find anywhere else. Your marketing strategy plan should follow a message or a theme. If you're targeting varied demographics, remember that you have to customize your message according to each group's preferences.
4. Implement Actionable Strategies
After you've gathered all details you need, it's time to map out an action plan. Decide what promotional tactics you want to execute. However, you can't just implement every plan you please when you're unsure how the action's outcome can benefit you. Align your strategy with your marketing goals. Make sure your agenda results in the fulfillment of your objectives. This way, you can be certain that you're investing in the right materials and methods. As an example, if you want to introduce your place to the visitors of nearby inns and hotels, you can leave your travel brochure on their front desks.
5. Evaluate Your Progress
Don't stop at merely putting your plan into action. You need to find out if they're working well. This is why you need to track your strategy's progress. Set benchmarks or standards to help you identify if your plans are moving things along. For example, if you've launched a social media campaign advertising your destination, you can rate its success by identifying if it has helped increase your success or if you're received more inquiries and reservations. Besides identifying how your strategies contributed to your growth, this also helps identify which parts of the advertising plan are not working its purpose so you can make some tweaks to develop them.
FAQs
What should you include in a marketing plan?
The marketing should include market research, target market, positioning, competitor description, marketing strategy, budget, and standards.
What are the basic steps in completing a marketing plan:
The basic steps in completing a marketing plan are:
Identifying marketing objectives
Creating marketing strategies
Planning tactics
Setting the budget
What are the four C's of marketing?
The four C's of marketing are customer solutions, customer costs, convenience, and communication.
Tourism promotion might be among those ad presentations that most people actually like. However, there are infinite travel options for people to choose from. You need to stand out and propose an experience they will want to pursue. Aa reliable tourism marketing plan can help you with that. Get started on your planning right away when you avail yours from our template display. Download now!