Anything that might have a negative influence on your company's reputation and reception on social media is referred to as a social media crisis. It's more than just one bad remark or viewpoint under a post. A crisis is an occurrence that results in a cascade of offensive words that spirals out of your control. This is why it's critical to have a crisis communication plan in place. Need some help with this? We've got you covered! In this article, we provide you with free and ready-made samples of Social Media Crisis Communication Plans in PDF and DOC formats that you could use for your benefit. Keep on reading to find out more!
9+ Social Media Crisis Communication Plan Samples
1. Social Media Crisis Communication Plan Template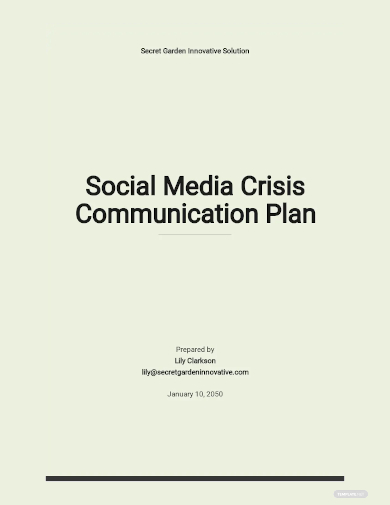 2. Social Media Crisis Communication Development Plan
3. Social Media Crisis Communication Plan
4. Sample Social Media Crisis Communication Plan
5. Standard Social Media Crisis Communication Plan
6. Basic Social Media Crisis Communication Plan
7. Social Media Campus Crisis Communication Plan
8. Social Media Goals Crisis Communication Plan
9. Social Media Attack Crisis Communication Plan
10. Printable Social Media Crisis Communication Plan
What Is a Social Media Crisis Communication Plan?
A social media crisis communication plan is a set of principles that a company may employ to prepare for an emergency or unforeseen incident. Effective social media crisis management begins well before a problem develops. It's a well-thought-out strategy that includes a list of important stakeholders and their roles, as well as a defined line of command.
What Is a Social Media Crisis Communication Plan
Things may move at breakneck speed on social media. You have the best chance of surviving a social media catastrophe if you plan ahead of time. A Social Media Crisis Communication Plan Template can help provide you with the framework you need to ensure that you have a well-prepared and robust communication plan on hand. To do so, you can choose one of our excellent templates listed above. If you want to write it yourself, follow these steps below to guide you:
1.  Make a policy for using social media.
The easiest approach to avoid a social media catastrophe like this is to have a sound social media policy for your firm. It should include clear standards for proper usage, expectations for branded accounts, and how workers can talk about your company on their personal social media sites.
2. Bring your team together.
While every employee is valuable, you can't have everyone on your crisis management team. Assemble a team of responsible first responders, each with a specific job to play. To enforce judgments, you'll need a solid combination of senior employees, management, and creatives to design the correct message.
3. Determine what constitutes a crisis.
On the internet, people will say derogatory things about you. That is a truth, not an emergency. However, if a large number of individuals on social media are saying the same terrible things about you at the same time, that may be a crisis—or a potential crisis waiting to burst. A substantial unfavorable change in the online dialogue about your brand is what truly defines a social media disaster.
4. Take notes on what you've learned.
Take the time to debrief and investigate what happened after you've survived your first social media catastrophe. Keep meticulous records of everything you do and how well it goes. This is an excellent moment to gather the entire organization to discuss the experience you've all had and to exchange information and experiences from various teams.
FAQs
What role does social media play in a crisis?
The most successful and appreciated communications have altered as a result of the rise of social media. Authenticity, humanity, accessibility, discussion, and participation are increasingly valued.
What criteria do you use to decide if a social media event is a crisis?
A social media crisis occurs when there is a large spike in the amount of unfavorable or harmful brand mentions via online and social networks.
What role does the media play in crisis management?
During times of crisis, the media plays a critical role in disseminating information and making people aware of the situation.
In general, having a crisis communication strategy in place before to a crisis reduces disinformation, ensures an effective communication flow, and improves communications timeliness. To help you get started, download our easily customizable and comprehensive templates of Social Media Crisis Communication Plans today!