Effective communication supports every step of the buyer's journey, from the first pitch to the final deal, and serves as a vital link between sellers and internal teams like marketing. Sales communication, on the other hand, can be a double-edged sword. While its value in providing critical connections to sales is undeniable, it has the potential to overwhelm or distract sellers from their objectives if no strategy is in place to guide it. When it comes to developing effective sales communication strategies for their teams, sales leaders should focus on quality rather than quantity. After all, sending more email updates won't improve your sales team's knowledge if the content isn't relevant, valuable, or easy to find. Any effective sales communication strategy should aim to provide salespeople with the right information, at the right time and in the right place.
10+ Sales Communication Plan Samples
The process and messaging that keep sales teams informed, engaged, and productive while also encouraging feedback is known as a sales communication. Sales communication is a centralized function in some companies that serve as editor-in-chief and publisher for all messaging sent to the sales team.
1. Sales Communication Plan Template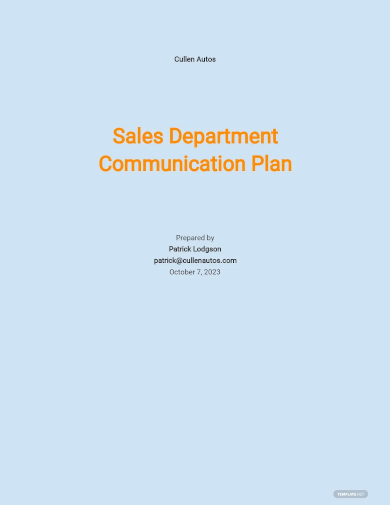 2. Sales Marketing Communication Plan
3. Sales Communication Plan
4. Sales SWOT Communication Plan
5. Sales Growth Communication Plan
6. Sales Event Communication Plan
7. Sales Management Communication Plan
8. Sales Conversion Communication Plan
9. Sales Mission Communication Plan
10. Sales Communication Strategic Plan
11. Sales Promotion Strategic Plan
When Does Sales Communication Happen?
It is debatable. The timing of sales communication is determined by the needs of the individual company. A multifaceted communication strategy will include daily, weekly, monthly, quarterly, and yearly plans. Let's take a look at each timeframe individually.
Daily
Email is frequently used for daily communication. What you choose to communicate on a daily basis will vary depending on your goals, but it's usually a mix of important product information, information about customers and suppliers, and other such items. The most significant disadvantage of email communication is that it is easily overlooked. Every day, we all receive massive amounts of email, and there's no easy way to distinguish which emails contain high-priority items from those that can be dealt with later. Despite this flaw, it is still a useful tool.
Weekly
Most businesses rely on in-person meetings for weekly communication. Most businesses have adopted the weekly sales meeting as a standard practice, as it allows the team to come together and receive the most up-to-date information firsthand. Weekly meetings are an excellent venue for discussing pipeline health, breaking industry news, celebrating big wins, and even hosting guest speakers. The weekly meeting has the disadvantage of consuming your sales reps' time, which could otherwise be spent selling. Furthermore, sales team members who are not in the office will be unable to participate in these events.
Monthly
A monthly or quarterly meeting will be held in some companies. A better solution might be to provide your team with video training materials and the like. These can be viewed at the convenience of the team member, but they can still provide useful information.
Quarterly
In general, this is just another meeting. Unlike the weekly meeting, however, the quarterly meeting frequently looks at the big picture, highlighting wins and losses in relation to annual goals, as well as goals to be achieved in the future. Surprisingly, podcasts are also gaining popularity as a quarterly communication strategy. Members of the team can then listen to a quarterly breakdown, just like they would in a meeting, but without having to attend one.
Yearly
There isn't a hard and fast rule for how you should communicate on an annual basis. There's usually another meeting here, but it's less important how you deliver the information than the information itself. In general, the yearly communication will focus on setting quotas, goals, and payment plans, among other things. The key is to choose a delivery message for your message that allows all parties involved to discuss it.
FAQs
What is the importance of sales communication?
It's critical to develop a sales communication strategy because it establishes guidelines for keeping sales reps informed about product changes, company news, and industry trends, and it prevents reps from wasting time sifting through internal resources or looking for missing information.
How do you determine your company's objectives?
Finding out what company objectives your communication strategy needs to achieve is the first step in developing a communication strategy. Take the time at the start to clearly define the goals of your sales communication strategy to avoid potential headaches. Knowing what you're trying to accomplish will help you visualize what success looks like and how you'll know if things are going well.
What approach can you use in setting goals and onjectives?
You can use the SMART approach (Specific, Measurable, Attainable, Realistic, and Time-bound)
Whether you're creating your first sales communication plan or updating an existing one, failing to streamline your process means not only are your team members missing important communications, but you're also potentially losing sales and revenue. That is something that no business wants to go through.