Today, accessing food is much easier compared to a hundred years ago. Everywhere there are restaurants, diners, coffee shops, and bakeries offering you fresh and delicious meals; there are also lots of grocery stores where they sell both produce and processed foods; and if you're feeling lazy and you don't want to go out, you can order takeout by calling restaurants or ordering through takeout delivery apps. With the benefit of these conveniences, there is also a downside to it. It costs a lot of money to eat out and order takeout and their food may not always be the healthiest option. Plus you're not even sure if they're prepared safely. Nutritionists and dieticians always recommend it is better to cook your meals at home. But with everyone having a busy schedule, cooking can be a big chore. However, this case can be avoided if you create a daily meal plan where you can map out what meal to cook on a particular day. Read the article to know how to make a daily meal plan.
10+ Daily Meal Plan Samples
1. Daily Meal Plan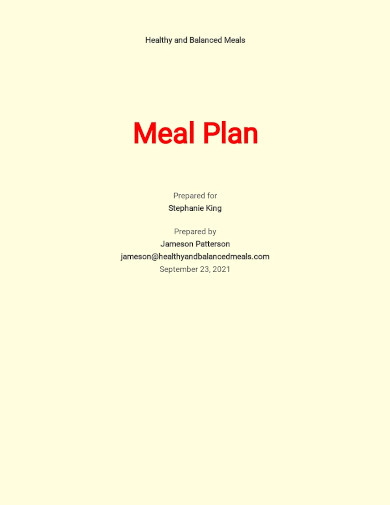 2. Sample Daily Meal Plan
3. Simple Daily Meal Plan
4. Healthy Daily Meal Plan
5. Daily Meal Plan Example
6. Daily Balanced Meal Plan
7. Daily Meal Plan for Wrestler
8. Diabetes Daily Meal Plan
9. Daily Meal Plan for Type-2 Diabetes
10. Basic Daily Meal Plan
11. Daily Family Meal Plan
Importance of Having a Daily Meal Plan
The importance of meal planning ensures you're eating a variety of different foods, such as lean meat, fruits, and vegetables, and helps you plan your meals to be healthier. Having a variety of food as your daily meal helps improve your health and reduces the risk of chronic lifestyle diseases.
How to Make a Daily Meal Plan
1. Review Your Daily Schedule
Before plotting out recipes for dishes that you will eat every day, you need to figure out your schedule on when you will be available and have the energy to cook. Cooking takes some time to do, so it's important to plot them on times when you're not busy to avoid conflict in your schedule. Knowing when you can cook helps you choose a dish or meal that is easily prepared on your available time.
Plot your calendar schedule and mark the time of the day when you can cook. Make sure to stick to it and have an alarm to remind you to do it. Chances are that you're more likely to get it done.
2. Choose Recipes
Now it's time to choose the recipes you're willing to make. There are a lot of recipes available either online or in recipe cookbooks and it can be confusing to choose which you want to cook so the easiest way to pick them is basing your lifestyle factors. These include:
The time you have to cook the meal and the style of recipe that you prefer (whether if it's a quick weeknight recipe, slower cooker recipes, or one-pot meal recipes)
Take into consideration what is currently available in your pantry and base the recipes you're looking for on the ingredients that you currently have.
If you want to make your recipes more exciting and at the same time affordable and easy to access, check your grocery stores to see what's on sale and what's in the season to maximize your grocery budget.
You can then create a list of recipes that you can use in your daily meal plan based on these factors.
3. Plot the Recipes Into Your Schedule
Now that you have a list of recipes that you'd like to make, plug them into your schedule in the times you've dedicated to cooking. To spice up your cooking schedule, you can create themes for each night of the week you're cooking to ensure variety in your menu. Some recipe themes you can follow are Meatless Mondays, Taco Tuesdays, Pizza Fridays, Around the World Recipe Night, etc.
4. Create Your Grocery List
Create a grocery list where you write down all the ingredients you will need for your chosen recipes. Shop for ingredients for your recipes that are good for a week. Don't forget to go through your pantry and check any available ingredients that you have. Disregard those available ingredients to avoid making unnecessary purchases. Review your grocery list if before you head to the grocery store.
Once you're in the grocery store, only purchase the items on your list. Avoid splurging your budget on food that is not on your list. To save time and effort, you can divide your list of ingredients into their food categories so you can get every ingredient that belongs to one category in one go.
5. Cook Your Meals
Once you've completed your grocery shopping, your meal plan is complete. All you need to do is execute it by following your schedule and cooking the recipe you intended for that day.
FAQs
What are a "three healthy meals a day" diet?
The 'three meals a day" diet consists of eating only three times a day during breakfast, lunch, and dinner without eating snacks in between. This method is done by some people to lose weight with less effort.
What are some examples of unhealthy food?
Some examples of unhealthy food available everywhere, whether in grocery stores or diners are sweet cereals, sugary drinks, canned food, margarine bars, high-calorie soda, processed meats, ice cream, and frozen fries.
You can start with creating a daily meal plan for a week, then transition gradually to a month. Make sure to stick with your plan and you'll be surprised at how easy it is to plan for your meals and save time and money in the long run. You can also hone your cooking skills and get used to eating healthily and depend less on eating out or ordering takeouts. To help you get started on making your daily meal plan, download our sample templates above to use as your guide!