Fashion designers do more than just design unique, stylish, and functional clothes and call it a clothing line; they need to establish a company, research the industry and the market, select materials to use for their apparel, source manufacturers to produce the clothes to the market, invite investors to fund their line, and launch their apparel collection. Fashion designers have it tough if they don't master the art of business, so they need to learn how to establish and maintain their clothing line to obtain brand recognition and earn profit. One of the things they need to learn to do is create a business plan. If you're a budding designer planning to open your clothing line, this article is for you. Read the article to know how to make a clothing line business plan.
4+ Clothing Line Business Plan Samples
1. Clothing Line Business Plan Template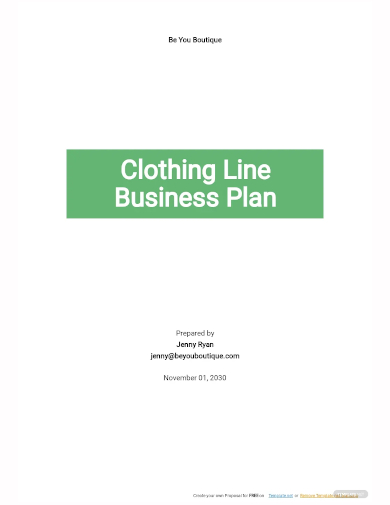 2. Ultimate Clothing Line Business Plan
3. Clothing Line Small Business Plan
4. Clothing Line Startup Business Plan
5. New Clothing Line Business Plan
What is a Clothing Line?
A clothing line, or also called a fashion line, is a collection of apparel or clothes that are designed by fashion designers targeted to a specific type of market and usually sold in retail stores.
How to Make a Clothing Line Business Plan
1. Executive Summary
The first section of your business plan is the executive summary. This serves as the introduction of your business plan. It is an overview of all key sections of your plan. Include details such as the type of clothing line business you are operating, an overview of the fashion industry, an overview of your target customers, your team working on the line, and summaries of your financial and marketing plan.
2. Company Background
In your company analysis, describe the type of clothing line you are operating based on your target customers and the type of clothing you will sell. You also need to provide the background of your business.
3. Industry, Competition, and Customer Analysis
This section is where you give a detailed analysis of the fashion industry business, market trends, and the industry's growth in the next few years. Make sure your study relates to your business.
Include your competition analysis. Here is where you identify the indirect and direct competitors of your business. Give a brief background of your competition's business and document their strengths and weaknesses. Provide an analysis of your advantage over your competitors. Knowing your competition will give insight into how you will manage your business to keep up with them and the market.
Next is your customer analysis. It must describe who your target market is since they will be your main customers. Describe their demographics and psychographic profiles and give an explanation of how your clothing line resonates with them and would want and need to purchase your apparel. Knowing their wants and needs will guide you on how to attract your customers.
4. Marketing Plan
Your marketing plan is where you give comprehensive details about the product you will be selling, the price of each item, the location of where your clothing line will be located, and the promotional activities and methods you will be doing to drive customers to purchase your apparel. You can use traditional and modern promotional methods to market your line.
5. Operations and Management Plan
Your operation plan must include details of your everyday operations such as running your clothing line, designing clothes, manufacturing your products, procuring supplies, and managing inventory. Include the long-term goals that you would like to achieve in the future. Relate your operations plan to your goals as these tasks are the ways you can reach your goals.
The next section is where you state the details of your clothing line team. Include their names and position in your business and highlight their fashion and business skills and expertise and their work backgrounds and experiences.
6. Financial Plan
Your financial plan should include your 3 or 5-year financial statement. Your financial statement must be broken down monthly or quarterly for the first year of the business and then do an annual financial statement. Your financial statements include your income statement, profit and loss statement, balance sheet, and cash flow statements.
FAQs
How do I start my clothing line?
To start a clothing line, you need to do the following:
Identify a need in the market for new clothing products that you can provide to consumers
Develop a business plan
Know your target audience
Start designing your clothes
Find a manufacturer
Choose a brand name, logo, and profile
Make a price point for your items
Do the marketing process to promote your line
How much money do you need to start a clothing line?
Startup costs will depend on the size of your clothing line but on average, you can start a very small clothing line at $500 and up. For a large where your operations and your products are bigger in number, your start-up costs will be around $25,000 to $50,000.
What are some famous clothing brands?
Some examples of famous clothing brands are Nike, Adidas, Louis Vuitton, Gucci, H&M, Chanel, and Uniqlo.
Make sure to go over and review your business plan for any errors. Revise all inaccurate information and other mistakes such as grammatical and spelling errors. To ensure that your plan is written clearly and concisely, have a colleague proofread it for you. To help you get started on making a business plan, download our free sample templates provided above!