Starving artists are no longer romanticized or patronized in the current world where being practical is a life-saving trait. The art world is a lucrative business if the artists are savvy enough to know how to sell their artworks well. One amazing strategy for artists to make it in the art industry and earn a big income is having an efficient marketing plan that will aid them in brand recognition to the public. If you're an artist and you believe that your art pieces have great value that is sellable, then it's time to create a marketing plan to kickstart your business in selling your artworks. Read the article to know how to make an artist marketing plan.
3+ Artist Marketing Plan Samples
1. Artist Marketing Plan Template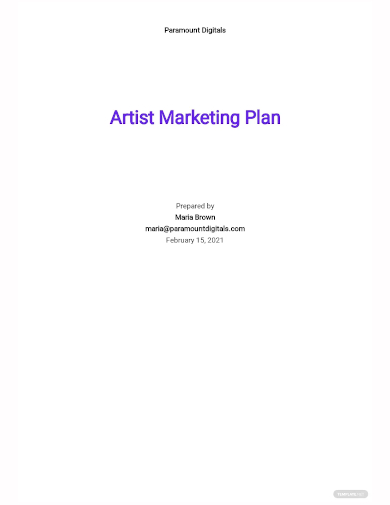 2. Artist Program Marketing Plan
3. Artist Marketing Strategic Plan
4. Music Artist Marketing Plan
What Is a Marketing Plan
?
A marketing plan is a formal document that thoroughly outlines a business' marketing strategies for an upcoming period. It describes the business advertising and promotion activities to be accomplished within a set time frame. 
How to Make an Artist Marketing Plan
1. Know Your Niche
The first step that you should do before you make any move on planning your marketing activities is that you should be 100% your making your art and the art you're making is authentically yours; your art must reflect who you are as an artist and that you're a skilled expert in the medium that you use. If you're confident and assured enough that you're the master of the art that you make, making a marketing plan will be much easier for you since your talent and passion for your art will reflect on your pieces.
2. Outline Your Goals
Now it's time to brainstorm for your marketing plan. First, figure out your long-term business goals or the vision you want to achieve in the future. Draft an outline of your goals and create objectives to use as your guide in achieving your goals. Make sure your goals follow the SMART goals format so it's easier for you to achieve your goals efficiently. Your goals outline will guide you on the action plan that you will be making later on.
3. Identify Your Target Audience
Identifying your target audience is important because they will be the people who will support your art which means they are the ones who are going to buy your artwork. When identifying your target audience, you need to identify their gender, age, household income, marital status, tastes in art, hobbies, common values shared, the things that motivate them, and the social media or actual places where they usually flock.
3. Know What Makes You Stand Out
Your goals must include building public recognition of your brand. The secret to getting recognized by the public is being unique from the rest of your competitors. Do some research on your competitors and draw up a list of their strengths and weaknesses. Do the same thing with yourself. After listing them down, compare your strengths and weaknesses with your competitors. This will give you an idea of how you can differentiate yourself from them.
4. Identify Your Prices
To earn income from your art pieces, you need to cleverly price your pieces. Based on your research from your competitors, you can follow their price range. Don't price your artworks way below their value (this will hurt your pocket and your efforts in the long run) but at the same time don't price your artworks way high that your target audience will not bother buying your pieces. Make sure your art pieces are sensibly priced.
5. Make an Action Plan
Your action plan must consist of the following elements:
Your target objectives
Tasks you need to do to complete your objectives
Timeline of doing those tasks
The person/s responsible to achieve the tasks
The resources needed to do your tasks effectively
When making your action plan make sure it includes strategies on how you reach your target audience, how to separate yourself from your competitors, and how to build a public presence to gain brand recognition.
6. Implement Your Marketing Plan
It's time to implement your marketing plan. One great tip to sell your products is to begin selling them in the area where you live in, sell them to the people who are familiar with your artwork and who know you. You can also ask fellow artists, especially the established to help promote your work. You can ask gallery curators to showcase your work. You can also use social media to advertise your artwork.
FAQs
What are the 4 Cs of marketing?
The 4Cs of marketing, according to Bob Lauterborn from his article in Advertising Age, are Clarity; Credibility; Consistency and Competitiveness
What are the 7 Ps marketing?
The seven Ps of marketing is product, price, promotion, place, people, process, and physical evidence.
Writing a marketing plan can be challenging at times especially when you think up strategies to advertise your work successfully to the public but it can also be fun because it lets you brainstorm creative ideas and do risks to work on your marketing plan. When writing your marketing plan, make sure to review and revise any inaccuracies and errors that you will spot. Ask for help from a colleague to help you review your plan.  To help you get started on making a marketing plan for your artworks and your brand download our free sample templates provided above!