Reading is one of the best hobbies to engage in for those who wish to gain more information. With that said, it can be just as rewarding as an author to to gain sales and reader engagement from your many sleepless nights of writing. With a million books published worldwide annually, there are bound to be challenges. If you are new to the publishing industry or if you're an author who seeks more effective ways to market your work, then we got just what you need. A look at our book marketing plan templates can easily help you with your troubles. If you want to know how, scroll down to read the relevant discussions below.
1. Simple Marketing Plan Template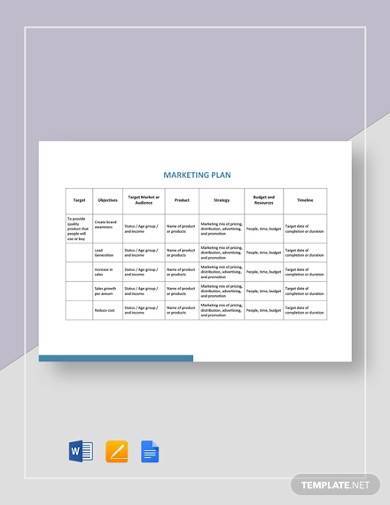 2. General Marketing Plan Template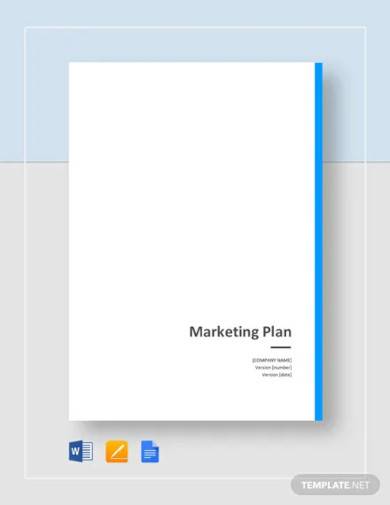 3. Author's Book Marketing Guide
4. Sample Book Marketing Plan
5. Strategic Book Marketing Plan
6. Sample Book Marketing Battle Plan
7. Book Marketing Plan Template
8. Online Book Marketing Plan Template
9. Book Marketing Plan Outline
10. Standard Book Marketing Plan Template
11. Book Marketing Plan Format
What Is a Book Marketing Plan?
A book marketing plan is an outline of one's goals, tactics, and strategies to attain the desired outcome of your marketing campaign. With the right plan, you can boost recognition for your book. Even this early on, it is important to stress the necessity of the strategic planning involved. These days, no book marketing plan would be complete without any consideration for advertising, market research, social media marketing, and so much more. Part of the book marketing plan aims to build readers' engagement based on the contents and the stories being written. Many authors look forward to obtaining perfect star book reviews that serve as both validation and as a means in itself to attract more readers. As you write your own plan, be sure to ask yourself several important questions. Who are your readers? What topics they are interested in? Are they interested in nonfiction subgenres? Think on all of these factors for the best book writing experience.
What is the Purpose of Making a Book Marketing Plan?
The purpose of the book marketing plan is to create a reliable reference that you can count on in the long run. It gives you an overview of how to market your books, implement strategies, and push sales. It is composed of vision, mission, and objectives that inspires you to keep going.
How To Create an Effective Book Marketing Plan
Books come in a variety of topics. Readers will always look for those that are worth reading. Surely, hundreds of pages need to pay off. Are you ready for your book launch? Yet, you still need to figure out the effective ways and it hunts you how to market it. Well, hold your manuscript as we share the best ways that can assist you. Here's how:
1. Know Your Audience and Competitors
If you are writing a nonfiction book, refer to the volume of readers who are interested in your niche. Conducting research on the most read categories can help you determine who you are writing for. On the other hand, knowing your competitors can also help distinguish the challenges you may encounter. To study your competitors, benchmarking can lead you the way. It is where you compare and contrast points on promoting your book to the market.
2. Study More on Promotion
A book marketing plan is associated with a media plan where advertising can reach the target readers. Using advertising will increase excitement and persuasion that convert into sales. A promotion through the internet, for example, building your own website for your books to create a good landing page that you can later on use for blogging, page marketing, and email marketing.
3. Format Your Marketing Plan
Whenever plans are not organized, it may result in following the wrong step after all. Your plans will easily be tracked and measured through the book marketing plan template we recommend above. It will organize your marketing ideas and plans. The perks of using the right format are convenience, accessibility, and user friendly.
4. Discover Alternatives
When you are a self-published author you might think its a difficult start. Luckily, there is an alternative. Yes, there is! The number of people who prefer to read books through mobile phones and tablets nowadays is increasing. This is the perfect description of convenience. We are talking about ebooks and Kindle. You can always convert your manuscript into ebooks and publish it on a website that features print on demand.
FAQ
Can you get rich self-publishing?
The answer depends on your hard work. Books don't sell continuously without engaging in the right marketing plan. Self-publishing can be a viable option provided your book has great content that you are constantly promoting.
How do I advertise my self-published book?
To advertise your self-published book, you need to have your own website to promote your book on your blogs. You can also advertise your book through social media. Facebook, Twitter, and Instagram have a wide audience that you can lure interests.
Is it hard to get a book published?
Yes, it is hard to get a book published. There are a lot of things to consider when publishing a book. It includes expenses, copyright, and plagiarism. Hence, there are a series of steps that come along with the process before everything is all set. A lot of challenges might come in where it takes effort, patience, and dedication.
Is self-publishing a good idea?
Yes. self-publishing is a good idea. You can manage your own time at your own pace, unlike traditional publishing which requires a lot of effort to pursue.
Publishing a book is not as easy as counting from one to three. As you've just discovered, there's much to do in order to cope up with the intense market competition. Now that you've gained the right knowledge and resources from this article, you're now in a better position to succeed. Remember each sheet of paper was once a tree. It is through a consistent process that your hard work will go somewhere. Be sure to stay motivated on your goals and you may yet live to see others gush over your bestseller one day!