Perhaps you have seen commercials or brands being promoted along side another prominent brand. Take for example a famous sneaker company collaborating with an acclaimed movie film. Whereas a number of these sneakers are only sold in a limited time offer. Such collaboration is called co-branding or sometimes referred as co-marketing. The overall concept is that two companies or brands work together – either for a one-off campaign or as part of a longer term plan – and combine their marketing efforts to achieve greater exposure and more effective results. To formally bind this arrangement is a co-branding agreement. Read more about this in our article for today and you may want to check out our free co-branding agreement samples below:
10+ Co-Branding Agreement Samples
1. Co-Branding Agreement Template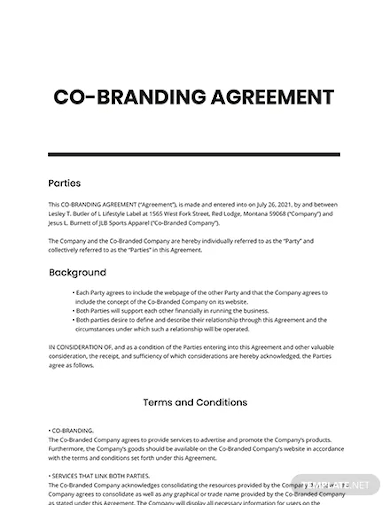 2. Co-Branding Agreement
3. Co-Branding Marketing Agreement
4. Co-Branding Marketing Strategy Agreement
5. Exclusive Co-Branding License Agreement
6. Hotel Co-Branding Development Agreement
7. Co-Branding Stock Exchange Strategic Agreement
8. Co?Branding Educational Agreement
9. Co?Branding Subscription Agreement
10. Co?Branding Sponsorship Agreement
11. Co?Branding Website Agreement
What Is Co-Branding Agreement?
Co-branding is a marketing strategy that has been used for several years now. And could be found in different products or services around the market. A popular example is that a fast food chain offering a branded toy with a meal, a clothing line and film companies, cosmetics with celebrities brand. The list goes on and its impossible for consumers not to be entice to purchase the products. Why so? Because a number of these products has a limited time offer and once sold out, resellers can get a fetching price selling these products because of its exclusivity and worth. And another thing is that newer markets are tapped when it comes to co-branding, widening the range of target customers. So, a common co-branding agreement involves two or more companies acting in cooperation to associate any of various logos, color schemes, or brand identifiers to a specific product that is contractually designated for this purpose.
How To Create a Co-Branding Agreement?
Companies that start a co-branding agreement are not necessarily direct competitors, although there have been some rare instances that competitors do co-brand for limited time. There are also times that products being marketed as part of a co-marketing campaign may remain unique to each brand, sometimes two companies will create a new product together – essentially fusing their brands – and this will then be sold as a co-branded product. But the overall goal of these companies is to generate and acquire a wide range of customers that are present in both brands. And also it is more cost effective sharing the marketing campaign cost with another partner. Now that co-branding has been identified, how do you create a co-branding agreement? There are several factors to consider once you draft your agreement, as this should be prepared carefully and worded specifically to protect each partner and define the factors of the co-branding strategy. Some factors may include the following:
I. Clearly Define Goals and Objectives
Determine what goals both you and your potential partners are seeking to achieve. It is important to clearly define the strategy to be followed by the partnership, as well as for what purpose and under what conditions the respective brands can be used and advertised. Brand alliances can have different objectives, so it is essential to establish a common goal. Identify the short term objectives and potentially long term goals as well. And assess the possible responses that consumers may have with this collaboration.
II. Confidentiality Clause
This is important for any brands on agreement, protecting the confidentiality of the information and sensitive date to be shared between the collaborating parties is a particularly crucial point.
III. Termination Clauses
This section allows the partners to end the end the agreement on specific grounds. Specify the duration and causes of the termination of the contract and its effects. Like any contract a term length of the partnership is discussed. It is important to negotiate the exceptional causes of the extinction of the contractual relationship, as well as the effects that these may have.
IV. Licensing Provisions
This will define how each partner's respective brands, logos, copyrights, and trademarks can be used in the branded partnership.
V. Exclusivity Clauses
Parties involved must agree prohibition of partners from entering into co-branding agreements with competitors.
VI. Terms And Conditions
Parties must discussed the terms and conditions that would mutually benefit both. The following can be considered in this clause:
Market data sharing agreements : require that the partners share any marketing data generated through the branded partnership.
Ensure the proper use of the other party's own brand, and control mechanisms.
Any cost incurred.
Each partner's responsibilities in completing tasks associated with the branded partnership.
FAQs
What Are the Advantages of Co-branding?
Aside from generating a larger target audience, co-branding can help establish credibility. Since this enables businesses to build or enhance their brand by partnering with another respected business.
What Are Some Examples of Co-branding?
Notably co-branding examples are Apple and Nike, Starwars and Cover Girl Cosmetics, Adidas and Stan Smith, Louis Vuitton & BMW and many others.
What Is the Value of Co-branding?
The point of co-branding is to combine the market strength, brand awareness, credibility, and cachet of two or more brands to compel consumers to pay a greater premium for them.
Overall, a co-branding agreement is a very beneficial marketing strategy for all parties. It is an amicable contract that aims at the successful launch of a new product or campaign, resulting from the combination of two or more brands. To obtain the best possible performance from this partnership, it is necessary to cover some key aspects in the drafting of the contract and finding a suitable business partner who shares the same goals and aspirations and mutually settle to a positive agreement.