A vendor contract agreement is a document of agreement between you and one of your dealers or suppliers in a business. That supplier may be selling goods or services to you either in a supply of raw materials or finished product that you need to use or supply yourself.
Our Sample Agreements for vendor contracts cover a wide variety of agreements that you can use to draft your own or download and modify. These are all available in both Word Doc and PDF file formats.
Vendor Contract Agreement Template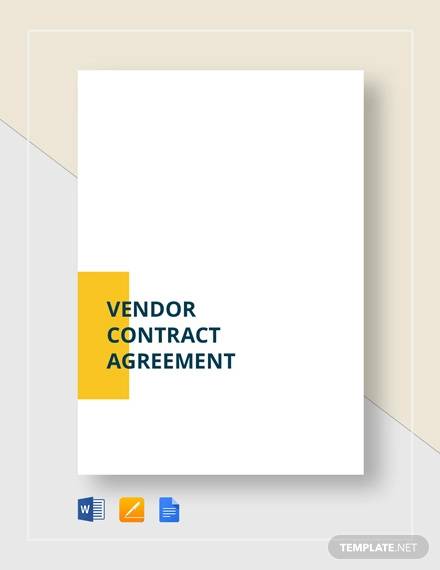 Sample Event Vendor Contract Agreement
Vendor Services Contract Agreement
Software Vendor Contract Agreement
Independent Vendor Contract Agreement
Third Party Vendor Contract Agreement
A vendor contract agreement details the terms of agreement between you and your dealers or suppliers. It's very important to have such agreement in case your vendors may not be able to meet their obligations and need to find a way in order not to face legal complications. Having a vendor agreement ensures your supplier will not be remiss in their obligations.
As shown in our samples of vendor contract agreements, the key elements of a contract should include your name and the name of the supplier. This should be followed by the price and description of the goods or services being provided. The terms of delivery should be specifically indicated and the terms of payment being agreed upon. This will include any specific payment types and when it's due after delivery.
A vendor agreement should also include how or when a contract can be terminated. This is important as a fail-safe guarantee should any of the parties feel they are no longer capable of honoring the contract. In this regard, a standard 30-day notice shall be actualized and any penalties agreed upon in case of failure of delivery. These shall be under a breach of agreement clause in the contract agreement with possible mediation or arbitration should the vendor fail to fulfill his or her obligations.
For more samples in our website, please check out Sample Contract Agreements that offer even more examples than the ones shown here. We also have Subcontractor Agreements that come useful for contractors who need to divide a portion of their projects to subcontractors. These have standard contract terms that you can either edit or modify before printing for immediate use. These are all free to download in both Word Doc and PDF files.
Food Vendor Contract Agreement
Vendor Merchandise Contract Agreement
Vendor Contract Agreement Letter
Standard Vendor Contract Agreement
Before signing the agreement, both parties should iron out any of the normal inconsistencies that may be disadvantageous to any one of the parties. Our samples being offered have the general terms indicated and are not necessarily intended to be used as is in any user's contract agreements. Both parties may want to seek legal advice to iron out the terms of the agreement and prevent any complications that may arise in the use of such agreements and signing them without careful review of the terms and provisions.
If there are any privacy concerns or terms that you may want to be considered confidential, this should also be included in the terms of the agreement with accompanying specifics that you need the vendor to be bound with as privileged information between you and the vendor. This means whatever information the vendor may obtain is bound to the secrecy of the agreement.
For even more samples, do check out our Independent Contractor Agreements that are also free to download from our website.