Coffeehouses, café or coffee shops have evolved throughout the years, the best known date when it started was during the Ottoman empire in the country of Turkey. What started just as a place to sell coffee has turned out to be an area were people would gather, socialize and share ideas. And so the same thing has been going on over a hundreds of years, café or coffee shops still offer the same kind of service but the menus and other new facilities has expanded throughout the years. With more and more cafés opening, whether a large franchise or a small family owned shops, the competition has been constantly on the rise. And companies most especially new ones are constantly facing this kind of dilemma. To help navigate your way into the market, a café or coffee shop marketing plan can guide your business. Read more about this in our article below and if you want to get started with this marketing plan, scroll down as well and check out our free café or coffee shop marketing plan samples:
6+ Café or Coffee Shop Marketing Plan Samples
1. Café or Coffee Shop Marketing Plan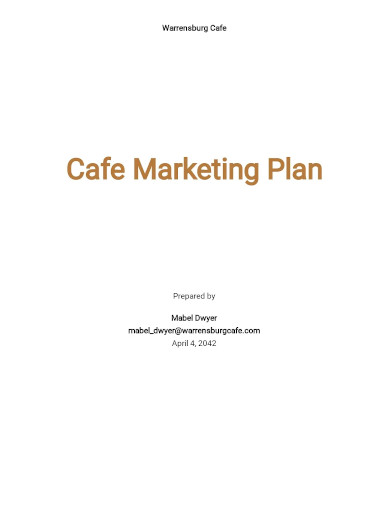 2. Café Marketing Plan
3. Café Digital Marketing Plan
4. Sample Café Marketing Plan
5. Simple Café Marketing Plan
6. Integrated Marketing Plan for Café
7. Café Marketing Plan Example
What is a Café or Coffee Shop Marketing Plan?
One of the biggest competition that threatens new cafes or even older ones are those who large, popular and more seasoned coffee shops with a large expanse of franchise all over the world. But this does not necessarily mean opening up a coffee shop or expanding would fail because of their presence in the market. This is why it is important for newer coffee shop owners to take time and the initiative to create a café or coffee shop marketing plan.
This document will serve as a roadmap for café business owners as they venture about to know more about their target market and choosing the right marketing strategies that will benefit the coffeehouse business. Although this may seem like additional work, but it is quite important in your line of business because large-brand coffee shops are so prevalent.
How To Write a Café or Coffee Shop Marketing Plan?
To be able to successfully boost your coffee shop, you need to understand what goes into marketing plans for coffee shops and how those plans can be initiated. Remember, your number one priority here is to look for new customers and find ways to retain them to keep patronizing your coffeehouse. This is where a marketing plan comes into place. So writing a marketing plan will be a unique process, as this will all depend on the information about your specific market, your target consumer, and your business's maturity.
You need to establish what is unique or attractive about your particular business. In the world of coffee shops, several factors can distinguish you from your competition. Now, to get on with your café or coffee shop marketing plan, this should be unique and tailored to the specific requirements of your business. So here are several major factors to consider that will help guide you as you get started with your own marketing plan.
I. Marketing Goals
This is an important factor as you start with your marketing plan. You will need to establish specific objectives that you want your marketing efforts to accomplish. Identify your short term and long term goals, and make sure these are measurable and attainable for your business. By doing so you will be able to determine the different marketing strategies that you can work with.
II. Market Research
Now, this is the reason why you open up a coffee shop, and that is to cater to your clients with their coffee needs, establish an area were they could relax, socialize while indulging with a cup of coffee and perhaps with a slice of cake as well. Visualizing your customers is one thing, but trying to identify who they are, where to find them and how to reach out is another thing. With market research, this will help give a clear understanding your customers and knowing what they want or need with your product should influence all of your marketing efforts.
III. Marketing Your Coffee Shop
Marketing your coffee shop would mean using various marketing strategies that is relevant to your line of business. You can engage with the following that might be of help with your marketing campaign.
Advertising informs customers of your business's location and primary features.
Increasing your shop's visibility increases the size of your potential market for instance to reach a wider market try joining various food delivery apps which has become increasingly popular.
The use of digital marketing can play a major role these days as most people are using the internet such as popular social media platforms and email marketing. Coffee shops should focus on creating a community of customers. Make your drink offerings unique, advertise them on social media, and speak to your followers about your craft. Increase your brand's reach by bringing your store's vibe to your content and share it with the community. You can post promotions on social media or organize photo contests geared towards user-generated content.
IV. Find Ways to Retain Customers
When you create a marketing plan for your coffee shop, you also need to think about how to retain the customers that have already walked through your door. Customer retention both saves you money and can make you more money.  Getting them to come back regularly is paramount to guaranteeing regular sales. You may approach this in many ways, but the most commonly successful one is a loyalty program. Also to be able to achieve a high percentage of customer satisfaction and retention you may handover customer feedback forms which will create  deeper relationships with your customers.
V. Marketing Cost
Remember marketing can incur cost, but you will need this to help push your coffee shop forward. With this being said, calculate and set aside your own marketing budget. Also make sure you don't overdo it as not to incur too much loses.
VI. Monitor
Monitor and regularly check your marketing plan, this will help you identify what is working best for your business and what is not. Take note, that consumer trends change and new opportunities surface as you manage your coffee shop. You also want to look at your campaigns and promotions and reinvent new ideas that might not be benefitting your store.
FAQs
Who Are the Most Typical Target Customers of Coffeehouses?
Those who simply enjoy coffee and whole bean buyers are their target customers, but over the years coffeehouses has become an area of social gathering so these shops often expand their menus to accommodate non-caffeine drinkers by offering hot and cold tea as an alternative and pastries, sandwiches even food meals.
What Are the Marketing Objectives of a Café?
The shop's objectives should include a development of brand awareness through a steady, month to month increase of new customers. An increase in sales while achieving a status quo state or decrease in marketing expenses.
What Are the Different Types of Coffee Shops?
These are coffee bars–focus on selling brewed coffee rather than beans, and often offer baked goods — cookies, muffins, coffee cakes and the like. If they offer seating at all, it will only be a few tables. Coffeehouse that has sofas, bookshelves and some music; drive thru coffee shops and coffee carts or trucks.
A café or coffee shop marketing plan has increasingly become an essential tool when trying to cement your name in the market. Be sure to remember all the factors that was discussed in this article and for samples, do check out our templates above.