You, like many other bio entrepreneurs, are going to face one of the most difficult elements of product development: obtaining the finance and resources necessary to bring a technology to market. Despite the fact that investors will always be interested in interesting ideas, you will need to be well prepared and patient in order to obtain funds today. A new drug can cost hundreds of millions of dollars and take up to 15 years to develop. The majority of these costs are usually covered by outside sources, which the management team must seek out and secure. Most investors, on the other hand, examine over a hundred plans per week, so if yours does not pique the reader's interest, you may not even make it to the first round of scrutiny. To that end, it's critical that your business plan convinces potential investors that, based on the company's fundamentals and the market, your technology will generate revenue, profit, and significant market share.
8+ Biotech Business Plan Samples
1. Biotech Business Plan Template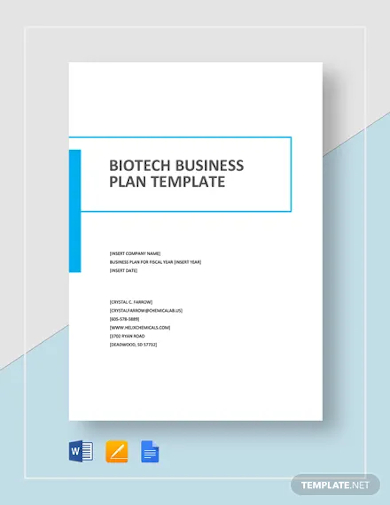 2. Biotech Business Plan
3. Biotech Startup Business Plan
4. Biotech Executive Business Plan
5. Biotech Development Business Plan
6. Biotech Management Business Plan
7. Biotech Career Business Plan
8. Biotech Business Continuity Plan
9. Biotech Final Business Plan
Reasons Why You Need A Biotech Business Plan
Biotechnology has made a difference in the lives of millions, if not billions, of people all over the world. The strong demand for biotech products and services has led to a surge in the number of people interested in working in this field. If you choose to go down this path, you should employ a specialist to draft a professional biotech business plan for you.
It scales up existing business – If you already have a firm but want to focus on biotechnology in order to expand it to new heights, you may do it by employing a business plan as a road map to success. The plan will specify the number of resources you should devote to the new venture, as well as assist you in developing a winning approach to reach your short- and long-term goals and objectives. Our team of skilled business analysts, researchers, and writers will collaborate to create a high-quality business plan that will propel the company forward.
It supports loan application – It is not a guarantee that submitting loan application papers to a financial institution or an individual lender will result in you being approved for a loan. You must demonstrate to the bank or investor that you have the necessary skills to ensure that the biotech firm succeeds and becomes profitable. Finally, the bank will expect you to service the loan, and the investors will expect a return on their investment in the form of a business plan after a certain amount of time.
It has chronologic steps in creating a business – One of the most difficult challenges that businesses have when starting a new firm is determining the particular actions they need to follow to avoid errors and regrets along the way. You will be able to identify the proper measures to take throughout the first phases and even after the firm is fully operating if you entrust your plan to a legally authorized and respected business writer.
It provides guidance when hiring professionals – It is impossible to start a biotech firm on your own. You'll need a team of specialists to assist you in making sound judgments that will rocket and lead your company in the proper direction. To handle any legal concerns, the corporation will need a crew of legally licensed and renowned attorneys. You will be able to identify the pros you should hire if you have a team of dedicated, highly trained, and well-educated business plan biotech writers and consultants on your side.
It brings more business partners – The perfect partners should share your business aims and objectives and be dedicated to ensuring that the company achieves its objectives. You'll be able to discuss all of the business ideas with the partners before signing the agreement if you use a biotech startup business plan roadmap. Many businesses will approach you with offers to join you as business partners once your company is up and operating. It is vital to make sure that such partnerships are created methodically and properly to ensure that all the decisions decided upon in the boardroom meets are informed and incapable of spelling doom for your organization.
You will get a chance to know the investor audience – This is one of the most important factors, but a surprising amount of people interested in biotechnology ignore it. The two techniques to determine your target audience are to assess the investor's firm and the partner, in this example, you. Over the last four years or so, the ideal investment firm should have at least managed to establish a fund. If not, there's a good chance they're only looking to meet you in order to stay current and respectable in the market.
It makes you understand your strengths and weaknesses – Today's most successful businesses are owned and managed by business specialists who are familiar with their strengths and shortcomings. You must have a clear mental picture of yourself and know what you are and are not. In this sector, attempting to accomplish everything is unproductive and will almost certainly result in resource waste.
FAQs
What are the aspects of your company that you should include in your business plan?
It includes opportunity, product, market, competition, IP, team, business model, exit strategy, and executive summary.
Why do we need a business plan?
Your company's business plans have both internal and external value. There are numerous values within the company. It enables you to have a solid plan in place that can propel a team forward rapidly while also allowing you to simply convey your priorities. A SWOT (Strengths, Weaknesses, Opportunities, and Threats) analysis should be included in any company plan.
The most common mistake in biotechnology business plans is a lack of quantification of market potential, as certain Biotech products have a very small market and investors are aware of this. Another significant impediment is a focus on deep technical elements without respect for the company's business side, such as the commercialization of a go-to-market plan.