Logs are documents or tools that contain important information about a particular event or activity. Creating a daily log, for example, is essential if you need to record daily tasks and activities. Keeping a list of all these information is especially important in businesses and other entities.
Aside from a daily log, there are other types of logs that can also be used depending on the type of information that you need to record or your purpose of having one. If you specifically need a behavior log sample, there are samples and templates available for download below. Learn more about behavior logs below.
School Behavior Log Template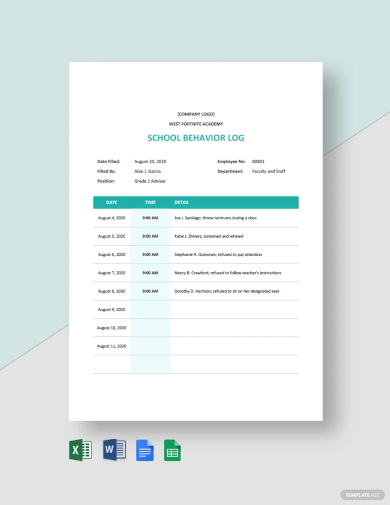 Employee Behavior Log Template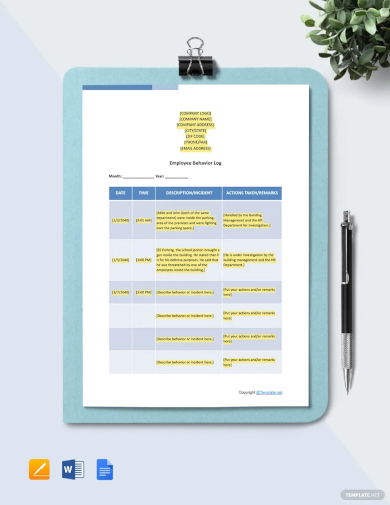 Sample Student Behavior Log Example
Weekly Behavior Log Template
Sample Daily Behavior Log Template
Behavior Log for Teacher Template
Free Behavior Log Template
Basic Behavior Log for Classroom Template
How to Write a Behavior Log
A behavior log is a document or tool that contains a daily log of an individual's behavior. In order to effectively write one, the steps are as follows:
Create an outline or download from our sample printable behavior charts to help you start your behavior log.
Write a title in your behavior log to indicate the type of log you are creating.
Write the name of the student or individual, and the teacher assigned to prepare the behavior log.
If you are creating one from scratch, make a table or a chart where information and data will be written.
In the table, label each section by writing the date, time, a project description of the individual's behavior, a rating tool, and the steps taken to solve the incident or behavior.
Include a notes section where you will be able to write other relevant information.
Importance of a Behavior Log
A behavior log is essential in identifying the various behavioral changes that may happen to a person or individual. This type of tool is important in businesses, schools, and medical institutions. In a school setting, a behavior log is important in order to identify an individual's behavior to be able to observe and create solutions to improve his/her behavior. Otherwise, if you need to create a daily log, our free daily log template available on this page may be useful to you.
Printable Behavior Log Template
Elementary School Student Behavior Log Template
Health Behavior Log Template
Monthly Behavior Log Template
How to Use a Logbook
A logbook can be used to input all the information and data that a log contains.
Logbooks are used to monitor individuals going in and out of a particular event or building.
It can also be used to record important information regarding the project management, operations, etc., of a business.
Teachers can also make use of a logbook to record and track events that happen in a classroom or in the school.
Types of Log Templates
There are many types of log templates that can be used for a variety of different purposes statement. The types of log templates are as follows:
Running log template – a running log template is a document or tool that contains an individual's running information or statistics.
Mileage log template – a mileage log template is a tool used to record mileage information of a particular vehicle/s.
Behavior log template – this type of template refers to the document used to record an individual's behavior for a specific period of time.
Additionally, daily log templates in word and a time log sample is available for download on this site.