Craving for a life outside the city to live? Want to stay on on a farm with a scenery to-die-for and healthy produce straight from your backyard? Are you planning to start a livestock business? Do you want to get your own farm but don't have enough resources to acquire the property? You should consider renting a farm. It offers you all the good stuff you need even when you don't have a property of your own. A farm lease agreement keeps you informed of you and your tenant's responsibilities when you agree to sign the paperwork, helping you get started on the idea right. On the other hand, it also protects tenants from rogue renters who don't fulfil their end of the bargain.
FREE 4+ Farm Lease Agreement Samples
1. Farm Lease Agreement Template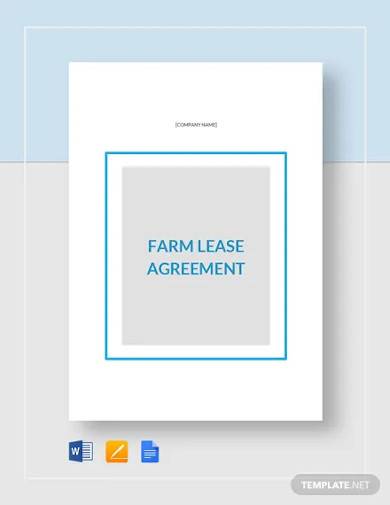 2. Sample Farm Lease Agreement
3. Simple Farm Lease Agreement Template
4. Sample Solar Farm Lease Agreement
5. Basic Farm Lease Agreement Template
What Is a Farm Lease Agreement?
A farm lease agreement is a legally binding document between the tenant and the landlord regarding the latter's leased farm property. It provides details of both party's obligations and responsibilities to ensure that they're clear about their expectations of each other role as part of their signed deal. This also assures the property owner that the tenant will keep the farm productive and well-tended.
Farm Renting: The Pros of Being a Farm Tenant
According to the Economic Research Service (ERS) report, 39% of the US' 911 million acres of farmlands are rented. A good 80% of these rented farms are involved in agricultural activities by non-operating landlords. This means that its tenant takes full responsibility for the farm's activities and development. Another report shows that most of these landlords engage in a long-term business agreement with their tenants. If you've been toying with the idea of moving out from your urban scenery and venturing into renting a farm, here's the sign you've been waiting for—you should. 
Among the practical advantages of living on a farm is it's cheaper. According to a study conducted on urban and rural areas of Pennsylvania, urban residents pay 12.7% more compared to those on the other side of the state. You also have direct access to organic, which you can also use as resources for a farm business. When you're a farm tenant, it's mostly up to the owner to take care of th property's maintenance and taxes so you can save a ton on several expenses than when you have your own.
How to Make a Farm Lease Agreement
If you're looking for a way to make a farm lease agreement, here are some steps that you can follow:
1. Provide Property Description
Because this agreement centres on farm leasing, there needs to be a specific description of the property. Provide the complete address, the size of the land, the number of livestock and existing crops, available machinery, and other information that might be important for the contract. Aside from providing a clear description of the property, it's also necessary to identify the parties involved in the business agreement. This helps you create paperwork that supports accountability and makes it clear who's responsible for what so it's easier for each party to understand their role in the agreement.
2. Explain the Scope and Restrictions
If you're the landlord who's allowing a tenant to use your farm, it's crucial to have a distinct boundary between what they can and cannot do. In most farm lease agreements, landlords allow their tenants to grow and harvest crops, take care of the livestock, maintain the farm's operations. The tenant also needs to abide by local state laws concerning farming, such as using toxic chemicals that can damage the land. As for the restrictions, the landlord can prohibit the tenant from getting another party to sign a sublease agreemeent and any other activity that they wish to ban on the duration of the lease. The landlord can also impose charges if the tenant breaches the restrictions deliberately.
3. Set the Lease Timeline
Your lease agreement should specify your rent timeline is going to be. Is it short-term or long term? Will it run for a few months, or can it take years? If it's only for a brief time, can the tenant extend their stay? These are some questions that you need to answer in this part of your document. Specify how long it's going to be including a definite month, day, and year of your start and end dates. Using general or ambiguous terms such as six months or three years might be confusing when interpreting the agreement's content.
4. Cover the Payment Terms
Monetary matters are the most common source of disputes when it comes to business transactions. It's crucial to discuss the finances involved in setting up your deal. Include the payment terms. A business agreement that doesn't talk about payment is apparently a red flag. Discuss how much the deposit should and when the tenant should hand it over to the landlord. You also need to discuss whether the tenant should pay a month and the specific details of the payment schedule. Mention the grace period and how much it will cost the tenant when the payment rents are delivered later than the agreed period. Besides the amount, specify the available methods of payment.
5. Don't Leave Out Termination Provisions
Include details on what actions or violations can lead to contract termination. Aside from the designated period at the end of the agreement's effectiveness, there can be several issues that will prompt both parties to part ways, or that may cause one of them to break off the deal. Be detailed about the situations and circumstances that can lead to your agreements untimely demise and how the process works.
6. Keep it Brief and Simple
Any business-related document can be daunting because most of them have legal value. Lease agreements are no different from that description. However, its content doesn't have to be complicated. In fact, it's ideal for papers such as contracts, business plans, and project details to be brief and simple. You can be detailed about your agreement without including too much legalese that can make it hard to understand. It's also unnecessary to make it longer when you can use layman's terms, go directly to what's important, and make it brief and easy for review.
FAQs
What is considered to be a short-term rental and a long-term rental?
A short-term rental is anything that lasts below six months, while long-term rentals typically end over a year.
What are the different types of farm leases?
The different types of farm leases are cash-rent lease, crop-rent lease, and hybrid lease (a mix of the two.)
What is a ground lease?
A ground lease specifies the land's owner to helps landlords assert their ownership of the property and secure their share of the capital and the revenue.
It isn't easy to uproot your life in the city to venture into the countryside without knowing who to trust with your dream of tending your own farm. Or you might be a new family wanting a peaceful and practical living in a huge space that you can call your own. Whichever circumstances you're in, a farm lease agreement protects your interests and ensures that you're availing the right deal. Ou wide array of lease agreement templates are ready for you. Download now!