Unless the program is blessed with an enthusiastic speaker, eye-catching charts, and an exciting topic, most people assume that a meeting an unentertaining aspect of planning. However, contrary to popular belief, most sessions are engaging, thought-provoking, and essential to any construction project management. To drive home the point even further, meetings provide a breeding ground for problem-solving thinkers and solutions. Hence, to preserve these ideas of innovation and advancement, you should record your meeting minutes regularly and accurately—not necessarily verbatim, but enough to keep the original concept.
Sample Construction Meeting Minutes Template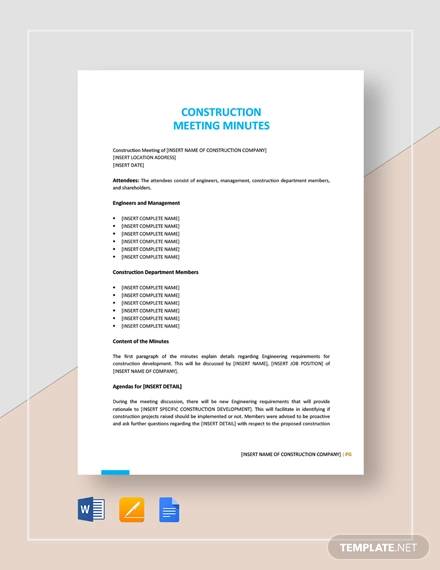 Commercial Construction Meeting Minutes Template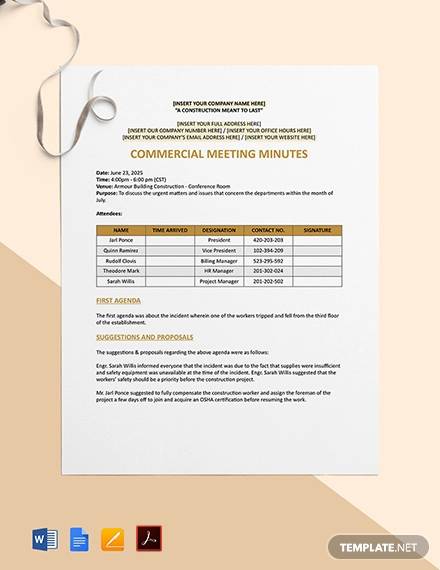 Construction Project Meeting Minutes Template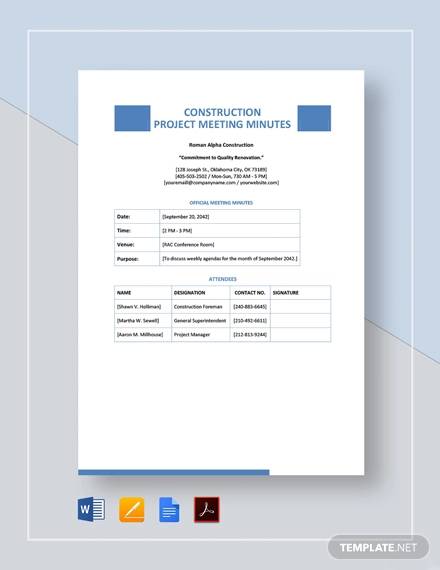 Free Construction Meeting Minutes Template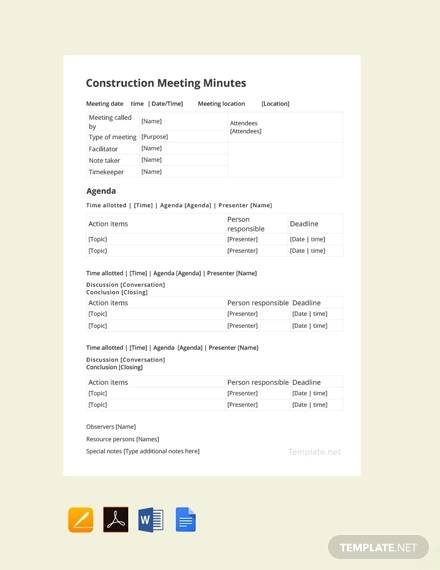 Free General Construction Meeting Minutes Template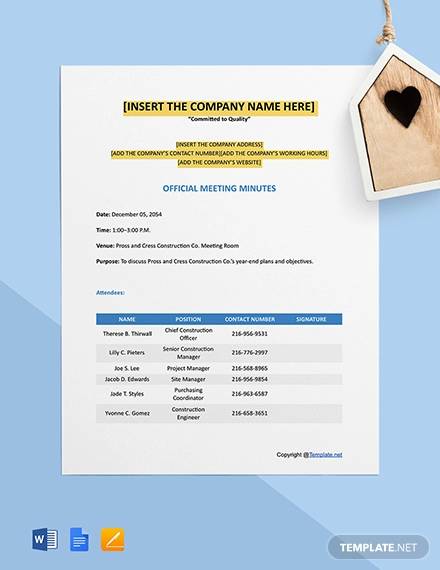 Free Simple Construction Meeting Minutes Template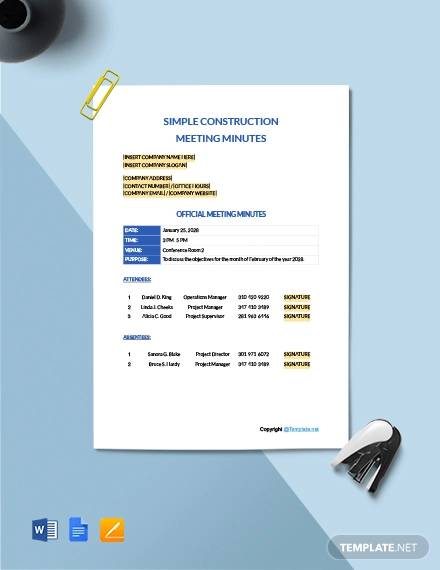 What are Construction Meeting Minutes?
Meeting minutes—also known as minutes of the meeting—are used by corporates all over the business world to record and gather vital information. When stripped bare to its core, a meeting minute is composed of a list of items or sentences that tie-in to the objective of the session. In other words, akin to an item checklist, this document contains critical information revolving around a goal for further enhancement.
While most people assume that a corporate office is a tranquil and calm place—and it usually is—it can become quite hectic during a meeting. With ideas flying around faster than paper planes back in your school days, it's challenging to remember everything mentioned post-session. As such, the ancient and well-known art of writing down the important stuff on a sheet of paper becomes a project saver for your company.
Now, this begs the questions, how useful are meeting minutes to the construction industry? Well, on the more logistic side of construction, it doesn't have any direct benefit. However, when it comes to the more corporate aspect, construction meeting minutes are the difference between successful problem-solving and implementation and failure—having a record of the session's primary points of discussion allows for more accurate strategy planning and better results.
School's In Session
Are you writing down notes? Perhaps you're offering ideas and insights? Maybe even meticulously observing each variable to find the right solution? Why does this sound familiar? Despite the difference in setting and context, a classroom and a corporate office aren't that far apart. While the education system has long been regarded as the training ground for young minds, its similarities to the way of conducting business cannot be dismissed. In fact, entrepreneurship as an educational degree program has been encouraged in recent years.
This is relevant information as the principals that the classroom teaches are the exact same skills needed to survive the corporate jungle. Some of the things that early education teaches its students are the four macro skills—i.e., reading, writing, speaking, and listening. When taking these traits and testing them in a practical setting, you can clearly see how these fundamentals are required to draft not just a minutes of the meeting, but to successfully execute any business endeavor. As such, whether the information is displayed on a chalkboard or a flatscreen, whether you're seated on a desk chair or a Corinthian-leather office chair, school will always be in session.
10+ Construction Meeting Minutes Samples
1. Construction Meeting Minutes
2. Outline of Construction Meeting Minutes
3. Monthly Construction Meeting Minutes
4. Planning, Design and Construction Meeting Minutes
5. Pre-Construction Meeting Minutes
6. Pre-Construction Conference Meeting Minutes Sample
7. Committee on Construction Annual Meeting Minutes
8. Construction Community Group Meeting Minutes
9. Engineer's Pre-Construction Meeting Minutes
10. Construction Project Meeting Minutes
11. Construction Infrastructure Committee Meeting Minutes
How to Create a Construction Meeting Minutes
You procure attendance at a meeting for your construction project and, once you're there, you make yourself comfortable and attentive to gather as much intel as possible. However, your boss assigns you to write the minutes of the meeting, and you start to unravel a bit; you're not sure what to do or how to do it. People are still coming in, yet you already feel a cold sweat run down your back as your necktie seems to be tighter than it was two minutes ago. You start looking around for a sick-leave form as multiple excuses are running through your mind. Everyone is seated, and the discussion is about to begin while you feel like fainting. So what do you do? How do you handle this situation? Well, here are a few tips and tricks you can use to write your construction meeting minutes effectively.
1. Have a Good Ear
Active listening skills are a crucial factor when trying to discern information from random words whirling around the office like a hurricane. Though this may seem blatantly obvious, people are often so confused when they're in a meeting real-time that they forget to focus on what needs to be heard and are drowned in all the information. Having a good ear doesn't mean absorbing all the sounds in your environment like a bat through a dark cave; it just means identifying the vital points and tuning your senses on them.
2. Jot Every Important Detail Down
Don't jump head-first into construction minute meeting writing without an action plan. It's best to take a bit of time to plot out what you need to do to record the necessary details effectively. One standard method you can do is jot down everything the team deems worth remembering. Writing down essential information provides you a record of the current meeting that will be used as an innuendo for the next session.
3. Record The Meeting's Duration
When recording the duration of the construction project meeting, it doesn't have to be in the bland, old-fashioned method of mentioning a time start and end. Instead, you can create your meeting minutes to resemble an activity schedule where you jot down the objectives and subtopics mentioned right beside the particular time when they were mentioned and for how long. This way, it allows you to build a specific timeline of your meeting and, for future use, ensure time is used wisely.
4. Use Points of Reference
If you look at a research paper or a management plan, you will find the main proposition with subparts below it, usually in bullet form. This is also a useful format when writing a construction meeting minute since the session will, most likely, be divided according to the pressing issues that the project is facing, and then be resolved one at a time. With that said, using points of reference give you the convenience of a set writing format while also providing your readers a reading guide they can follow.
Before the gavel drops and the meeting is adjourned, your boss asks you to reiterate the whole assembly's discussion. Will he be pleased with your work as you provide timeframes, points of reference, and the essential details of the session? Or will you get an earful from your coworkers for your failed attempt at corporate story-telling? The end result lies all in your hands. However, these tips, tricks, and templates aren't merely here for your convenience as the assistance they provide will save you plenty of preparation time and—possibly—your job.