Engineering jobs cover a variety of structures and products, from railways to zippers. According to the US Bureau of Labor Statistics, employment for these workers is expected to rise with 140,000 new job offers between the years 2016 and 2026. And in 2016, engineers obtained a median yearly wage of 91,010 US dollars, which is twice the median wage for all workers. If that sounds interesting, you must consider engineering as a professional career. Because there is an increasing demand for working engineers, you should start developing a simple resume that creates a good first impression. In this article, we will talk about what an engineering resume is and how to create one. Continue reading below.
Engineering Program Manager Resume Template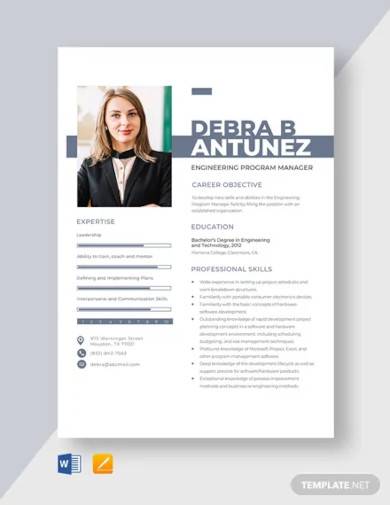 Engineering Operations Manager Resume Template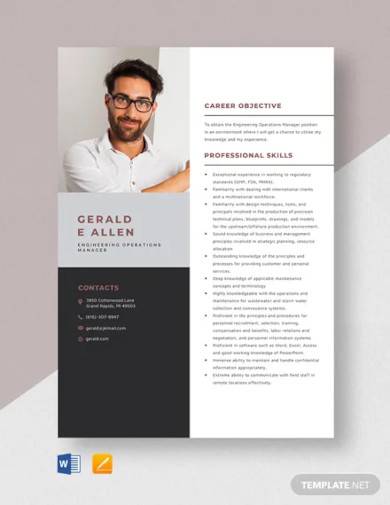 Engineering Instructor Resume Template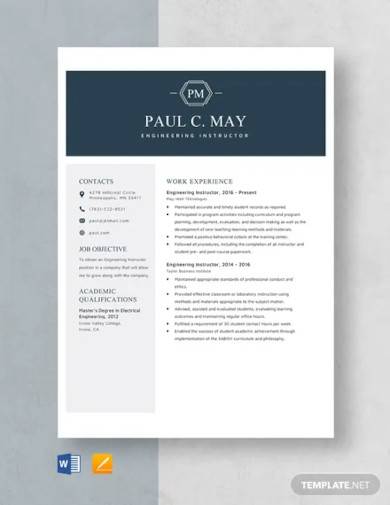 Engineering Estimator Resume Template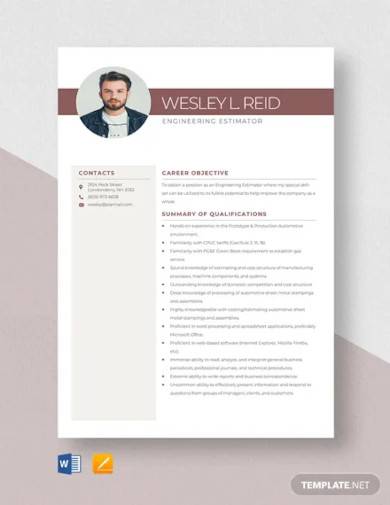 Engineering Clerk Resume Template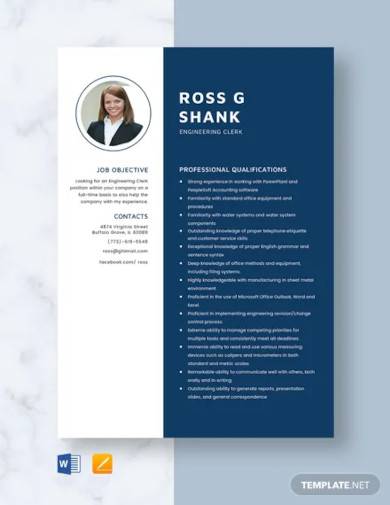 Engineering Assistant Resume Template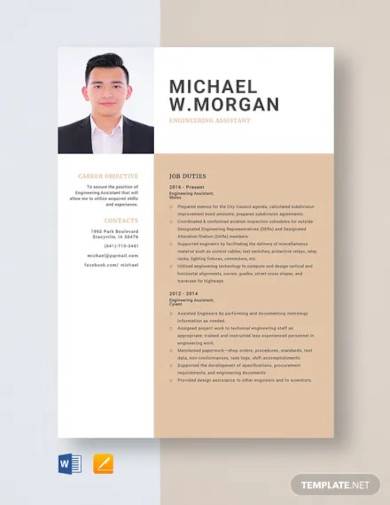 Engineering Professor Resume Template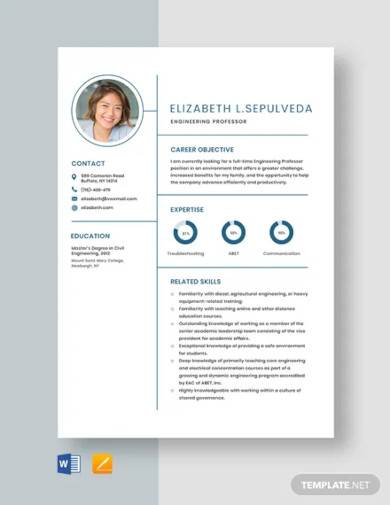 Sample Mechanical Engineering Resume
Electrical Engineering Resume Sample
Sample Civil Engineering Resume
Petroleum Engineering Resume Sample
Information Technology Engineering Resume
Experienced Engineer Resume Example
Sample Engineering Student Resume
Engineering Resume Example
What Is an Engineering Resume?
In general, a resume is a formal document commonly created by job seekers to itemize their qualifications for a position. Usually, it is accompanied by a customized cover letter, which expresses the applicant's interest in a specific job or company. It also draws attention to the resume's most relevant content. Often, a resume and a curriculum vitae (CV) are used interchangeably. But, these documents are not the same and serve a different purpose. In the United States, considering a profession in academic, scientific, or medical fields would require you to provide a CV rather than a simple resume. On the other hand, a resume focuses more on competencies and credentials specific to the job the applicant is applying for.
How to Develop a Compelling Engineering Resume
Drafting a sample resume requires a full understanding of its purpose. Many get confused with resumes and CVs as both of them are used in job recruitment. In that case, research more about these documents' differences and applications. This is crucial so that you will be guided in the right direction when you begin writing an engineering resume. Moreover, outlining the resume's content before jotting it down is your chance to organize the elements in an orderly manner. Lastly, keep in mind that you may need a different version of your resume for different types of job positions. Thus, learning how to write comes in handy. To get started, continue reading the tips below.
1. Showcase Your Soft Skills
By now, you should know that a simple resume is consists of the basics like complete name, contact information, objective/summary statement, list of relevant skills, work experience, education, and additional information. However, that is an outdated version of creating a very basic resume.
Like the changing work environment, resume trends are also changing. So, we will spice it up a little. According to Chron, working on an individual's emotional intelligence is part of 2020's career trends. The reason is that employers and recruiters are now more interested in hiring applicants who value the emotional quotient (EQ) in their career. That said, aside from listing your top 10 hard skills (scientific computing, blockchain, analytical reasoning, etc.), also include your soft skills in the resume. Examples of soft skills are creativity, persuasion, collaboration, adaptability, and emotional intelligence.
2. List Your Achievements
An effective resume serves as an elevator pitch for yourself. So, besides showcasing your soft skills, focus on highlighting the quantifiable achievements you earned over the years. If you talk about accomplishments, better use numbers. It will let a potential employer or a recruiter get a better grasp of how you can meet their expectations and perform the job well.
Moreover, do not risk the job application process because of generic word choices. Instead, choose action words that can effectively describe and show how qualified you are for the job. This is also the best strategy in writing about your relevant work experiences.
3. Highlight Your Technical Skills
After listing your quantifiable achievements, spend time highlighting your technical skills. Indeed, most engineering jobs require technical skills for an applicant to qualify. But, it also goes a long in different fields. You may be applying for an engineering job but you are skillful in computer languages, software, or programs. Thus, insert these skills in your resume for an extra boost in your application.
4. Link Your Social Media Accounts
Writing a resume as short as possible is one of the new trends. The shorter your resume, the more concise it is. It is also a courtesy to the recruiters since they don't have much time to read a long-winded document. Lastly, consider putting your social media accounts, personal sites, blogs, and online portfolios if there is any. Make sure to link them in the resume to win your target job.
FAQs
Who needs an engineering resume?
Someone who is considering applying for an engineering job needs an engineering resume. This applies whether for freshers or experienced applicants. A good resume will make a good first impression, which secures the spot for your target job.
How long should an engineering resume be?
One page is the professional resume length if you are an intern, co-op, or graduating senior. It is also advisable to keep the resume simple and concise. For experienced job seekers, they can have an additional page for their work history and accomplishments.
What are some engineering skills?
Problem-solving
Computer science
Industry skills
Pressure management
Teamwork
Creativity
Structural analysis
Earning the right credentials for a job position that aligns with your education is challenging. But once you get past it, the qualifications you acquire will lead you to the job you have worked hard for. And to highlight these milestones, create a compelling resume using our templates. Grab your copy now!