Construction workers are responsible for the buildings, the beautiful skyscrapers, corporate establishments, stately art museums, and university buildings. These individuals toil day and night to provide us with the necessary establishments that make daily life easier.
Indeed, being a construction worker is no easy feat, that is why construction hiring managers will only hire those who are equipped with the best physical abilities to accomplish construction tasks. That is why if you are currently planning to apply as a construction worker, then it is best if you pattern you resume to our construction worker Sample Resumes, which you can download for free. These are all easy to access and store in your devices since these are available in PDF and Word formats. Scroll down below to start downloading.
Construction Worker Resume Template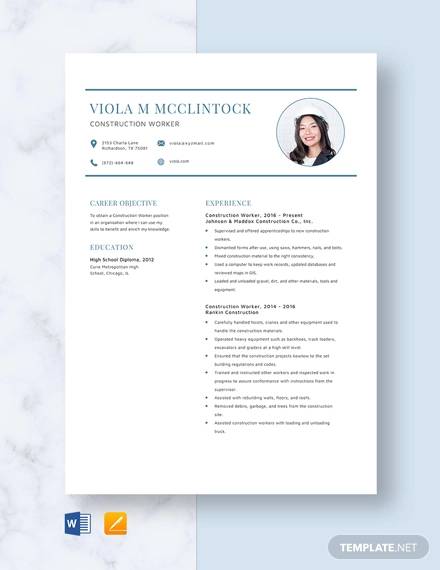 Construction Laborer Resume Template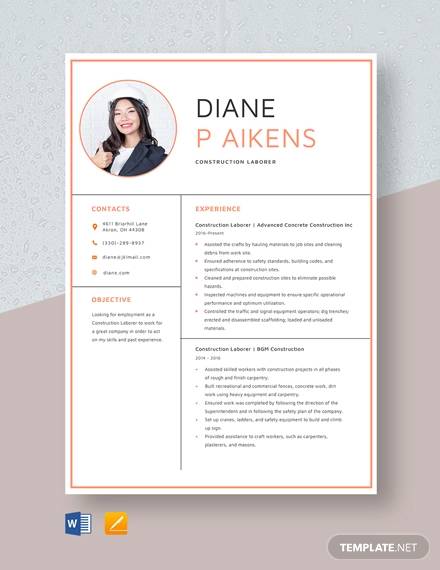 Construction Labor Resume Format
Professional Construction Worker Resume Example
Construction Worker Summary Resume
Entry Level Construction Worker Resume
Life of a Construction Worker
The construction industry might not require long lists of educational attainments and achievements from the construction employees, however, this does not mean that anyone can do the construction worker's job. The life of a construction worker is filled with days of hard work and heavy lifting. Oftentimes, we see construction workers starting with their days work so early in the morning while staying late in the evening. The beautiful skyscrapers of big cities and the labyrinthine shopping centers and malls wouldn't have been born had it not been for the capable of hands of hardworking construction workers.
Every day a construction worker gets up from his short slumber before the rooster crows in order to prepare for the long day at the construction site. With a protective headgear on his head and a sturdy pair of construction gloves, he is ready to do all the plumbing, sawing, hammering, and drilling required in order to complete a building or edifice.
For other construction-related job positions, refer to the templates in the following links:
Construction Helper Resume Sample
Construction Worker Skills Resume
Construction Worker Resume Example in PDF
Experienced Construction Worker Resume
Concrete Construction Worker Resume
Importance of a Good Resume
A good construction worker resume can help tons in boosting a prospective construction worker's chances of getting hired. Construction workers are required to exert strenuous physical effort in completing their heavy daily tasks. It is for this reason that physical fitness, strength, and endurance are of paramount importance in considering an applicant for the construction worker job position.
Since it is entirely impractical for hiring managers to let each applicant demonstrate their physical prowess by making them go through physical examinations upon application, it is therefore essential that a construction worker's resume will delineate in detail his/her excellent strength and other admirable physical capabilities.
Parts of a Construction Worker Resume
A construction worker resume should have the following parts:
objective section,
employment history,
educational background,
physical qualifications, and
references.
Now that you know the basic information to be included in a resume, you may now start creating your own!
For more reference, check out our Project Manager Resumes that can be helpful for those construction workers who are assigned to handle a team.