The legal procedures that have grown synonymous with the investing sector may baffle even the most left-brained, technical real estate practitioners. For individuals unaware with the concept of wholesaling, the assignment of contract strategy, in particular, has gained a baffling reputation. A real estate assignment contract isn't as complicated as many people think it is, and it's not something you should avoid because you don't understand it. Instead, prospective investors should learn how to assign a real estate contract, since this is one of the most effective ways to break into the business.
10+ Real Estate Assignment Contract Samples
The transfer of a real estate contract from an initial party (also called as the real estate wholesaler or assignor) to a new party is known as an assignment of contract (also known as the assignee). An "Assignment of Real Estate Purchase and Sale" agreement is another name for it. When a real estate transaction is completed, the assignor relinquishes all rights, liabilities, and responsibilities to the assignee. In exchange for an assignment fee from the intended homeowner, the assignor acts as a middleman or contract flipper, selling their right to purchase the estate they are contracting—with equitable interest—in exchange for a commission.
1. Assignment of Real Estate Contract and Sale Agreement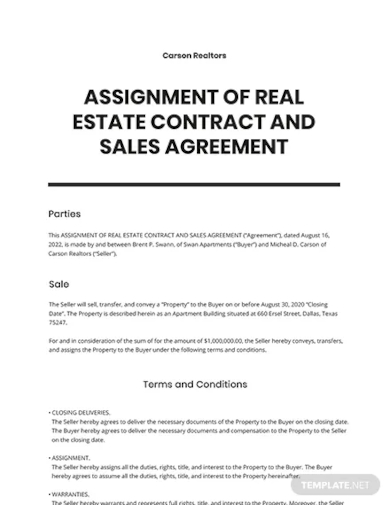 2. Real Estate Assignment Contract Template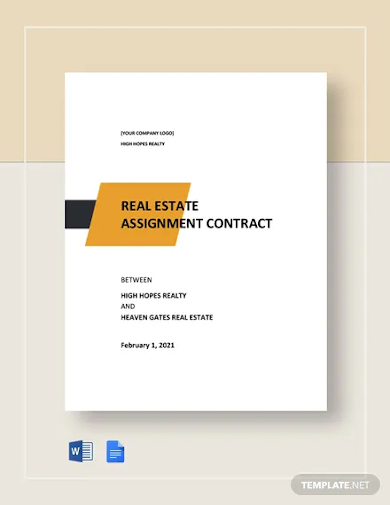 3. Sample Real Estate Assignment Contract Template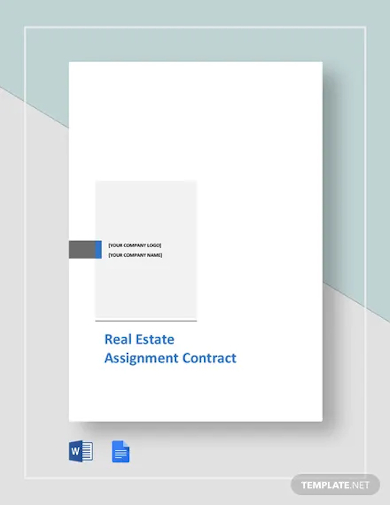 4. Assignment of Real Estate Contract Template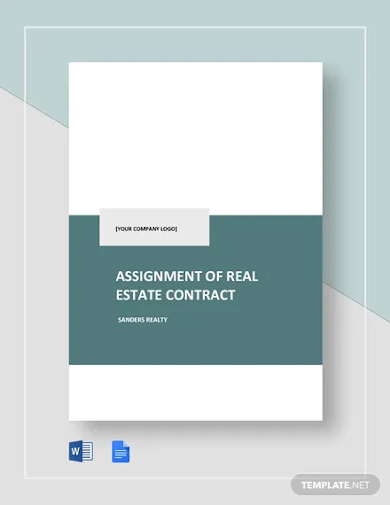 5. Real Estate Assignment Sale Contract
6. Real Estate Assignment Purchase Contract
7. Real Estate Property Assignment Contract
8. Real Estate Assumption Assignment Contract
9. Real Estate Seller Assignment Contract
10. Real Estate Collateral Assignment Contract
11. Assignment of Real Estate Purchase Contract
Real Estate Assignment Contract
A real estate assignment contract is a wholesale approach used by real estate investors to make it easier for an owner and an end buyer to sell a property. Contract assignment tactics involve a subject property owner signing a contract with an investor that gives the investor the right to purchase the property. That's an essential point to make because the contract simply offers the investor the option to buy the house; they don't actually buy it. However, after a contract is signed, the investor retains sole ownership of the property. That means they might sell their right to acquire the house to someone else. As a result, when a wholesaler completes a contract assignment, they are selling their rights to acquire a house rather than a property. The final buyer will pay a nominal assignment fee to the wholesaler and purchase the home from the original buyer.
The contract strategy for real estate assignment is only as powerful as the contracts utilized in the transaction. The language used in the contract is crucial, since it should clearly clarify what the investors and sellers expect from the transaction.
When considering using sales contracts for real estate, there are a few things to keep in mind:
Prohibitions in the contract: Check to see if the contract you have with the property seller contains any restrictions on future assignments. This could lead to major problems in the future. Make sure the contract is written by a real estate assignment contract lawyer.
Assignment contracts are not available for HUD homes, real estate owned or REOs (foreclosed-on properties), or listed properties. REO properties, for example, must be held for 90 days before being resold.
FAQs
What is the difference between an assignment contract and double-closing?
The number of closings involved in a transaction is the major distinction between an assignment of contract and a double closing. There is just one closing in an assignment, during which the end buyer (or assignee) involves paying for the home. This occurs after the assignor has previously transferred the assignee's right to purchase the residence. A double closing, also known as a double close, occurs when two closings occur in quick succession for the same property. Rather than transferring the contract, the first buyer—or assignor—purchases the property from the seller. Then they instantly resell the home to a final buyer, resulting in two closings in quick succession.
How does real estate wholesaling works?
Real estate wholesaling is based on a basic concept. To begin, you must first locate a property whose owner is ready to take much less than market value in return for a quick and painless sale. Then you locate another buyer willing to pay slightly more than the contract amount, assign the contract to them, and profit from the difference. Of course, saying it is easier than doing it.
If you want to see more samples and formats, check out some real estate assignment contract samples and templates provided in the article for your reference.