Political consultants are a must for politicians running for candidacy to have to help them strategize their moves on how to campaign themselves to the voters and capture their minds and hearts to convince them to vote for the candidates during the election. Political consultants also act as a publicist of the candidate to help them bring into a good light for good publicity to also add charming points for the candidate to get elected in a position in the government sector. Before political consultants get hired to do their magic, a contract needs to be created first to protect themselves from fraudulent activities. To know how to write a political consulting contract, read the article below.
10+ Political Consulting Contract Samples
1. Political Consulting Contract Template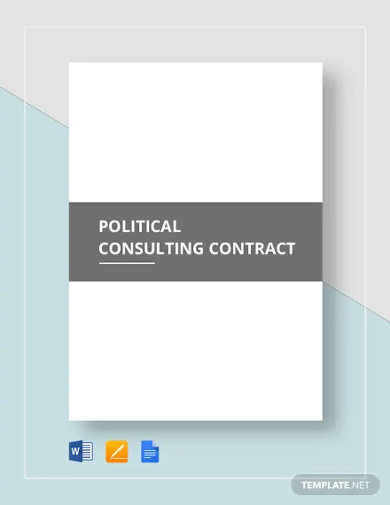 2. Political Consulting Contract
3. Political Campaign Consulting Contract
4. Political Consulting Services Contract
5. Political Consulting Agreement Contract
6. Sample Political Consulting Contract
7. Political Client Consulting Contract
8. PR Political Consulting Contract
9. Standard Political Consulting Contract
10. Printable Political Consulting Contract
11. Political Product Consulting Contract
What is a Political Consultant?
A political consultant is an expert on the world of politics and who serves as a public relations manager to their client who is a politician running for candidacy in an upcoming election. The main goal of their job is to let the general public, especially the voters be aware of their candidate's party's platforms.
What is a Contract?
A contract, or also called an agreement, is a legal document made between two or more parties that involves in a certain business that one party provides something of value (such as goods or services or other resources) that the other party in return provide for something else that will benefit the other party.
How to Make a Political Consulting Contract
Names of the parties involved: Include first the full names and titles of yours and the people with whom you're doing business. Make sure all the spelling of everyone's names is correct.
Objectives: Make a list of the goals you and your client want to achieve during the candidacy and your work as their consultant and describe the objectives that will serve as your guide to accomplish your goals.
Work description: Write down a brief description that specifies your work as a consultant and the general tasks you're assigned to do.
Roles and responsibilities: List down all the tasks you're expected to do to reach your client's goals. It is best to create a checklist of every responsibility to help you remember all the workload you will need to comply with and accomplish. If your client agrees, you can ask them to give you a sign-off on each phase of the workload in a specific timeline to signal that you completed the assigned responsibilities.
Fees: This is where it is stated how much you will charge your client for the services you give to them and when they will pay for the fees. You can also include your payment terms here.
Timeline: Don't forget to include the timeline in the contract. Specify the start and end date of your work with your client along with any pertinent dates in between (such as sign-off dates and payment dates).
Additional clauses: You may need to include further sections in your contract such as legal definitions, legal recourse if your client fails to pay you for services, nonperformance clause, etc. Approach an attorney to help you guide through these details.
FAQs
What degree do you need to be a political consultant?
To be a political consultant, one must have a master's or a doctoral degree in political science or political communication. It's important to have this degree since it will help the potential political consultant to be familiar with international law, human rights laws, judicial selection, political and civic organizations, election laws, and decision theory.
How much money do political strategists make?
In the US, political strategists earn around  $33,530 to $120,460 depending on their years of experience, the range of expertise they have, and the number of politicians asking for their advice.
Once you're done writing the agreement, make sure to review it first and discuss it with your client before you both reach a mutual agreement with its contents and if you both think it's alright, you can then proceed to sign it to signify your work as a consultant for your client is official. To help you get started writing the
contract
, download our free sample templates above to use as your guide!