10+ Music License Contract Samples
When you license music appropriately, you're ensuring that it won't be vulnerable to copyright claims, blocks, or deletion after it's released online. This means you won't have to worry about any music-related concerns while delivering your final output to your customer. When music is licensed before it is released to the public, the possibility of someone duplicating it and acquiring a license in their name is removed. This way, the individual who deserves it will get all of the credit for making that piece of music a success. Copyright infringement might result from playing or performing music without the authorized license, and you don't want that. You've come to the right place! In this article, we provide you with free and ready-to-use samples of Music License Contract in PDF and DOC formats that you could use to protect your works. Keep on reading to find out more!
1. Music License Contract Template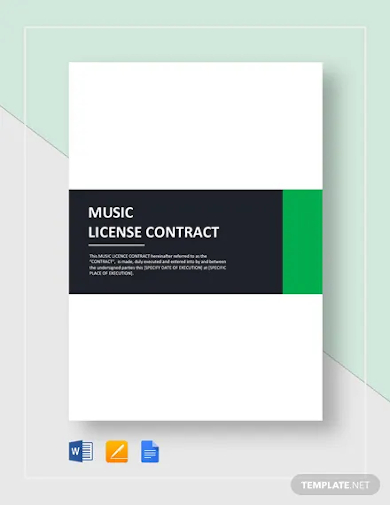 2. Copyright Music License Contract
3. Music License Representation Contract
4. Commercial Music License Contract
5. Film Music License Contract
6. Individual Music License Contract
7. Music Software License Contract
8. Music Work License Contract
9. Music License Booking Contract
10. Sample Music License Contract
11. Music Business License Contract
What Is a Music License Contract?
A music license contract safeguards the rights of the musician by guaranteeing that all of their compositions are copyrighted. The musician selects who can profit from their work by reproducing it. The contract is between the artist and the entity who wants to use the artist's work. It safeguards both parties when you agree ahead of time to pay royalties as a proportion of sales, for a fixed sum per usage, or under some other structure.
How to Make a Music License Contract
A well-written Music License Contract assures you'll earn your fair share if you're a musician with the opportunity to sell the rights to your song, whether you're being courted by a music firm, television producer, or advertising. A Music License Contract Template can help provide you with the framework you need to ensure that you have a well-prepared and robust contract on hand. To do so, you can choose one of our excellent templates listed above. If you want to write it yourself, check out these elements below to guide you:
1. Owners of the copyright
Although an artist's music are normally solely owned by them, there might be several copyright owners. Lyricists, composers, and record labels are all included. To obtain formal authorization for content usage, it is necessary to identify who the owners are.
2. The scope of use
The term "scope of usage" refers to how the track will be synchronised. Will it be in a big-budget film's trailer or in a low-budget picture that might not even get picked up for distribution? The most significant takeaway is that the larger/broader the usage, the higher the compensation for the artist. This is related to the importance of music.
3. Exclusivity
This is a rather straightforward component of the license, but one that, if overlooked or misunderstood, can have disastrous effects. Almost every license agreement should state that the use is nonexclusive so that the artist can license the song for other purposes.
4. The Arrangement's Duration
It is critical to specify the length of the license agreement. It might be set in stone or fluctuate based on a variety of circumstances.
FAQ
What is the process of obtaining a music license?
Music licenses are the most common way for musicians to collect royalties for their work by granting legal authorization to someone who wants to use it.
What is the procedure for obtaining a music license?
You must receive authorization from a legal body that represents the artist's work in order to obtain a music license. The artist, a publisher, a record label, a performing rights organization, or a music licensing firm are all examples of this.
Is it legal for me to play music in my store without a license?
Commercial usage of music necessitates the acquisition of a license. Performing rights groups demand a Public Performance License (PPL) for public performances (PROs).
Overall, chances are you'll need a music license if you utilize, play, or perform music in your business or organization. To help you get started, download our easily customizable and comprehensive samples of Music License Contracts today!